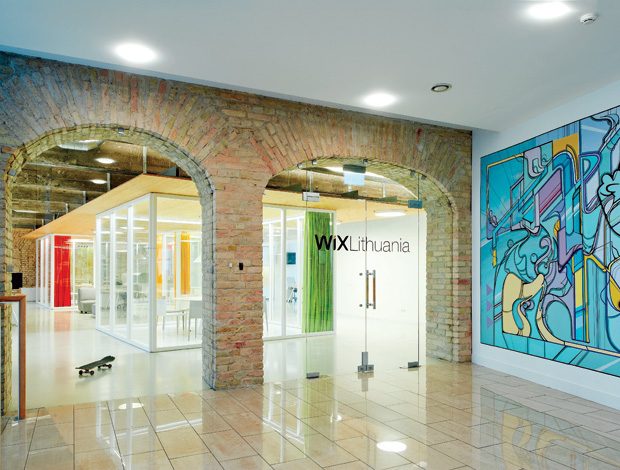 Graphic artwork by Artemij Brutov greets staff at the entrance|Citrus-bright curtains screening off the meeting rooms provide hits of colour|Bare brick walls and exposed brickwork and concrete contrast with the glossy white floor|Bespoke upholstery turns the deep windowsills into extra working space|Glazed meeting rooms are given more presence with a deep timber overhang|Inblum custom-designed much of the furniture, including the desks|Desks are at the perimeter, with meeting spaces at the core|Triangular shelving units hold personal mementoes from staff|A puzzle of pendant lights are attached to a wire frame on the kitchen ceiling||
When international IT firm Wix wanted a contemporary fit out for its new offices in Lithuania, the go-to guys in this southernmost of Baltic states were architects Inblum.
"We're a well-known practice in Vilnius," says Dmitrij Kudin who heads up the firm with Laura Malcaite. The two came together in 2005, he says, because "we liked each other's work and found many things in common, even in details that only professionals can see. In the beginning, we were working separately and observing each other's projects from a distance. After we met, we decided to put our creative forces together."
Since then they have worked on a mixture of public and private projects, from a loft apartment in a former radio factory to a bar in an attic, as well as some office projects including a couple of advertising agencies, mostly in Vilnius.
This particular project, also in the Lithuanian capital, represents an addition to Wix's worldwide portfolio of workplaces, having already established a headquarters in Israel and a further presence in the US and Ukraine. Kudin explains that the historic building, before its latest reconstruction, "has had many different functions, including a fashion house and a hotel".
This is Wix's support office, so there was no need for a fancy reception area to welcome visitors or clients. Instead, staff are greeted with a wall graphic by local artist Artemij Brutov, adjacent to the arched brick entrance. "He was invited [to do it] by Wix – they always try to engage young creative people in collaboration on the decoration of their office space," says Kudin.
This is not a sea of coders engaged in an individual hackathon with headphones clamped to their ears closed off from the world. "During the design process, we were thinking about creating a working community with a great team spirit, united into one space," says Kudin. The brief, he says, was to create something comfortable and inspiring "that would represent Wix as one of the leading IT companies, as well as providing staff with excellent working conditions".
Inblum has achieved this by designing in a variety of different places for staff to meet up, and providing them with the odd flash of colour – but not to the point where it feels like they're working on the set of a children's TV show.
The space was fitted out in two stages in order to keep pace with the company's floorplate requirements as its workforce expanded in number. Working space A was for eight desks, while working space B was for 32 desks, demonstrating Kudin's assertion that Lithuania is a great and growing resource for IT professionals. Inblum placed the desks by the windows to sensibly give staff the opportunity to benefit from as much natural light as possible; concentrated meeting units can be found in the middle of the space, where natural daylight is not quite as abundant.
There are three clear glass meeting units: one for large meetings, one for small ones and another described as a secondary meeting room. The units are divided off from the rest of the office using coloured curtains. These are separated from one another in such a way as to have a good connection between the working spaces A and B – what could have been awkward in-between space naturally lends itself to places where more informal meetings can take place.
"The main material of the project is CLT [cross-laminated timber], which we ordered and brought directly from a factory in the Czech Republic," says Kudin. "We used it for horizontal surfaces such as the ceiling of the meeting area." The timber can also be found on the top of the desks. The architects themselves were responsible for the design of most of the furniture including the desks and drawer units, which feature little cut-out Ws as handles – one of the few concessions to corporate branding.
The soft seating next to the lines of desks is also their handiwork, ditto the matching blue cushions on the windowsills (like cats curling up in cardboard boxes, few things are more pleasing to office workers given half the chance than curling up with a laptop in this particular type of nook). White pyramid-shaped pendant lights have been hung from them to help temper some of the rawness of the exposed concrete beams.
The kitchen is a million miles away from the usual caffeine-stained utilitarian area found in a lot of offices. Triangular shelving units here bring a personal touch to the kitchen, so it's not just a space to a grab a cuppa and five minutes' away from one's desk: the idea is that each member of staff brings a personal item, something that represents their interests, with which to fill the shelves. It's far more inventive than the usual blurry, best-forgotten snaps of Christmas parties past, small ads for colleagues' unwanted items and badly made business cards of friends' tradespeople that usually makes up the wall decoration in a normal company kitchen. Look up and there's a puzzle of lights across the ceiling, in red, black, yellow and white, attached to a wire frame.
Naturally this IT crowd likes to have fun as well as work hard, and so there's a play zone next to the kitchen area with the obligatory table football. Beyond the kitchen in the other direction is a cloakroom space, a shower, a row of WCs and a storage area. Summing up the project, Kudin says: "We had very positive feedback from our clients; this project has set a new benchmark for design solutions for Wix. That feeling of openness and community was already present, but we wanted to bring it to the next level."