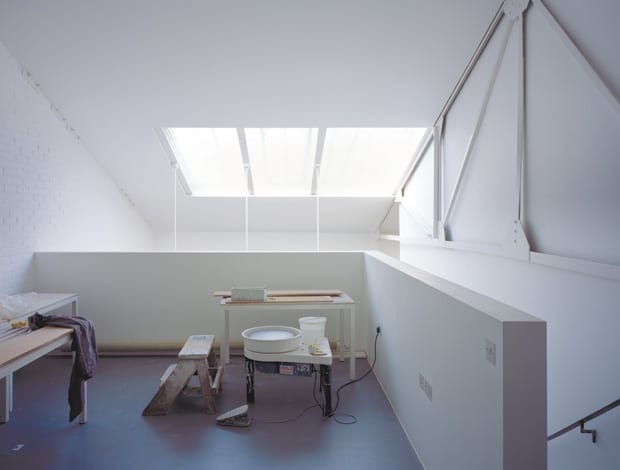 Mezzanines and partitions carve out intimate areas|De Waal's studio was converted from an old munitions warehouse|A vitrine, full of de Waal's ceramics, is sunk into the floor|The upstairs library, a complement to the practical function of the spaces for making|A vitrine, full of de Waal's ceramics, is sunk into the floor|The glazing area and kiln room occupy one end of the space|A communal dining area in front of the kitchenette|Steel roof trusses and a concrete floor retain the building's industrial character||
Ceramicist and writer Edmund de Waal's London studio, a neatly realised empty vessel where making, and thinking, can flourish
Designing a new studio space for Edmund de Waal presents some intriguing issues. The ceramic artist may have his roots firmly in the craft world but in recent years his reputation has burgeoned – in 2013 he opened an enormous exhibition at the Gagosian Gallery in New York, which sits within an impressive portfolio of work including high-profile installations at the V&A and Turner Contemporary.
And while all that was going on, he also found time to write his exquisite book The Hare with the Amber Eyes, the beautifully told history of his family's collection of Japanese netsuke, which pulled off the extraordinary trick of being deeply personal while also possessing a genuinely epic sweep. Added to this is his deep-seated love of architecture, which he traces back to his father's appointment as dean of Canterbury Cathedral.
His brief to architect DSDHA, which had also worked on his previous studio in Tulse Hill, was that he needed more space. "But given that my practice is changing a lot, space that can be used in different ways," he says. "So, spaces for trying out quite large projects – hanging things from the ceiling, floors that you can dig into and put vitrines below ground; spaces where you can make small rooms quite quickly, spaces for looking at very small objects, so that you can focus in on one particular thing, be it a pot or a group of glazes; and spaces to speak to people, which are hidden away so you can be quiet and just talk things through. And a space for a library. I want everything! Really quickly and on budget." He was also wedded to remaining in this area of the capital, which has been his home for the past 20 years. "By adoption I'm now a south Londoner," he explains.
Between them, architect and artist alighted upon a former munitions factory, made up of a warehouse annexed to a two-storey office building, on a shabby light industrial estate a short walk from West Norwood station. "The big challenge for us was how to open up a conversation between the space for writing and the place for making," says DSDHA co-founder David Hills. "Critically, those are the two activities that need to speak to each other."
The 535sq m building has a pair of entrances, one in the yard, which allows de Waal to bring large pieces in and out, and a main door that brings you into a reception space, which includes toilets, a cloakroom and a flight of stairs leading up to a library. Hills describes this as a transition space between the outside and the main studio. It gives a hint of the artist's work – a vitrine is embedded in the floor for instance – providing a promise of things to come.
Upstairs, the architect made a cut through the floor, creating a void and connecting the library to the studio below. In the main downstairs space, the character of the old warehouse has been retained, with steel roof trusses and white painted brickwork. At one end, where de Waal does his making, a partition wall and mezzanine level (which contained his wheel on the day of my visit) have been inserted. There's also a separate room where he does his firing.
At the other end are the offices (de Waal's practice is now so big he needs staff). "It would have been obvious, with a two-storey office building, to put those people in an office space and then this is the studio for creative work," says Hills, "but the whole process is a creative collaboration, and this was about trying to engender conversations between people."
The studio acts as the perfect exhibition space, but de Waal says it has to work harder than that. "Yes, in that main space you can mock up a white cube gallery, which is important. But it's having a space where you can be really analytical about what you've made. You can just blank out everything around you." It also acts as a photographic studio, so de Waal can recreate gallery conditions to see how his pieces will respond.
Not only is this the second workplace DSDHA has created for de Waal, but architect and artist have also worked on a pair of (as yet) unrealised projects together. What is it about the relationship that de Waal finds so fruitful? "They're very research-based. The way they begin to think about buildings is through looking at materiality, the history of the site and how you as a client really work or feel about things. That is very akin to how I work. They build beautiful buildings, but they're not interested in showing off. Their buildings work from the inside in a very dynamic way. By extension, vessels sort of work inside out."
It's hard to disagree. It may be vast but there's nothing flashy about de Waal's studio. Instead you get the sense of a quiet intelligence at work with maker, writer and interior in harmony.