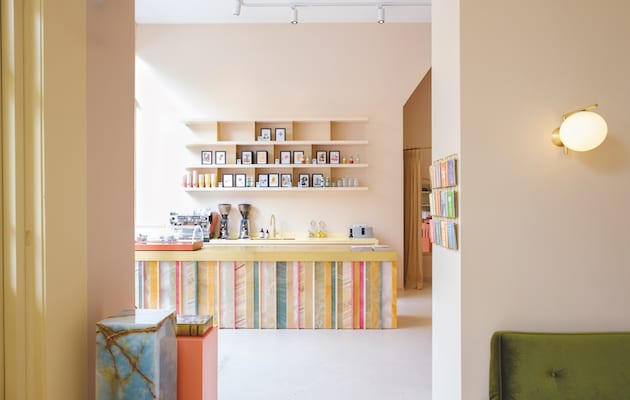 |||
OnOffice: How was &C media founded?
Chantall Olthoff: &C started in March 2017 based on the desire and ambition of Chantal Janzen to create a unique and innovative brand that moves, entertains, and above all, inspires women to truly see the world rather than merely looking. See the world, not only through the eyes of Chantal but with the support of contributors and experts and to showcase new and upcoming talent.
In two and a half years &C has grown to incorporate a monthly magazine, a website/ webshop, the &C brand studio, a merchandise collection, licensing partnerships, television programmes and a live event.
OO: Describe &C in three words.
CO: Connecting – quirky – beautiful/colourful.
Click here to find out how injecting colour can change your mood
OO: What is &C's USP?
CO: Unique 360-degree content – a lifestyle brand for women that breathes the voice of vision of Chantal Janzen with the aim to encourage and inspire women to be themselves.
OO: Who is &C's target audience?
CO: We target at women, in a range of 18-45 years with a key audience of 25-35 years that have a higher education and earn above moderate. We see a longer customer journey with the brand than we initially thought at the start, which is a strong asset and we are currently in the process of re-defining our marketing strategy for 2020 and beyond.
OO: What is Chantal's vision for &C?
CO: She wants to inspire women to be themselves and empower them to be independent and nothing less. She has 1.4 million followers on Instagram with high engagement which means that she is definitely impacting women's' lives in the Netherlands.
Discover the Super Lyan bar in Amsterdam offering an experimental take on 1950s retro
OO: What would you say &C is inspired by?
CO: We are inspired by a wide variety of people (especially but not only women) and brands in the world around who dare to be themselves. We love true stories of authentic people; we love to look further and dive into the why and look at different perspectives of themes that are relevant for our target groups.
OO: What are some of your favourite magazines?
CO: It might be odd to say but I really enjoy reading &C magazine. As well as many other great magazine titles across the world. I just love the smell of magazine paper in my hands and to have a moment for myself and be inspired by beautiful imagery and long reads.
OO: Please describe your role at &C.
CO: As managing director my job is to empower a highly talented and happy team that is working together to realise our vision and objectives. Together with Marco, Chantal and our marketing team to create a culture and working environment where they can be the best version of themselves.
What I like so much about my role is the ability to set the direction and then coach and support every &C team member to be able to realise both the company and personal objectives.
We are a creative and unconventional company constantly looking out for new business opportunities and translate these ideas into plans and actions which requires a certain 'can do' mentality and out-of-the-box thinking. I am so proud to be part of &C and I am full of ambition to further develop the brand in the coming years.
OO: How long have you been working with &C media?
CO: Wow, it's already been half a year now… time flies when you're having fun!
OO: Do you think the &C office Anne Claus Interiors designed captures the essence of &C?
CO: It is spot on! The founding principle of Chantal was to create a place where you can enter the world of &C. And yes, I believe that Anne did an incredible job in realising this, we are so happy and proud of her. The openness, transparency and at the same time inspiring office is everything we want &C to be.
OO: What is it like working at the &C office?
CO: Without bragging, it's the most inspiring work environment I've ever worked in my career. It helps us to think outside the box, it is so great to connect, talk and interact with our target group. I worked in the hospitality industry early on in my career and I still love to serve coffee and talk to customers. And we have the best coffee you can drink in an office.
OO: What do you think of the finished &C headquarters?
CO: It feels every day like a dream come true. We wanted to create a place where you really could enter the world of &C, where the &C brand lovers and &C team can connect. The whole layout, the design of the furniture and the materials that Anne and the team have chosen are unique.
OO: What do you like about working in &C? What is the work culture like?
CO: If we can't make it happen, no-one can. We have a small team, but everyone works so hard. For example, our latest project, a Christmas song, recorded with 30 famous Dutch artists started in a meeting room as a 'fun' idea to create awareness for the Prinses Maxima Centrum a unique hospital here in Holland where children with cancer are treated. It ended, barely one month later, with huge success. That is what working at &C is – anything is possible, as long as you want to make it happen.
OO: How important do you think it is for a brand's office or workplace to match the brand they house?
CO: I think it's very important and helps to truly live and love the brand. I am convinced that you cannot work for &C when you do not love the brand. Everyone we invite here in our office gets an instant idea about our brand story and values; it literally comes to life. We live and breathe our work. This is an enormous help to share the story to our fans, B2B customers and potential partners.
OO: Do you/ your employees feel a difference between working in this environment compared to your old environment?
CO: I can't speak for the rest of the team; but &C has moved twice in the last year before we moved here, and I do see the people being more at home here. Ideas take off in such an inspiring working environment and it is a tremendous support.
OO: What have been some of the most rewarding/ challenging aspects of undertaking such an office overhaul?
CO: The rewarding aspects are indescribable, every time we invite people for the first time everyone is full of 'oohs and aahs'. The creativity flows and that's all we wanted. But yes, it has been challenging and still is. It's an old building in the middle of the city of Amsterdam. Since everything in the building is bespoke, at times aspects can be difficult to maintain which can require some effort and time. But it is definitely worth it!
Discover if new workplaces work here
OnOffice sits down with Dutch media brand &C's managing director Chantall Olthoff to discuss her unique workplace