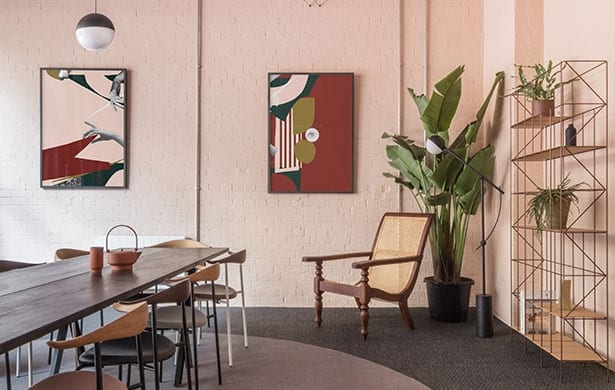 |||
De Beauvoir Block's list of commercial residents could be straight from the pages of a style bible, from ticket app Dice to music site Resident Advisor to the HQ for the various branding goings-on for It Girl Alexa Chung. In an age where a lot of similar warehouse buildings would be turned into luxury flats, especially in this particular bit of fashionable east London, it's heartening to hear that this project is all about encouraging a cluster of creative businesses.
That's down to the enlightened nature of developer Benyon Estate, which has a long tradition of managing property in the area, coupled with the design vision of duo Sella Concept. "The brief was to create a community," begins Tatjana von Stein, one half of Sella Concept.
Photo by Nicholas Worley
Edward Benyon, estate manager with Benyon Estate, elaborates on the working relationship that brought about the project as it is today: "We were approaching it as a standard office development but Sella Concept brought us a design concept that introduced the idea of co-working in the same building as larger companies."
Henley Halebrown took care of the architectural side of things, beginning in 2015 and completing last year, transforming these six Victorian warehouses into studios and offices with a budget of £5m. The practice says it was a case of "treating the roof of the warehouses as a landscape in microcosm, creating a series of small, prefabricated studios".
In terms of Sella Concept's work on the interiors, a light touch has been applied in the co-working space. There's a black, bespoke lockable unit-cum-desk design by Danish firm MA/U Studio to keep co-workers organised and secure, with pink and grey chairs to create a contrasting softness of hue. Instead of rugs, the concrete floor has been adorned with a pattern "to create a little bit of character", while indoor plants dotted around, along with original artworks by Emily Forgot and copper pipe detail on the wall, stop this area feeling too functional.
Photo by Nicholas Worley
Adjacent to this is the boardroom for when the residents need to flex up to more corporate business needs, like presentations or more formal meetings. This benefits from high ceilings, from which Flos lighting has been hung for an atmospheric look – without being, as von Stein says, "too techy or too creative".
Across the courtyard of this Edwardian industrial building is one of the centrepieces of the entire project: a cafe. Instead of being turned into just another business unit to be let out, this is a result of Sella Concept's original proposal for a retail/workshop concept evolving into including communal space for all occupiers to enjoy – with, Benyon adds, "the hope that all creative industries in the building would benefit from the interaction".
Subscribe to OnOffice for the full feature
Sella Concept's fresh interior for Hackney's De Beauvoir Block redefines its warehouse space for a stylish co-working community