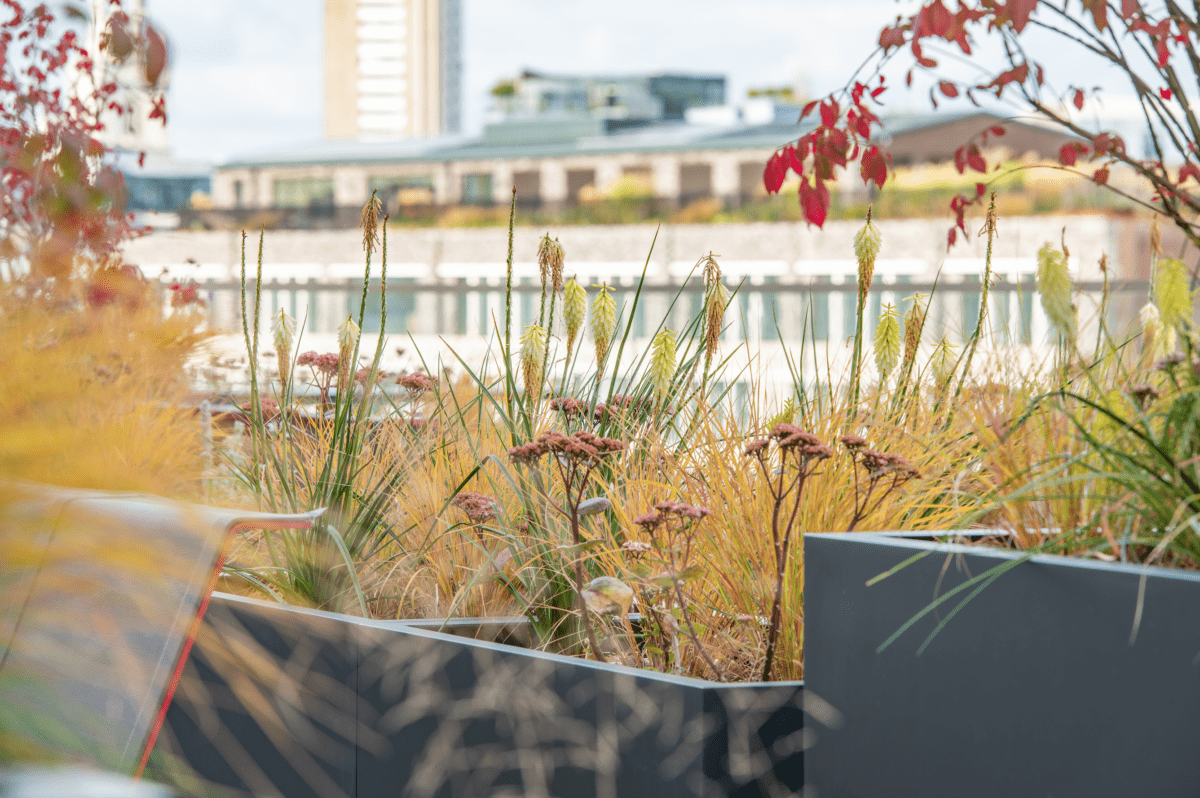 The design contributes to creating a wellness-minded workplace that increases performance and reduces stress
The last time OnOffice visited Bloom, HB Reavis's large-scale office scheme in London's Farringdon, it was all hard hats on site. Now, it's regular workwear or, as the blurb would have it, where blue chips mingle with black jeans, signifying the developer's intention to attract both the corporate and creative tenant.
This 144,000 sq ft mix of work, retail and amenity space is very 2022-ready from the Scandi-inspired furniture set-up in the reception to the urban farming on one of the many roof terraces.
"The building sits above the Crossrail station and was created around flexibility and sustainability," begins Festus Moffat, director with John Robertson Architects (JRA), which worked as overall scheme architect, working the design through to CAT A, as well as working closely with Crossrail's engineering team to create plans that ensure all technical requirements were met. No surprise then that's on track to achieve WELL Platinum, BREEAM Outstanding and Wired Platinum.
Bloom has also achieved an EPC rating of A, crucial in the energy-conscious days we live in. It is situated next to the Citigen power station, which has two huge engines powered by natural gas, the waste heat from which drives the building. "It doesn't have any boilers or chillers," adds Ian Farmer. HB Reavis's head of design, likening the set up to a heat pump on a huge scale.
While the second up to sixth floor are let to one client, the penthouse office of the seventh floor is still, at the time of writing, up for grabs. The high glazing ratio offers enviable views across St Paul's and down into the city with tenants of this floor offered their own private terrace. A communal terrace for the other floors can also be found here.
The first floor is dedicated to HB Reavis's Ready To Work area, which the property firm bills as their 'tech-enabled workspace'. Drinks can be ordered at the touch of a meeting room screen while temperature, air quality and navigating the building can be checked at a glance of a dashboard screen.
Read more: Holloway Li designs experimental showroom and workspace for Coalbrook
Instead of a fixed, take-it-or-leave-it workspace, this is an interesting development in workplace design, where fit out evolves to suit tenants' current and future needs, thanks to the in-house tech and sensory platform Symbiosy. This monitors, among other things, use of the different types of work settings on offer giving an ongoing workspace consultation to occupants.
Cyclists should delight in being able to wheel into a well-lit ground floor space rather than trudging into a dank basement, with changing facilities a flight of stairs away. And if the fluffy white towel count is anything to go by, more reminiscent of a boutique hotel and a similarly generous proportion of lockers. "It was important that these facilities should feel like front-of-house," says HB Reavis leasing manager Louise Ioannou.
As the Bloom hoardings were removed and the terracotta finish on the outside (in 'Reavis Red') became visible, there was a definite degree of anticipation about what this newcomer would offer the office market. The answer is a wellness-orientated workspace that has enlivened the corner where Cowcross Street and Farringdon Road meet.
Images courtesy of Bloom Clerkenwell