Standing the test of time: BDP's interiors arm was launched in 1973 with its photographic archive revealing a timeline of the office golden age
A timeline of key projects by interdisciplinary design studio Building Design Partnership (BDP) cleverly aligns them with contemporaneous, iconic designs. For example, major 1970s projects, such as the Lisbon HQ of Banco Espírito Santo Comercial de Lisboa and Halifax Building Society, are paired with Arne Jacobsen's sublimely sleek taps for Vola and Richard Sapper's innovative Tizio task lamp, whose counterbalanced arms transport electric currents without cables. A 1980s project – the office of news agency Reuters – is juxtaposed with the eternally classic Tolomeo lamp co-designed by Michele de Lucchi and Giancarlo Fassina in 1987.
BDP was founded in 1961 by visionary architect George Grenfell Baines, who, in an unusually non-Londoncentric fashion, set up a studio in Preston, Lancashire. Yet the timeline kicks off in 1973 when BDP established its pioneering in-house interior design arm, founded by Rodney Cooper; other key members included Iris Dunbar, John Pinder and John Barker. During Clerkenwell Design Week, BDP is marking a half-century since creating it with an exhibition at its office in central London.
"Most architecture practices at the time didn't have specialist interior design departments," says Mark Simpson, chair of design and head of workplace at BDP, when we meet at the practice's London studio.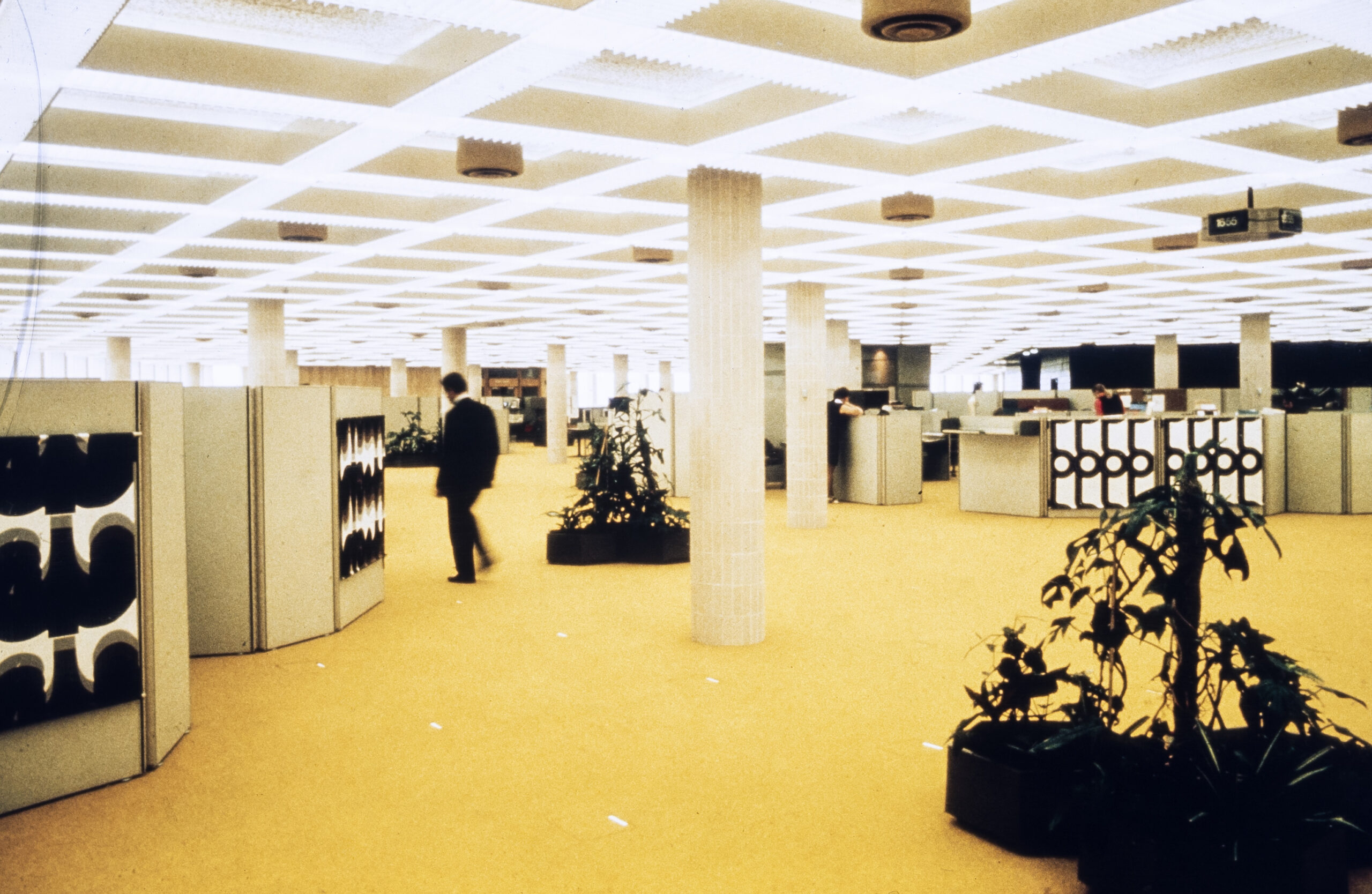 Fortunately, BDP has assiduously documented its projects over the years and has a huge picture archive to draw from. A row of actual slides are neatly lined up in chronological order on a limline lightbox in the huge meeting room where we chat. Their glorious Technicolor hues are both a delight to pore over and instructive about BDP's major interior design achievements. Other high-profile BDP projects have included offices for PricewaterhouseCoopers in London (of 2011) and Belfast (2021). Other BDP clients have also included the BBC, BT and Scottish Widows.
Pairing BDP's projects with design classics might seem self-aggrandising but this was not the practice's intention. Instead the idea behind this is to illustrate BDP's commitment to sustainability, chiefly thanks to its deeply held belief in longevity. "We've always invested in good furniture and design, such as USM's Haller furniture range, which still looks contemporary," says Simpson, who joined the firm in 1985.
"Selecting good furniture is an essential part of the circular economy as you should be able to reuse and redeploy it. As a practice, we've never been swayed by fads. I'm a big fan of [German product designer] Dieter Rams's 'good design' principles." These include "environmentally friendly" and "long-lasting" design. Rams says of the latter that it "avoids being fashionable and therefore never appears antiquated".
The aforementioned Reuters office was equipped, says Simpson, with Friso Kramer's modular 1972 Mehes furniture manufactured by Ahrend. Simpson describes it as "still an attractive design icon". "Its letters stand for mobility, efficiency, humanisation, environment and standardisation," he adds. "Its components are easy to separate for reuse and recycling. This progressive design suited a growing demand for flexible, open-plan offices."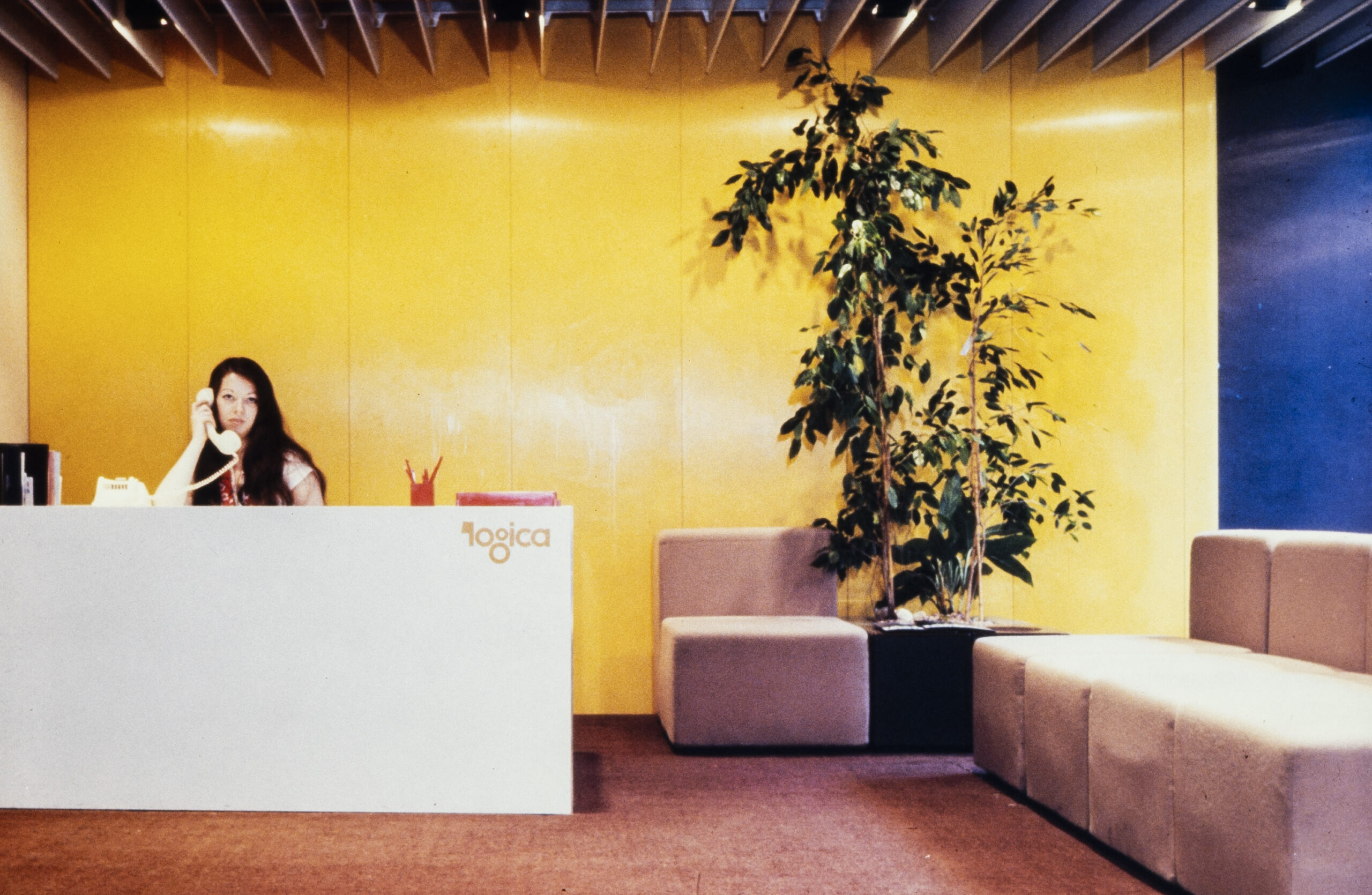 Our conversation includes a look at BDP's beginnings. Grenfell Baines was a socialist inspired by modernism. "In the 1960s, he met Bauhaus founder Walter Gropius for a 30-minute meeting; they ended up talking for over four hours," says Simpson. "Gropius said Baines was achieving everything he wanted to achieve – a massive compliment. BDP's practice is still steeped in functional modernism, a style that represents longevity in design."
Grenfell Baines was an early adopter of the design concept Bürolandschaft (meaning office landscape), developed by German brothers Eberhard and Wolfgang Schnell. This was an office layout that gave employees freedom of movement, was anti-hierarchical (though Grenfell Baines had his own office) and promoted wellbeing among staff. "Before then desks had been very regimented, with staff cooped up like battery chickens,"says Simpson. "I call the Bürolandschaft idea free-range by contrast. In the 1980s and 1990s, everything became rigidly regimented again but in recent years offices have moved back to a free-form style, which suits us down to the ground."
BDP's philosophy champions wellness in other respects, says Simpson. "We started out focusing on healthcare although we now work across a broad range of sectors. BDP designed the Pilgrim Hospital in Boston, Lincolnshire, in 1961 and still has a strong repertoire of healthcare projects, such as New Children's Hospital in Dublin." One area that BDP takes very seriously is wayfinding, which makes buildings – in particular hospitals, which can be disorientating – "legible and navigable", as Simpson puts it. The practice has a graphic design department, too.
Simpson raises an interesting point that BDP's clients benefit from its multidisciplinary approach in that features that prove practical in one type of environment are often useful in another: "Good wayfinding that works well in a hospital environment may also work well for students and in offices." Grenfell Baines – and no doubt Gropius, too – would surely have approved of this mindset.
Images by BDP, Roger Warhurst & John Mills Photography
As featured in OnOffice 163, Summer 2023. Read a digital version of the issue for free.