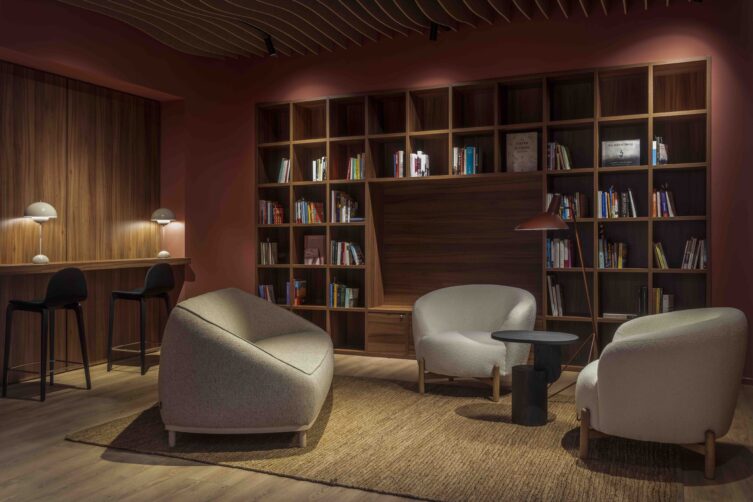 Barcelona design practice The Room Studio put inclusivity and comfort at the centre of its transformation of a former flour factory into the city's first private membership club for women
Unlike in the United States, where private membership clubs dedicated to women are flourishing, until recently these sanctuaries for coworking, events and socialising over cocktails have been noticeably absent in Barcelona. Frustrated by the dearth of such uplifting communities, American expats Natalie Batlle and Liana Grieg, long-time residents of the city, decided to launch their own.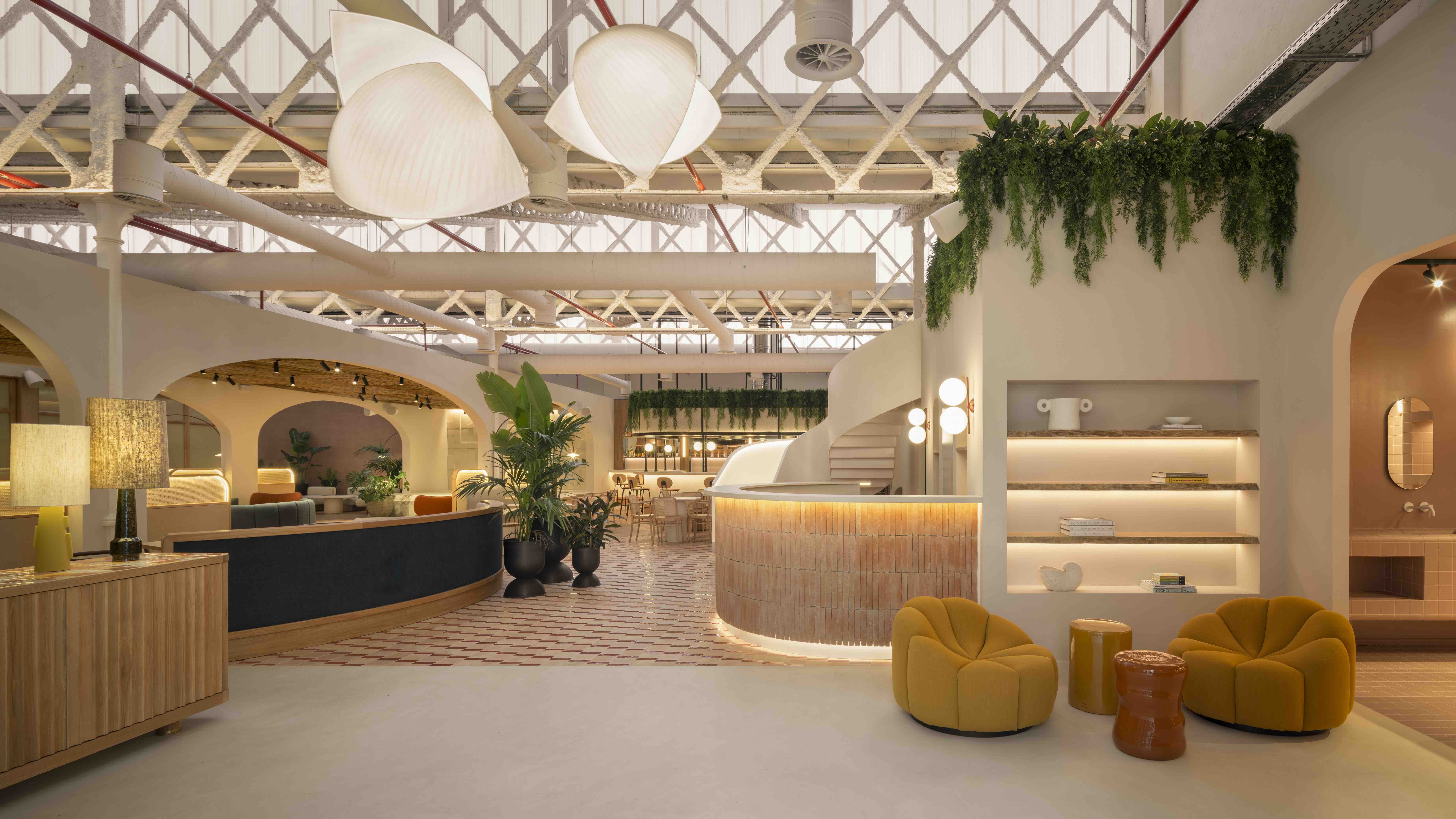 Situated in a former flour factory from 1900 right off bustling Avinguda Diagonal, Juno House is rooted in balance, a safe, inclusive venue where professional development, motherhood and holistic wellbeing are equally celebrated and nurtured. Before the club's arrival, there was a lack of spaces "like this to support the working woman, the independent woman, the enterprising woman, the woman who believes in opportunities, who believes in collaboration," admits Meritxell Ribé, co-founder and co-creative director of The Room Studio, the local design practice that brought Juno House to life.
The creative heart of Juno House is the Nave, originally the factory's vast, barren warehouse, which Ribé and her team have infused with warmth by segmenting it into various intimate zones. Although each one is distinct, none of them stand out from each other. They cannot be differentiated by their shape or chromatic palette, points out Ribé. "You must always think that you are in Juno, that you don't change scenery to seem as if you are in another place."
Although there are subtle shifts that suggest a change in mood – such as the flooring that morphs from coloured ceramic geometric patterns to swathes of oak to sound-absorbing carpeting in the conference and meeting rooms – the interior unfolds organically as a sequence of environments.
Reassuring neutral hues set the tone at reception, which is marked by a cluster of seating and a small shop. It also exudes what Ribé describes as a "Barcelona handcrafted touch, using local materials and recovering the trades – something that was very important to us – from terracotta to hand-painted ceramics. The idea was to create a Barcelona project, a project that, perhaps, will later expand throughout Spain and Europe, so the flagship had to nod to the city."
Once inside the Nave, members might head to the organic produce-driven cafe with its meandering marble-accented bar, or to one of the workshops held in the flexible central area featuring a multi-purpose stage backdropped by a graphic cementitious clay mural designed by The Room Studio. There are also Zoom boxes enclosed by zen oak slats to cocoon in and a greenery-laden chill-out hub adorned with natural linen.
At reception, The Room Studio introduced the sinuous motif found across Juno House. "The whole project is endowed with curves, rounded edges that emulate the female form," adds Ribé. Consider the arches, the soft custom-designed furniture, or the prominently located undulating white lacquered iron staircase that replaces the old one unattractively relegated to the side. "We thought that it could be a sculptural piece by putting it in the middle part," she explains.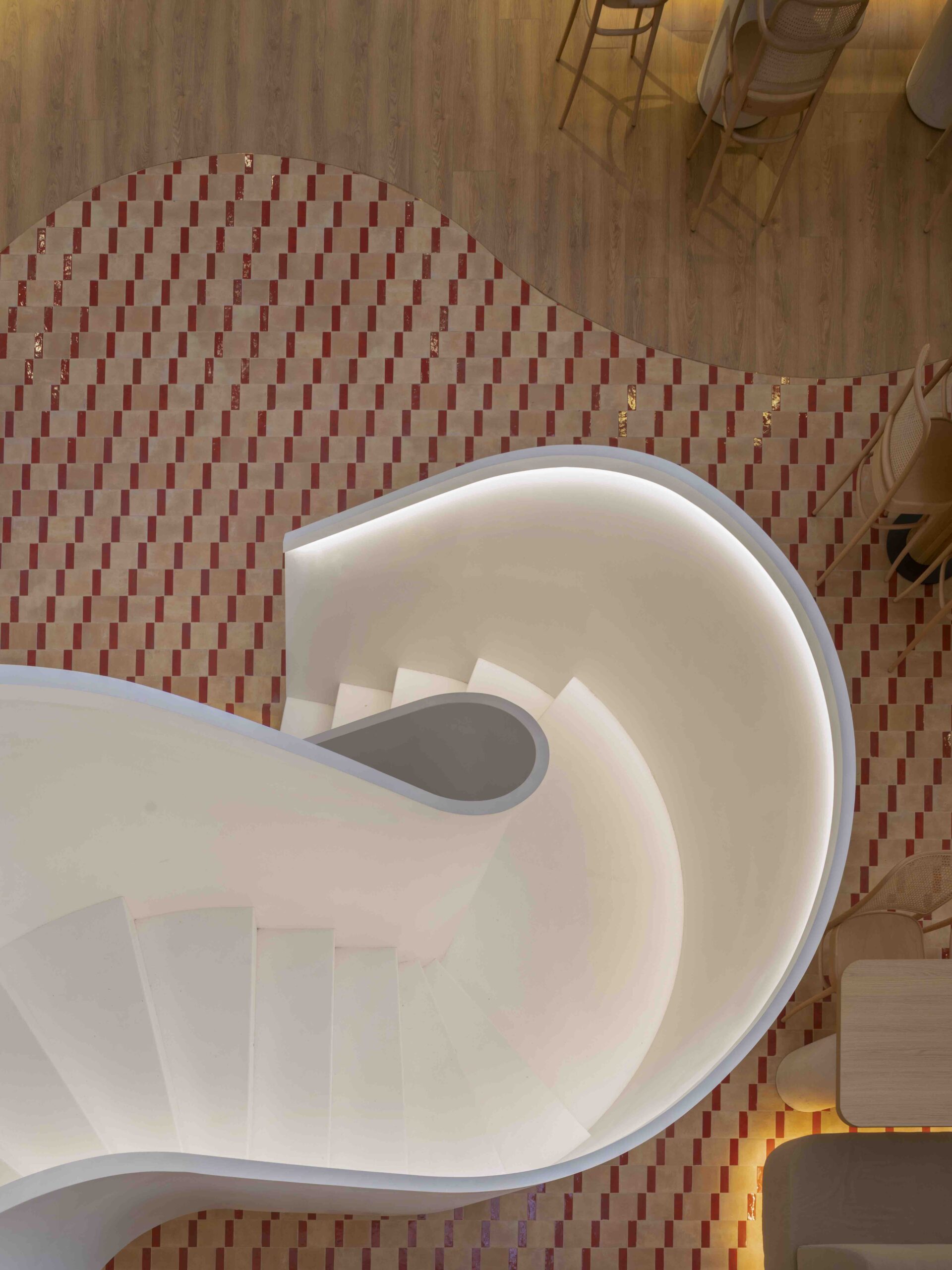 For the library the desire was to "make it the strongest and most intense point" of the Nave, continues Ribé, so The Room Studio embraced bold cherry and burgundy hues for a dramatic contrast.  It's also characterized by a rippled acoustic ceiling that helps foster an intentional sense of disconnection, as Ribé puts it, "of silence, of finding yourself alone in a space that takes you in".
Beyond the Nave is the Farinera. Recalling a doll's house, the building is centred on personal growth and relaxation, each of its floors fuelled by a specific purpose. In true New York style, for example, the Clubhouse's glamorous walnut bar buoyed by mirrors is an ideal setting for girls' nights out, but the vibe changes quickly from sophistication to whimsy in Little Juno. A refuge for breastfeeding and nappy changes, it doubles as a bright indoor playground for visiting children to take to the ballet barre and revel in a fantastical mural by Gabo Estrada.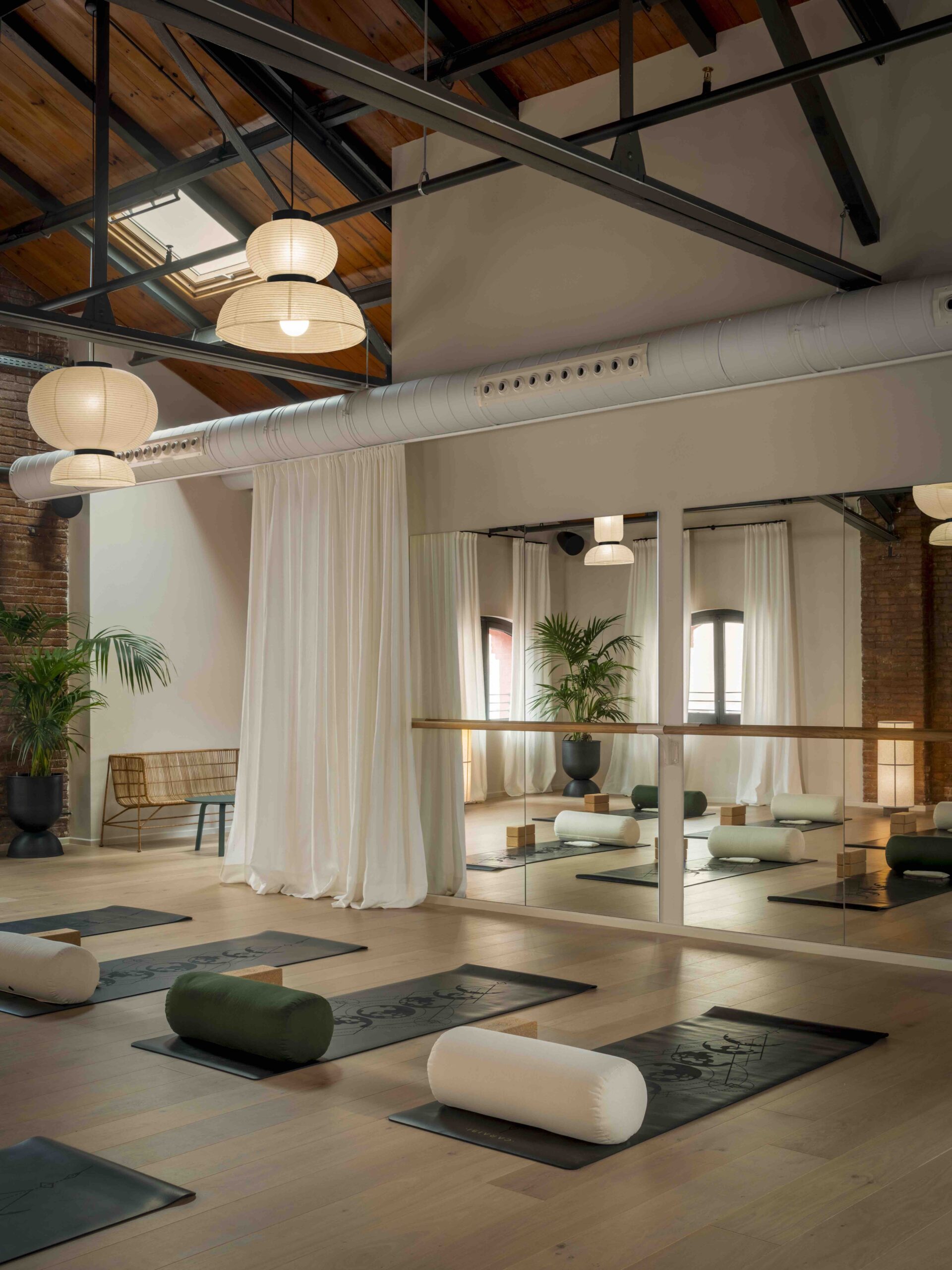 Self-care is the priority on the Juno Glow level. After a massage, say, guests wander into the dressing room reminiscent of vintage Hollywood and spruce up at one of the vanities underneath the decorative ceiling. At the top of the Farinera awaits Juno Studio, a wellness destination for yoga, Pilates and meditation bedecked in diaphanous curtains, vegetation and soothing oak.
"The programme of needs was strong; therefore, we used these two buildings to create totally different atmospheres, but at the same time there is a harmonious balance," explains Ribé. As a member of Juno House herself, she likes to observe the others and how they interact in the club. "I notice that people are happy. This means that we have done well, that people like it, that they are comfortable," she adds. "They find favourite moments in every corner, from spaces so different but so connected."
Images by Mauricio Fuerte
As featured in OnOffice 162, Spring 2023. Read a digital version of the issue for free.