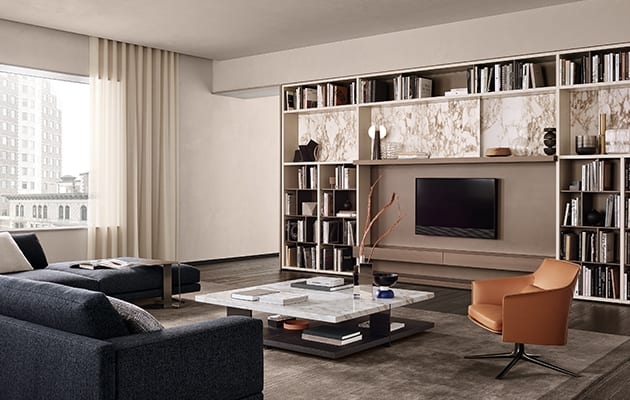 |||
As our #DesignTogether campaign continues to unite and support the A&D industry during the COVID-19 crisis, creatives, from designers to architects to PRs, have shown how they keep the community spirit alive with positivity, inspiration and hope. We'd like to thank all of you who have taken part in some way or another in supporting #DesignTogether.
Today, we sit down – virtually – with Bronwen Harris, Director of Sales and Marketing at Poliform UK, to discuss all things design, why a classic Victoria sponge cake is her favourite comfort food, and how she keeps herself and family motivated during the pandemic.
OnOffice: Poliform oozes sophistication and style. The brand is deeply rooted in the territory of Brianza with a strong bond to the values and traditions of its place of origin. Do you find most of your design inspiration in Brianza? How has the pandemic affected your work?
Bronwen Harris: The Brianza region is the heart of all good Italian design. Poliform, along with all its contemporaries, have their roots there. Our day-to-day creative inspiration is drawn from our two amazing showrooms where we are able to source from a myriad of finishes, designs and models.
We have a collection of kitchens, wardrobes, wall systems and free-standing furniture, so we are able to design for the entire house with the exception of the bathroom. Each project is designed for the clients' individual needs, as the options are endless in regard to finishes and look.
With the showrooms closed, we must rely on online visual stimuli to reach a different sense, which we are only just fine-tuning. We're having online presentations and offering Zoom meetings; this is certainly a very different way of working, but in some ways more intimate, as both you and the client are in their own homes.
The Concorde desk by Poliform. Photo: Poliform
OO: Do you have a favourite place to work at home?
BH: I have a study overlooking the garden, which backs on to a park, so I am not overlooked nor are my views interrupted.
OO: Do you work alone or share your space?
BH: Only with the dogs.
OO: Do you bring the 'Poliform lifestyle' home with you?
BH: It is hard not to fill your own home with Poliform as having worked with them for 21 years it becomes part of your blood. All that work with Poliform know themselves as POLIFORM family.
OO: What would you say is your favourite item in your office?
BH: My favourite item is the BUG chair by Paola Navone, a Poliform design classic – when I need to sit and read something rather than work on the laptop I sit here.
OO: If I were to re-furnish my office, what three must-have items from Poliform's collection would you recommend?
BH: Firstly, Poliform has a component-based system called 'Wall System' – this can be designed for all your needs, from a library unit to TV to office storage with desks. It comes in 27 lacquers with doors and drawers, a great storage solution for all of your office needs.
The second item I would definitely have would be the Concorde desk. It's elegant and organically shaped in oak spessart, featuring a writing pad in leather. It's a desk that needs to be kept tidy so you can see it, and I like tidy.
The final item is the Mad chair. I have one of these in my office at the Wigmore showroom. It's designed by Marcel Wanders, and with its quirky distinctive rounded shape, even the most stressed-out designer seems to relax in it when they come to see me.
Poliform's Wall System allows for a wide range of design solutions. Photo: Poliform
OO: What projects are you currently working on?
BH: Poliform London work on projects across the world. Our teams are currently working on a variety of projects, from a dressing room for a Princess, a whole house for an entrepreneur and an exciting project that our contact team are working on for an aparthotel in Marylebone. Our projects can be from one single chair to a whole development of kitchens.
OO: Cooking brings the family together. What is your top comfort food?
BH: I'm afraid its Victoria sponge cake – if you can find eggs, it is so simple – 6 ounces of each ingredient, even my son can make it.
OO: What advice do you have for other creatives working from home?
BH: Keep inspired, read, maintain a routine, get up and get dressed – don't work in PJs, take a lunch break and try to find the space to keep connected with your family during the day. Oh, and eat cake!
OO: How do you stay motivated (through the coronavirus pandemic)?
BH: I look for inspiration on Instagram and keep in touch with colleagues and suppliers via Microsoft Teams. Staying connected is the most important thing as is to remind ourselves that soon this will be over; whatever the challenges we face, they will be for all of us to face together.
An intimate look inside the Poliform universe