Tap into your creativity while working away at this stylish Stockholm café where emerging design studio ASKA created a dream-like atmosphere for its customers
Nestled in Stockholm's vibrant Vasastan neighbourhood, Banacado which opened earlier this summer, is a new boutique café overflowing with irresistible pastel tones and a sun-soaked atmosphere.
Designed by emerging architecture and design studio ASKA (as featured in OnOffice 155), the Swedish duo transformed the 70 sq m space into an inviting interior with warm yellow hues and peach-coloured walls to create a soft and soothing ambiance throughout.
Inspired by the colours of the Caribbean and classic aesthetics of Cuba, Banacado mixes up Stockholm's café culture with its menu of gluten-free and plant-based dishes, from miso tahini superfood salads to nourishing choco protein breakfast bowls.
"At ASKA, we often draw inspiration from places we have visited in other parts of the world. We feel that in Sweden it is common to play it safe when designing public environments, the goal being to attract the widest audience possible. In this project, on the contrary, our ambition has been to create a strong and focused experience that elevates the core and essence of Banacado. A place with a clear and unique identity", says ASKA co-founder Madeleine Klingspor.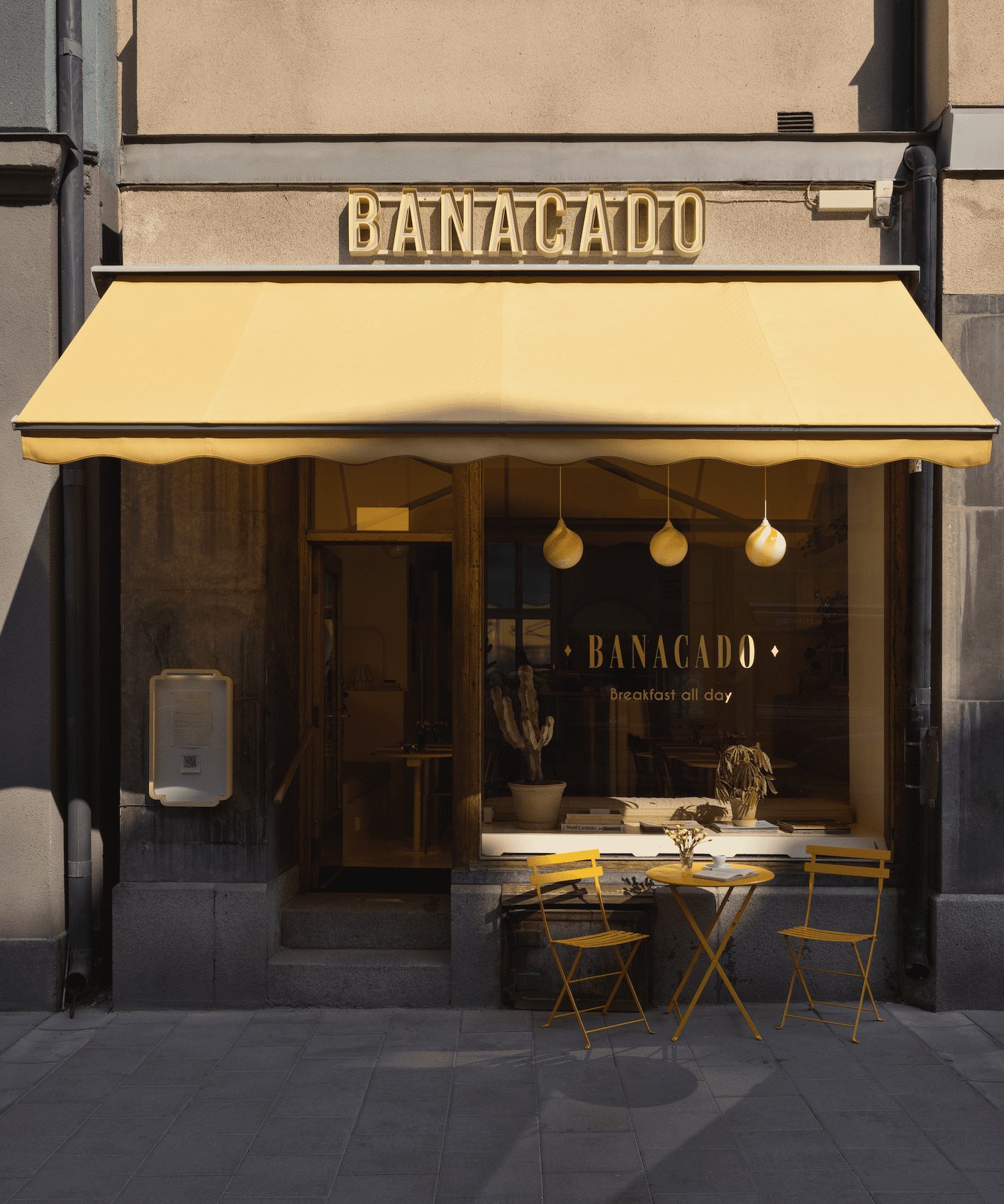 Upon entering the space, visitors are enveloped by a pale yellow light, resembling the effect of a sepia lens as if part of an old film. The concept for the space was to create an environment where 'time stands still' which is further enhanced by the subtle layer of vintage details such as the lp-player and the polaroid wall that transports guests to a different era. To create the dreamlike atmosphere, the architects also looked for inspiration within the contemporary film industry.
"The composition of the interior references the aesthetics of a Wes Anderson movie, as his motives often follow a strong symmetry and are built from a one point perspective. That sense of constructed perfection makes a space feel somewhat unreal", explains ASKA co-founder Polina Sandström.
With its ambition to strive towards a bold, international look, ASKA incorporated large form-cut mirrors and a diverse material palette including tiles, terrazzo and stainless steel for a high-end touch, chosen to complement the café's all day breakfast menu, more commonly found in cities like London or New York.
Furthermore, the pair are also responsible for Banacado's graphic design and logotype, as well as some of the bespoke furniture which has been specifically designed for the café. The tables feature a squared pattern made using ochre tiles and a light yellow grout, while the integrated cutlery holder adds a functional aspect.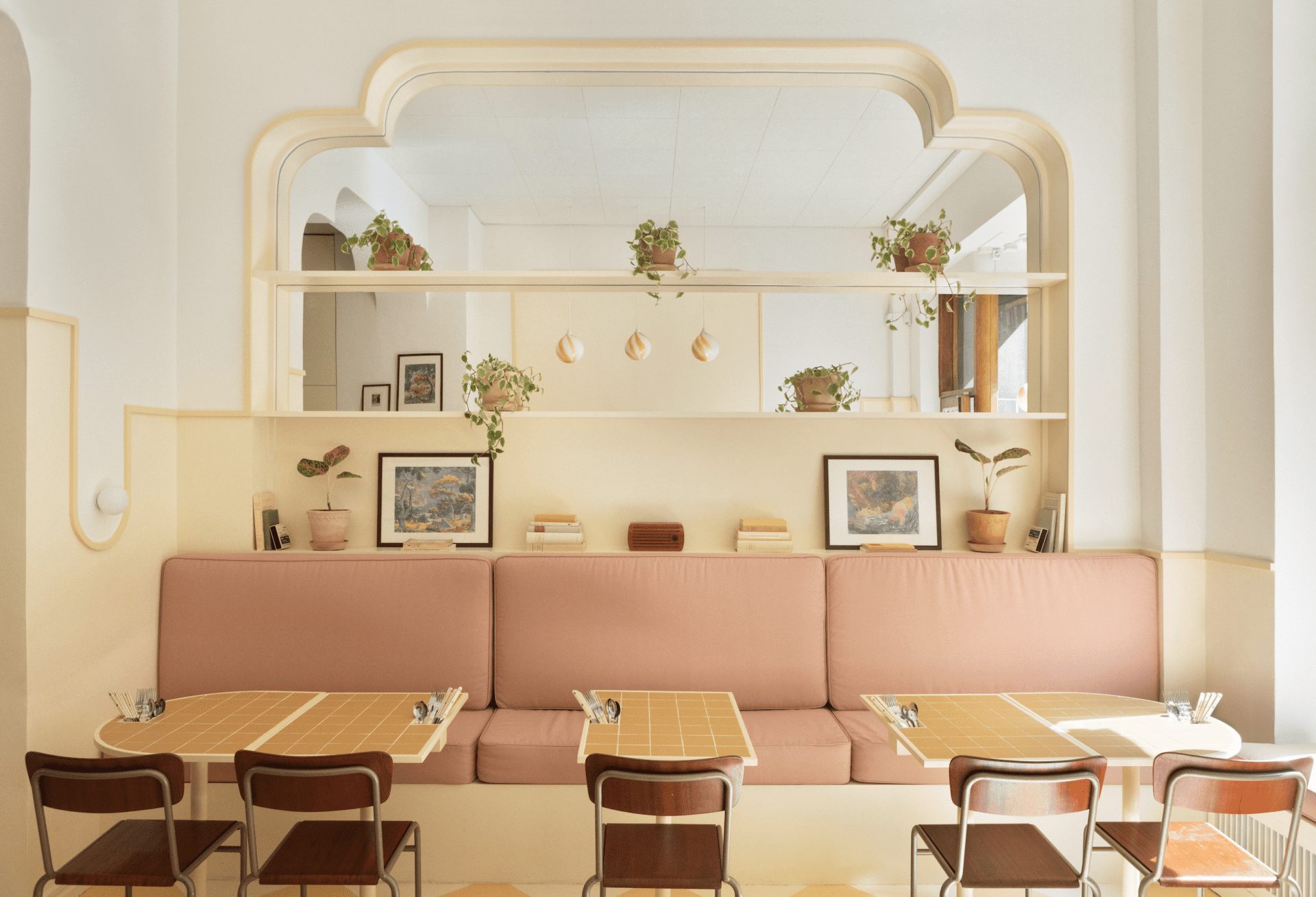 The firm's love for cross-disciplinary fields like object design and art is also present. For instance, the bespoke striped handblown lamps, designed especially for Banacado by glass artist Ulla Gustafson add a playful touch to the space, while impressionist motives by painter Carl Palmé, highlight the poetic tone of the interior.
ASKA is run by the two architects and co-founders Polina Sandström and Madeleine Klingspor. Previously this year, the company finalised the new head office of haircare brand Maria Nila as well as the set design for Trendgruppen Design TV during Stockholm Design Week. Read the full interview with ASKA in OnOffice 155.
Images by Mikael Lundblad and Michaela Wissén