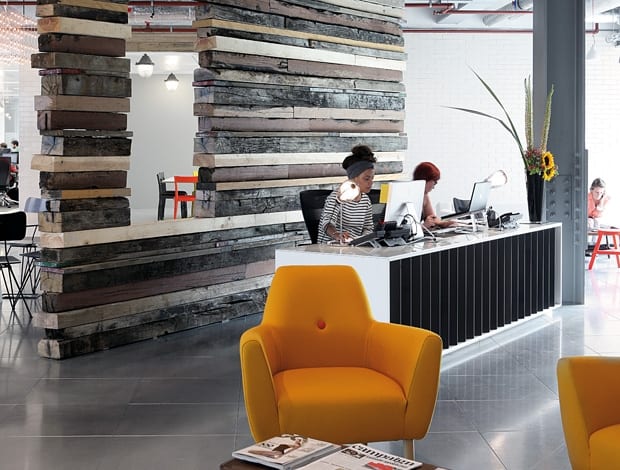 Digital space Glue Isobar brings a bit of edgy Shoreditch to Regent's Place|MoreySmith created a different look for each of Aegis's multiple brands|The ground floor cafe is a communal space for all the building's various brands|Sliding garage doors close off the meeting rooms in Glue Isobar's space|Reception areas on each floor are branded with floor-to-ceiling graphics|Media planners Carat's reception: the layout on every floor is the same|Carat's meeting space: MoreySmith had already designed its previous HQ||
A raft of challenges faced MoreySmith when it came to turning the vanilla Cat A office space in north London's Regent's Place into the new headquarters of media giants Aegis Group.
The move, a culmination of a two-year strategic property review, is the first time that the company's various brands (including Vizeum, iProspect and Carat) have come under one roof. Previously spread around London, in locations ranging from the Qube near Tottenham Court Road to the Tea Building in Shoreditch, each had developed an individual feel to their offices and workspaces. The project demanded a level of unity, so that the brands would sit together in a coherent way, but no individual agency wanted to lose any of its identity in the transfer.
There was some controversy over bringing a group of media companies to Regent's Place, the British Land development that spans the area behind Euston Road between Great Portland Street and Warren Street tube stations. When it couldn't find a single space big enough in the traditional media strongholds of east London and the West End, Aegis took the step to move its 1,150 staff to the "other" side of Euston, to an 11,000 sq m site overlooking Regent's Park.
The company had found the space it needed, but the building itself needed a stamp of individuality. The Regent's Place development already had everything in place, from the reception, which directly mirrors others in the development, to the raised floors and suspended ceilings. Important decisions had to be made over whether to extensively refit areas, or to allocate the funding elsewhere, injecting personality into the building through other means.
These factors made consulting each individual client more important than ever. The project also had a tight timescale attached – eight months from consultation to moving in. This posed an additional challenge: each contractor had to be closely phased, with all eight floors of the building fitted out in a synchronised manner, meaning that each floor plate needed to relate to the next.
Despite every floor-cum-agency having a unique treatment in terms of design and feel, a layout template was needed to make the project deadlines achievable. On each floor, the meeting rooms sit behind the lift shaft; the lift gives way to reception entrances with breakout space and drinks points leading off them;
and the open-plan office spaces lie beyond.
A skilful balance of creativity and pragmatism was essential to make this project a success. "We had been faced with a similar challenge with another client, Arup," says Nicola Osborn, a director on the project. "We had to bring a number of companies together, retaining the identity of each. Sony Music was similar; many labels that had existed separately had to come together in one location." These projects served as testimony of MoreySmith's ability to listen to each company individually and deliver a shared vision for the client. "It's this experience that they really valued," explains Osborn. "This is the most brands we have worked with in a single project, however."
The main feature as you walk into Aegis's reception is the staircase, which the architects dropped in, meaning that big clients do not have to go through security, or the main lift lobby, but are linked directly to the pitch rooms on the first floor. It also bypasses the ground floor cafe, which is designed as an informal space for employees to mix, eat and relax. Its style is traditional-brassiere-with-a-twist, with a mix of black and white tiling and wooden parquet floors, and a pre-cast concrete serving counter. The ceilings have been stripped back, and an eclectic mix of grouped pendent lights create more intimate areas to meet. It's contemporary but classic, rather than all-out Shoreditch, Osborn explains: "It's designed to accommodate a range of agencies – some more corporate than others – so it has to be inclusive to everyone in the building, and also be somewhere people want to spend time."
The first floor is split between the offices of Aegis Group executives and the shared meeting room suites, a central resource that teams across the building can book via a meet-and-greet reception desk. "One thing we noticed consulting the clients is how much these spaces get used, and they are now fully booked out," Osborn explains. The rooms here include a cinema suite for formal presentations and entertaining, and a range of rooms (dedicated to various media legends such as Tim Berners-Lee and Alexander Graham Bell) with high-spec video-conferencing facilities, sliding panels to create a flexible use of space, and walls made from wooden railway sleepers and upholstered panelling to add texture and warmth, giving the area the exclusive feel of a private members club.
Each lift lobby has been branded with the aid of in-house designers, so that coming out on any given floor you're presented with floor-to-ceiling graphics, and immediately immersed in the brand of the agency you are entering. "Being media agencies, the more flat space each company was given to brand themselves with, the better," Osborn explains.
It was probably a great help to the schedule that MoreySmith had already worked with some of the companies prior to the move – designing Vizeum's workplace in the Qube, for example, and Carat's in the Charlotte Building north of Soho. Osborn explains how, for some of the brands, the move offered the chance to build on what had worked in previous fitouts and refine what hadn't, whereas with others it was a chance to launch the brand differently, elevating itself through the move.
Digital agency Glue Isobar, one of the edgier brands in Aegis's portfolio, moved to the building from the Tea Building in Shoreditch, and used it to transfer what they loved about their old home, leaving behind flaws like the dodgy heating and a general lack of facilities. Stand-alone walls made from stacked-up wooden timbers, brick cladding, reclaimed pendant lights, supersized sliding garage doors, brightly coloured fabric walls, wall-sized chalkboards and dropped-in ceiling rafts all do an impressive job to transport some of the industrial warehouse features that had shaped the agency in its last residence, while distracting they eye from the more generic features of the brand-new building.
Overall, while the central resources have been cleverly rationalised, any vanilla aspects of the building have been eradicated behind the energetic graphics, vibrant colours, recurring motifs and natural materials that characterise each agency floor, creating effective brand microcosms in this media mother ship.