The Shoreditch-based architecture practice brings a pop of colour to London's creative hub as Panagram opens its doors
In the heart of Clerkenwell at 27 Goswell Road, an outdated 80s office building has been transformed by London architecture studio Buckley Gray Yeoman into a colourful and vibrant hub for new workspace provider Panagram.
A retro pop aesthetic has replaced the corporate look and feel of the building as physical and metaphorical barriers are broken down to bring about a convivial and lively working environment.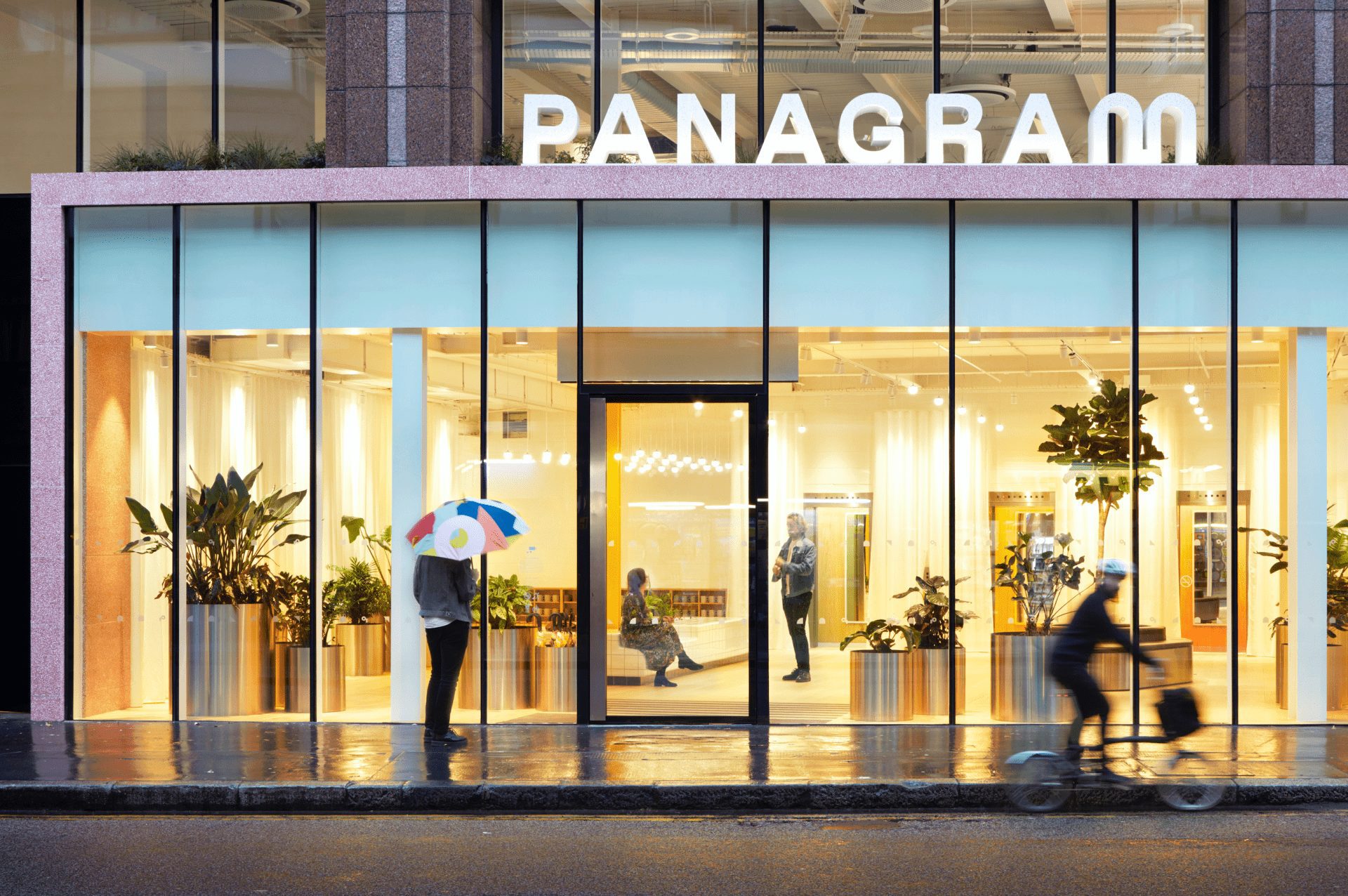 The designers retained some of the original features of the existing building, including the exterior clad in pink granite, to inspire a new identity for Panagram. A similar hue of terrazzo wraps around a new entrance of the building, and floor-to-ceiling windows, invite the gazes of curious passers-by on the street.
Inside, the 52,000 sq ft building is flooded with natural light and bursting with colour. The reception area, an open-plan space providing a multi-functional and modern workplace, is noticeable by its lack of traditional desk space. Unique seating elements make up the interior, including a minimalist, white-tiled plinth with koi carp swimming through its centre, while a sculptural leather bench, wraps around a Ficus tree.
Colourful lifts continue the sense of playfulness as they transport people up through the building. Buckley Gray Yeoman used a subtle colour palette throughout, with the fresh air ductwork painted Parisian pink and duck-egg blue on alternate office floors. Here, work areas are grouped into zones of activity, such as a vibrant kitchen within the open-plan setting.
Meanwhile, a breakout meeting room, delicately enclosed by a yellow translucent curtain, is designed for collaboration. Reflecting the growing shift towards more informal workplaces (both in design and hierarchy), Panagram demonstrates the importance of flexible layouts and why these are often a better representation of the way we work today than more corporate spaces.
"It's easy to look at a building like this and assume you have to start again", said Oliver Bayliss, Director, Buckley Gray Yeoman. "We saw an opportunity to create something really different and highly sustainable. Panagram has great volume and therefore great natural light, which in turn allows the building to be extremely desirable and flexible.
There is a bold interplay of the use of the ground floor – from inside and out – to create a multifunctional, ambiguous reception space. We have tried to create an almost gallery type space upon entry; with a series of beautiful objects set amongst planting and trees. These accents continue throughout the building and provide moments of joy that will hopefully lift the spirits of the people who pass through."
For more information visit panagram.london
Images by Jack Hobhouse