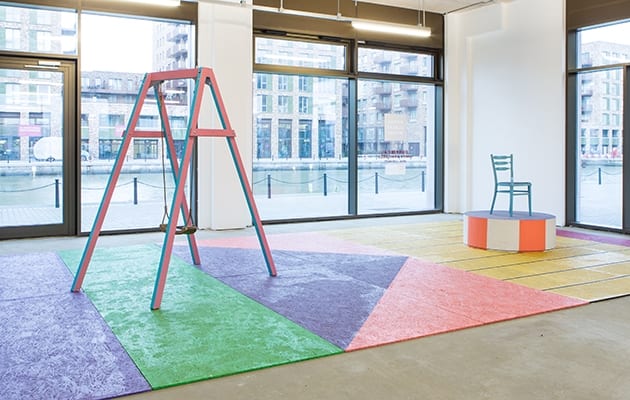 Estate Playground will reopen as part of R.A.W. Labs|||
Estate Playground, designer Yinka Ilori's grown-up jungle gym, has been donated to the Bow Arts charity and will be open to the public. After a successful run during London Design Festival 2017 set within the lobby of citizenM's Shoreditch outpost, the installation has now been moved to the Royal Albert Wharf where its part of a new cultural regeneration project, R.A.W Labs.
The playful installation, which OnOffice featured in our October cover, features a painted wood slide, seesaw and roundabout inspired by a colourful playground at the drab council estate in Islington where Ilori scene grew up. It was created specifically for citizenM, where 90% of the hotel's guests are business travellers; the idea was to foster a 'work hard, play hard' vibe in the lobby. It will open to the public at its new home at the Royal Albert Wharf on 1 May, 2018.
Yinka Ilori's installation is 'a colourful playground at the drab council estate'
"It's nice to see that the power of play and togetherness, which was my initial inspiration for the installation, will be continued from where it started," says Ilori. "I'm just overwhelmed and excited to see that the installation didn't end up going in the skip but instead it has gone to a new beautiful space"
"Here at citizenM the values of community, friendship and playfulness are important to us. We like to bring people together, whether it's the global community, or the local Shoreditch neighbourhood, and for us, Yinka's installation is a symbol of that," says citizenM's Chief Marketing Officer Robin Chadha. " We hope visitors to R.A.W. Labs enjoy the playground and all that it represents, just as visitors to our hotel did during LDF in 2017."
Bow Arts work with hundreds of schools across London and many of them will be able to experience the Playground. The Royal Albert Wharf is a hub 40 artist studios, housing and retail space in East London, part of the £1.7 billion Royal Docks regeneration project.
Never miss a beat with the new OnOffice newsletter.
Yinka Ilori's Estate Playground instalation finds a new home at the Royal Albert Wharf, after a succesfull London Design Festival stint in Shoreditch.