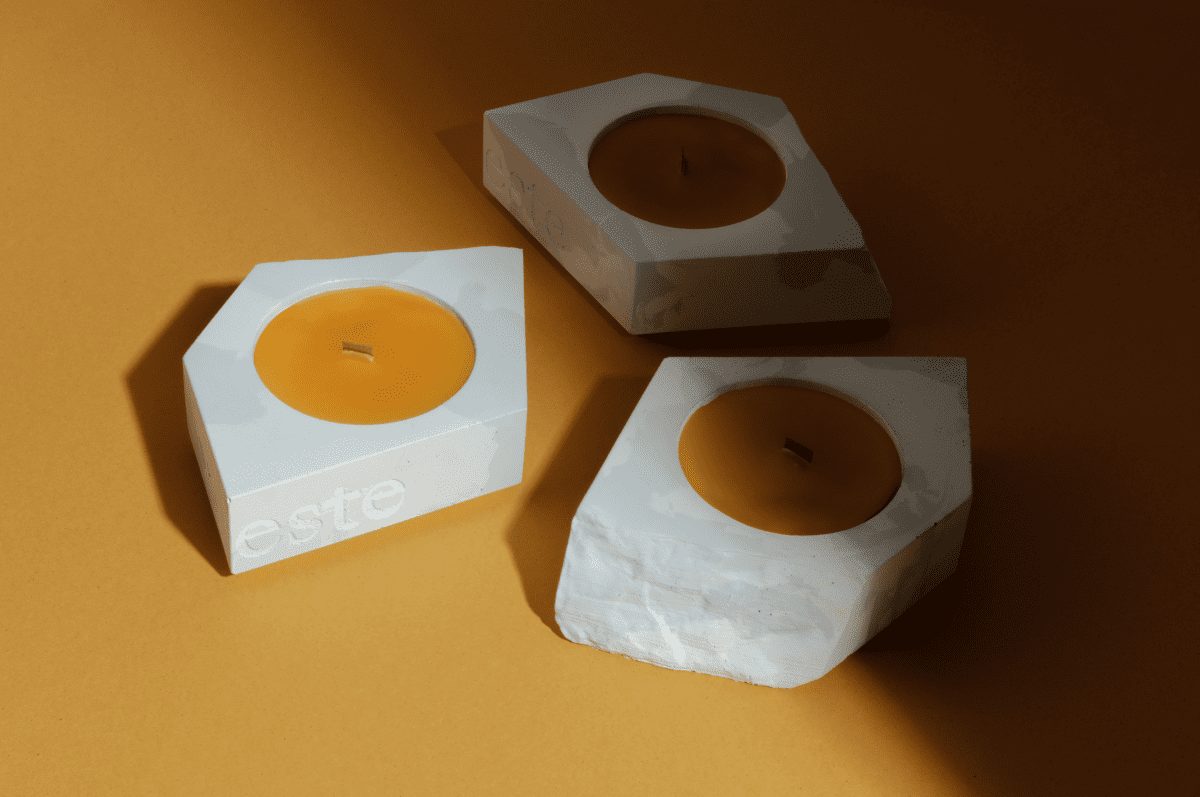 WGSN's Head of Interiors, Gemma Riberti, on the importance of candles and scents in the home office, workplace and beyond
Candles and scents are becoming increasingly creative, tapping into consumers' wanderlust and desire for novelty. Beyond scent, candles have also become decorative accessories in their own right, providing an aesthetic element for tablescapes and office desks alike.
With the ever-changing nature of workspaces, both at home and those returning to the office, candles and scents play a central role in creating comforting environments which are conducive for productivity. Within this, there are a number of key trends which WGSN are seeing emerge.
Joyful expression
Candles continue to offer consumers an affordable and easy way to add a bold dash of uplifting colour and positivity to any space. This is key in creating workplaces in which we feel comfortable following the pandemic.
Bright colour, surface effects onto the wax itself and an overall crafted approach inject a spirit of joyful expression into everyday life. Candles are ideally placed to instil joy through colourful patterns, bold colour and tactile elements that turn the vessel into a keepsake.
Emotive scents
Candle brands are using scent to elevate moods and inspire positive emotions, ranging from sensory escapism through scent and sound to ritual accompaniment and positive sentiments or evocative nostalgia. Candles are being designed to complement treating the space overall as a sanctuary.
An example of this is Candles by Homecoming, which are inspired by the everyday living spaces that we most look forward to relaxing in. Design studio Noreste has created a candle imprinted with an inspiring message revealed at the end of burning time. Brands are tapping into the powerful emotions of home and comfort, which can be brought with you into the workplace through emotive scents.
If the home is a sentiment after all, then a scent is a paramount medium to evoking and enhancing such sensation. Therefore, a lot of opportunity is being explored around scent-scaping: consumers are using candles and scent to define and zone different areas or rooms of the home according to the activities carried out there, or the time of day for instance. Home care brand Brooklinen offers a box of four candles with distinct scents to match consumer routines from morning to evening.
Scents-to-go
Brands are developing new ways to offer consumers scent on-the-go, with novel new methods designed for the home and office. Ways in which consumers can add scent to different parts of their life, whether this is the workplace or at home, is coming to the forefront of product development.
Portability is allowing people to transfer these scents between the home and workplace, with essential oil diffusers being remade with this in mind, focusing on designs that emit aroma without adding water.
The rising popularity of incense has inspired new travel kits that enable using incense on the go, such as the minimalist kit by Banyan Tree. Many brands are also creating reinvented versions of the classic car air freshener for the modern day.
Earl of East has created a cardboard-based carrier for its most popular scents, designed as a portable fragrance, and Italian high-end furniture brand has collaborated with heritage perfumer Acqua di Parma on a small refillable car diffuser crafted in Frau's iconic leather.
Site-specific
Candlemakers are using scent to tap into consumers' desire for wanderlust and memories of more social times, creating compelling reasons to buy. Brands are creating strong narratives around both far-flung and closer-to-home neighbourhoods.
Soohyang's Gangnam 8 candle uses nutmeg, cloves and orchids to evoke the nouveau riche neighbourhood in Seoul. Vigyl's candle is designed to evoke summers spent at Lake Ontario Beach, popular with the LGBTQ+ community, describing its scent as "freedom, equality and sunscreen".
Candles are becoming even more evocative, inspired by specific times of the day. Merchants of Beauty evokes nighttime New York, stating: "Go ahead, stay out past your bedtime." D.S. & Durga recreates the essence of the Big Sur coastal road after a rainstorm, mixing blooming magnolia, fresh eucalyptus and soaked wood.
Or Loewe's new range of home fragrances offers 11 plant-based scents, including beetroot, oregano and coriander, to evoke "the raw essences of a vegetable garden" and lift spirits by bringing to the nostrils these familiar, relatable and emotion-infused scents.
Plant purifiers
As the seasons change and weather cools, brands and garden centres are stocking up on houseplants that help scrub the air. Consumers are adopting the common office practice of improving air quality with oxygenating plants as their home offices continue to evolve. House Plant Shop offers an air purifying plant set containing a snake plant, dracaena plant, pothos and a peace lily.
According to our social media data, more consumers have been buying, engaging and searching for plants, resulting in new highs for this trend. Adoption on social media shows YoY increases through 2020, with a clear peak in April (+2.3ppt YoY) and the strongest growth in winter months in the Western hemisphere (November 2020-January 2021).
Images courtesy of Noreste