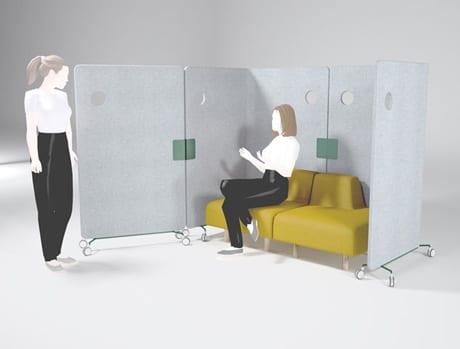 ||
Looking at school as "the office for kids", tengbom has developed furniture for dynamic learning
Swedish architecture and design practice Tengbom is launching Alphabet City, a range of school furniture aimed at encouraging a more active learning environment. The products, which include an assortment of chairs, room dividers and desks, are the result of a collaboration that began in 2012 with furniture brand Input.
"We looked at how the school had developed over the last hundred years and saw that, although the classroom looks the same, things were starting to move away from passive learning," says designer Daniel Lavonius Jarefeldt.
"The structure of the classroom might change from lecture to collaboration to focused work within one hour of the lesson, and so the furniture needed to be more dynamic."
The furniture has obvious parallels with that found in activity-based workplaces, and indeed, Tengbom's research did take in office design: "You could look at the school as the office for kids," says Jarefeldt. Technology, however, was kept at arm's length, the idea being that designing in integrated electronics would conversely design out longevity.
"In a few years it would be out of date, so the idea was to support technology but not be based on it." Prototypes of Kappa, Pi and Lambda were shown by Swedish brand Horreds at Stockholm Furniture Fair.
Alpha & Sigma
Modular sofa range Alpha can be used with the Sigma personal storage system and the Omega wall system to create lounge areas suitable for active learning spaces.
Lambda
A friendly looking mobile sound screen that enables the user to adapt a space to suit different purposes.
PI
A big dish-shaped pendant light – its diameter is 2m – which, besides being a light source, also acts a sound barrier that can define a collaborative space for studies or meetings.
MY & NY
The My chair and Ny table are designed to support the changing nature of what happens in the classroom – from lectures to more collaborative work.
Omega
A versatile wall system that can be equipped with extras such as whiteboards and TV screens. Omega is compatible with the Alfa sofa and Sigma storage systems.
Kappa
A freestanding hood that can be used with any chair to provide a personal space for focused work in open areas such as lounges or libraries.