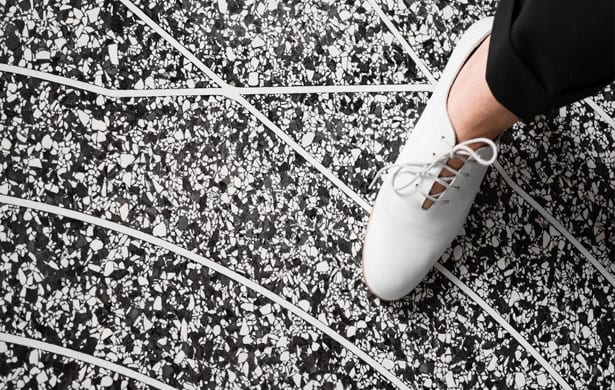 |||
3D Printing: Aectual
Aectual's XL 3D printing robot creates a bespoke lattice pattern
3D printing is thrashing at the structures of traditional construction methods, with technological innovation that offers forward-thinking designers new possibilities in sustainable practice – particularly in the realms of surfaces. Founded on a mission to bring freedom in design and customised architecture to the masses, Aectual is a 3D printing company in the Netherlands that is delivering digitally produced building products for cleaner, faster and better cities. The company's work spans across large-scale bespoke flooring projects for public buildings, retail and hospitality sectors, lobbies and airports.
Recycling: Pentatonic
The Plyfix seat of the Airtool chair is made of recycled plastic
"We're here to do something different", is Pentatonic's manifesto. The Berlin and London-based company is dedicated to inventing new materials using human trash – the world's most abundant and polluting resource – with products ranging from iridescent glassware made from old smartphone screens, to practical homewares and furniture made from food, electrical, plastic and textile waste. Modular flat-pack furniture fit for the office is a prominent addition: in its Airtool range of chairs and tables each element – whether it's a leg, tabletop or chair seat – can be taken apart and exchanged for another.
Upcycling: Marjan van Aubel
Cyanometer's solar crystals power a light installation of opal rings
Marjan van Aubel is an award-winning solar designer whose work flits between science, chemistry and innovative material technology. By utilising expandable materials and integrating solar cells into her surfaces, she gives a double use to the function and meaning of objects. From a table infused with solar panel technologies, a window that replicates stained glass but is in fact planted with coloured solar cells, to a recent collaboration with Swarovski that uses crystals to enhance solar cell technology – van Aubel's work has graced our environment for the better.
Subscribe to OnOffice for the full feature
This year, for our annual surface special, we turn to the three key sustainable trends shaping the industry