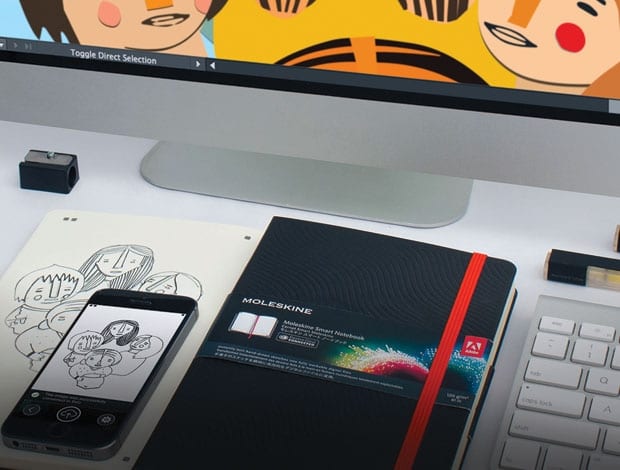 ||
Society's obsession with sharing has birthed a generation of technology geared towards publishing and accessing information as easily as possible.
The wearable tech industry, for example, is worth billions largely because it allows this technology to be seamlessly embedded into our lives, and people to be connected at all times.
Meanwhile lightspeed advancements in day-to-day tech means people expect their devices to be simple, subtle and efficient. Clunky and complicated just doesn't cut it anymore.
In the workplace, this gives way to technology that supports and encourages collaboration and invention: smart notebooks that vectorise your sketches; digital pens that live-stream your notes; and interactive walls that save and share your brainstorming sessions. It's intuitive technology that is natural for everyone to use – not just the nerds.
Google
At its developer conference in May, Google revealed Project Jacquard, a new initiative experimenting with the possibilities of weaving conductive thread into textiles.
Developed by Google's Advanced Technology and Progress (ATAP) department, the technology would allow a panel of fabric to act as a touchpad to control smartphones and tablets, and could be produced at scale using industrial looms.
The project remains in its early stages but Google has already partnered with Levi's, hinting that it could be going down the wearable tech route. However, Google has also suggested that everyday furniture could also be made interactive by upholstering it with the fabric… so watch this space.
Senic
Berlin-based startup Senic has launched Nuimo, a new wireless controller for your computer and its connected devices.
The small, circular gadget can be used via hand gesture – for example, skipping through slides on a presentation by simply swiping your hand above it – and by tangible controls including a touch screen and analog dial and click button.
It's designed to give precision and speed in creative programmes, and to control things like lights and music, combining the functionalities of a mouse or trackpad, a stylus and tablet, and smartphone.
An earlier version, Flow, was launched on crowdfunding website Indiegogo in January this year and reached 505% of its target by April.
IdeaPaint
Boston-based IdeaPaint's dry-erase paint is specified in countless office projects, making any blank surface into a whiteboard wall for brainstorming sessions.
Its new app, Bounce, aims to tackle the problem that when the meeting is over, the ideas and momentum are often lost. Users can take a photo of their doodles and the app cleans the images automatically to make them easily legible. They are then shared with the team, who can add drawings or annotations to keep the discussion going.
New projects and boards are automatically shared within the app, each with a unique URL so a direct link can be shared outside the team. They are also logged in a database, so can be searched for and referred back to at any time. The app was developed in partnership with advertising agency Hill Holliday's Project Beacon.
Bene
Office furniture company Bene has worked with Austrian startup we-inspire to develop Nice Wall, an interactive wall combining analogue and digital working methods.
Up to seven people can write and draw simultaneously either directly on to the projected screen or on specially marked Nice Wall paper, using Anoto digital pens, which allow the notes to be displayed in real time onscreen. Sketches are recorded as precise, vector-based data and can be saved for later.
Content can also be transferred to the screen wirelessly from laptops, tablets and phones.
Nice Wall is intended for use in creative meetings as well as more technical planning sessions and presentations, and can be teamed with Bene's Parcs Causeway range in order to become a seamless part of the room environment.
Moleskine
Every true creative has a sketchbook to hand for when inspiration strikes, so Moleskine has partnered with Adobe to develop a smart notebook that speeds up the journey from sketchbook to computer.
It's basically the same as a regular Moleskine, except each page has markers printed in each corner, which are recognised by the free Moleskine iPhone app. When you photograph your sketch via the app, the image is digitised and uploaded to the Creative Cloud as a fully workable vector file. It can then be opened and edited in Adobe Photoshop CC or Illustrator CC.
The app also works on regular paper, for those back-of-a-napkin ideas, but the Moleskine notebook's markers help to flatten and optimise the image, limiting distortion.
Equil
The Equil Smartmarker isn't actually a marker, it's a casing for regular marker pens, to be used on a regular whiteboard. The casing works together with a small receiver that attaches magnetically to the whiteboard surface, allowing whatever is written or doodled to be live-streamed to co-workers anywhere in the world, who can also annotate the notes.
The casing has built-in memory, so everything written is saved and can be edited and shared straight away. It has a capture area of 5m x 1.5m and works on whiteboard paint, glass panels, smooth tables and dry erase boards, so is testament to its catchphrase: "A simple way to make any surface smart."