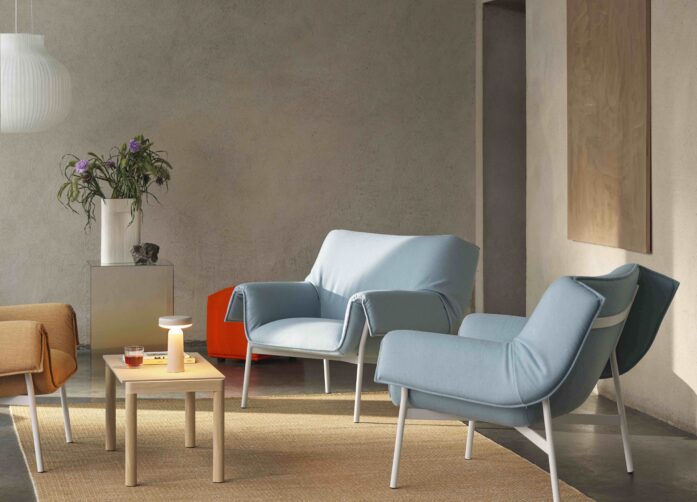 The art of wellbeing: Muuto explores the impact that good design can have on our wellbeing – from thoughtful lighting to seriously comfy armchairs
Celebrated Scandinavian design brand Muuto was founded on a belief that considered design transforms the experience of a space. This is expressed in myriad ways: the ergonomic form of a chair that comfortably embraces the sitter, a lamp with the power to provide focus or romance, colour that elevates mood, or considered materiality that invites touch.
Given the ability of good design to improve wellbeing, it's fitting that the name Muuto comes from the Finnish word muutos, meaning 'new perspective'.
"We try to create designs that you are intuitively drawn to – so elements such as tactility, form, the use of natural materials and colour are very deliberate choices in our design process," says Line Brockmann Juhl, brand director at Muuto. "How we combine form, colour and material impacts how we feel – and it's not just a visual experience. All of our senses become activated."
Research, for example, has shown that we feel naturally drawn to softer shapes and organic curves – both visually and through touch. And, these kinds of organic forms underpin Muuto's signature Scandinavian aesthetic, one that champions material honesty and simple, primitive forms.
The way we experience objects both visually and haptically is a particular focus of the new Couple Coffee Table by Sylvain Willenz, for example. Inspired by a traditional tile table, it is a refined merging of two elements with distinct textures: a soft oak frame and dense ceramic tiles with a wavy or smooth surface.
"The texture of the wavy tile speaks to you – it makes you ask yourself: 'How would it feel to run my fingers across it?'," explains Brockmann Juhl. "This is truly a tactile table and you find yourself drawn to touch and feel the synergies between very contrasting surfaces and structured elements."
It is also expressed in the rounded shell of the Fiber Conference Chair by Iskos-Berlin, which is designed with friendly curves that provide comfort to the user while maintaining a small footprint. Originally launched in 2014, the next generation has just been released with an updated materiality – a recycled plastic that uses a minimum of 80% recycled material and FSC-certified wood fibres.
Design can also tap into memories and associations that bring with them the idea of wellbeing. Take, for example, the Wrap Lounge Chair by Normal Studio – the generously proportioned armchair envelops the body and is seemingly draped with a soft blanket that evokes the feeling of being wrapped in comfort.
And, sometimes design promotes wellbeing simply through its strikingly effective functionality, which makes the everyday more enjoyable. It's this approach to wellbeing that the Ease Portable Lamp by Johan van Hengel champions. The simple lamp is composed of two elements that softly meet, with the large base of the top emitting a high-quality light that can be transported to wherever it's most needed.
"Wellbeing is a subjective feeling – and that which makes you gravitate towards something might be difficult to explain," says Brockmann Juhl. "For us, at Muuto, wellbeing is about creating an atmosphere that makes you feel at ease, at home, and connected to the place."
Images by  Muuto & Petra Bindel
As featured in OnOffice 162, Spring 2023. Read a digital version of the issue for free.