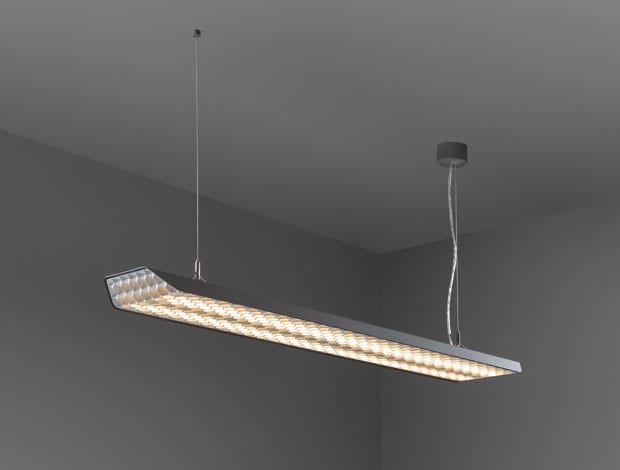 ||
Clique Editions
Clique's accomplished first collection in 2014 focused on furniture with an "electric heart", such as an upholstered seating system with wireless charging capability. Its second collection focuses on smaller items with a similar aesthetic to the first, using white Carrara marble in abundance. The Asola table lamp designed by Filippo Protasoni is a delicate form in marble, with indirect light emitted from LEDs on one side, and a built-in USB port for charging mobile devices.
Artemide
Architect Philippe Rahm's installation called Spectral Light for Artemide comprises a series of suspended transparent cylinders in a rainbow of colours. The Italian brand launched his new lamp of the same name, a glass bowl holding similar cylinders. Rahm's research looked into the health aspects of splitting up wavelengths of the electromagnetic spectrum to devise a universal system of different light effects.
David Derksen
Dutch designer David Derksen named his Moiré LED wall lights after the visual effect its double-layered construction creates. When the base layer is rotated via a lever, its pattern interferes with the patterned top layer, making shapes on the surface that appear to move: Derksen says it has an "almost hypnotic effect". The lights are available with a base layer in brass, copper or stainless steel, emitting a soft metallic glow, and a plastic top layer.
Modular Lighting Instruments
Vaeder is a new dimmable pendant light designed for the workplace by Belgium's Modular. It can be surface mounted or hung as a pendant over desks or meeting tables. The light comprises a long, slim outer shell made from aluminium encasing a honeycomb structure made of injection-moulded plastic, which diffuses the light, reducing glare from the LED strips. The design also incorporates a heat sink for the LEDs, so they cool more quickly and therefore last longer. The shell comes in black, white or grey, and the honeycomb in black or white.
Kaamos
Finnish collective Kaamos has introduced this LED Pipe lamp by Vesa Kattelus. Unlike the surge of increasingly minimalist desk lamps on the market, this design has a purposeful presence, with a chunky tubular structure that seems to frame the light emitted from the bar that runs across the top. It is made from painted metal and plastic, shown in red with a matching cable.