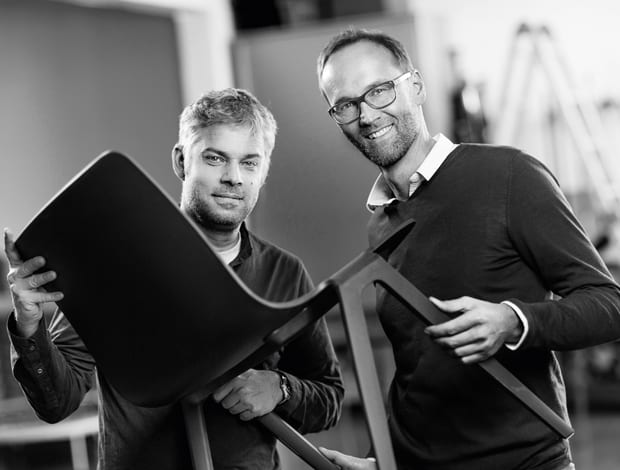 Markus Jehs and Jurgen Laub with the A-Chair|The A-Chair can be stacked 10 high and sits neatly in a row with only one leg showing||
The A-Chair, developed by Jehs+Laub for Brunner, has received a Best of the Best accolade at the Red Dot Awards ceremony, its sixth design award.
Launched at Orgatec 2012, the A-Chair comprises a slim frame that resembles an upper case A from the side – hence the name – and can be made from die-cast plastic or aluminium. The seat shell sits atop this and can be configured in a variety of materials and colours.
Markus Jehs and Jurgen Laub teamed up with German chemical company BASF to develop a fibreglass-reinforced plastic that is used for the design.
Over 10,000 A-Chairs have already been sold in Europe and been used in large international projects such as the Radisson Blu Astrid Hotel in Antwerp. Praised for balancing form and function with simple elegance, it can be stacked up to 10 chairs high and, when placed in a row, only a single leg remains visible.
When onoffice spoke to the German design duo in 2012, Laub declared, "this is the chair that can fit any room".
"There are many, many companies with many stacking chairs, but we felt there was nothing good," Laub said. "With all of them, you have the shell and the legs which you screw together with lots of parts. Put 300 of them in a room and its very unquiet."
The jurors at the Red Dot awards noted the "perfectly elaborated modular concept" and "impressive new use of form" made possible by high-tech manufacturing.
The A-Chair has also won the Interior Innovation Award and the German Design Award from the German Design Council and the Good Design Award from the Chicago Athenaeum Museum for Architecture and Design. It also won the Good Design competition hosted by the German Designer Club and the iF Product Design Awards 2014.
The A-Chair was pitted against 4,815 submissions by 1,816 different manufacturers, designers and architects from 53 countries at the Red Dot Awards 2014. A total of 72 Best of the Best awards were granted.
Read James McLachlan's full interview with Jehs+Laub from onoffice 70.