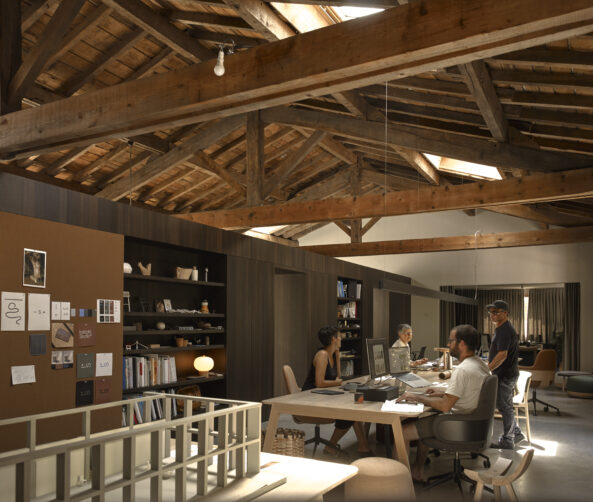 Basque industrial design studio Iratzoki has restored an old carpentry workshop into a new space for its head office.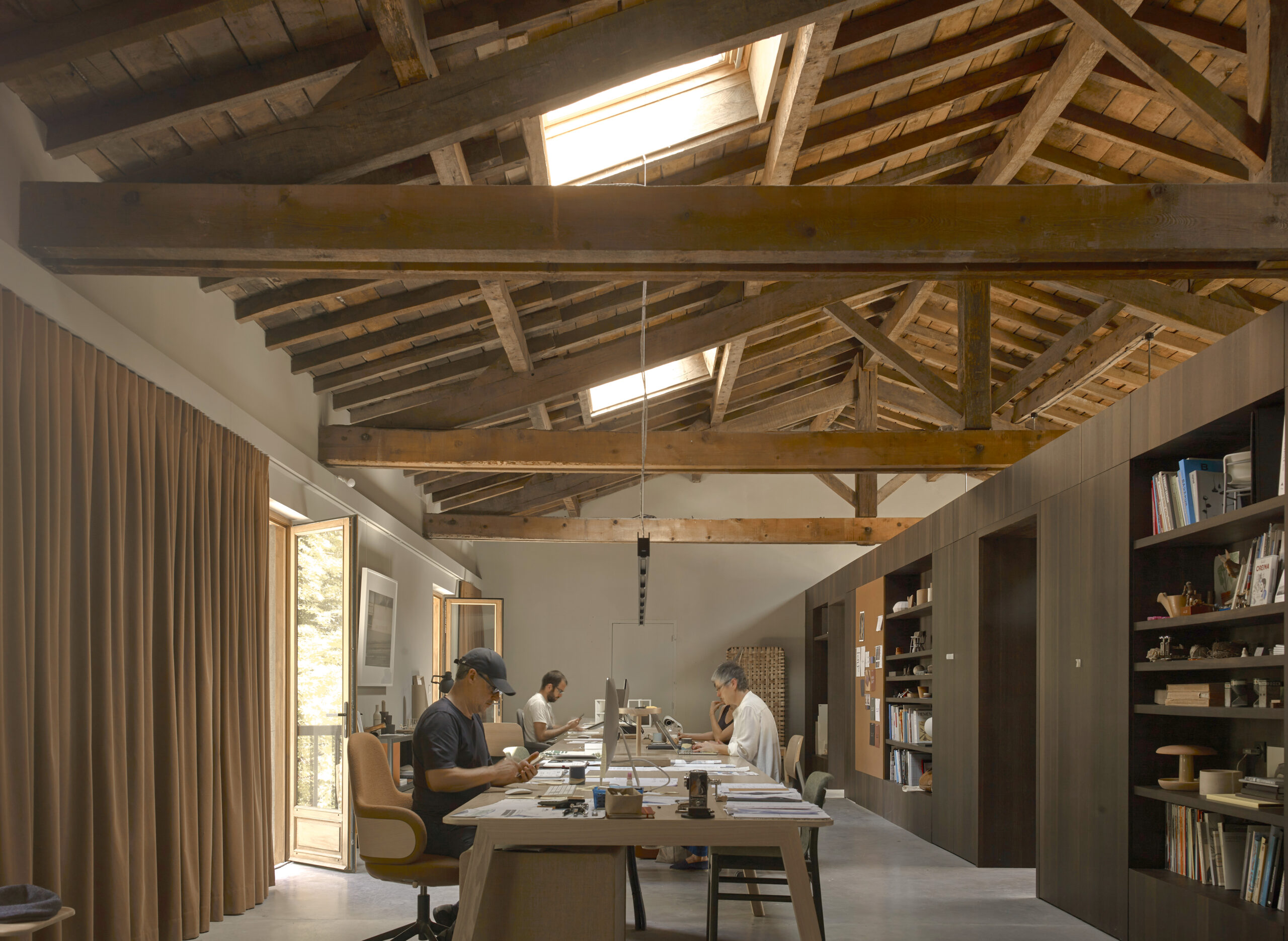 Nestled in the heart of the Basque Country, the Iratzoki design studio, renowned for its furniture creations and collaborations with Alki and Retegui, has transformed an old carpentry workshop into a multifunctional space as its head office. Paying respect to the existing structure and its immediate surroundings, the team carried out a sensitive restoration to ensure the integrity of the building remains.
Upon entering, the interior opens up to the roof with structural beams exposed and a single piece of furniture zones the space while offering ample storage between work and rest areas. Stretching over 20m in length, the bespoke creation is site-specific, designed with bespoke functionality in mind and with no compromise on style. On one side lies a prototype workshop while the other includes the main office, which consists of a central table where the designers can share ideas, a materials library, meeting room, kitchen, and rest room.
To maximise energy efficiency, insulation has been placed on top of the oak framed interior and inside the exterior walls while underfloor heating offers added comfort for the team during winter months. In creating this communal workspace, which prioritises comfort as much as function, it results in a warm and inviting ambience while allowing for multiple uses from one space. The exterior has also been planted with wisteria and ivy which will continue to grow across the building's façade, blending it within the rural setting in which it is located. The magic of the space lies in the smaller details which add a homely ambience and resembles a setting more closely acquainted with residential interiors. Indirect lighting, floor-length curtains and a picnic table in the garden bring the space to life, adding to its bucolic charm.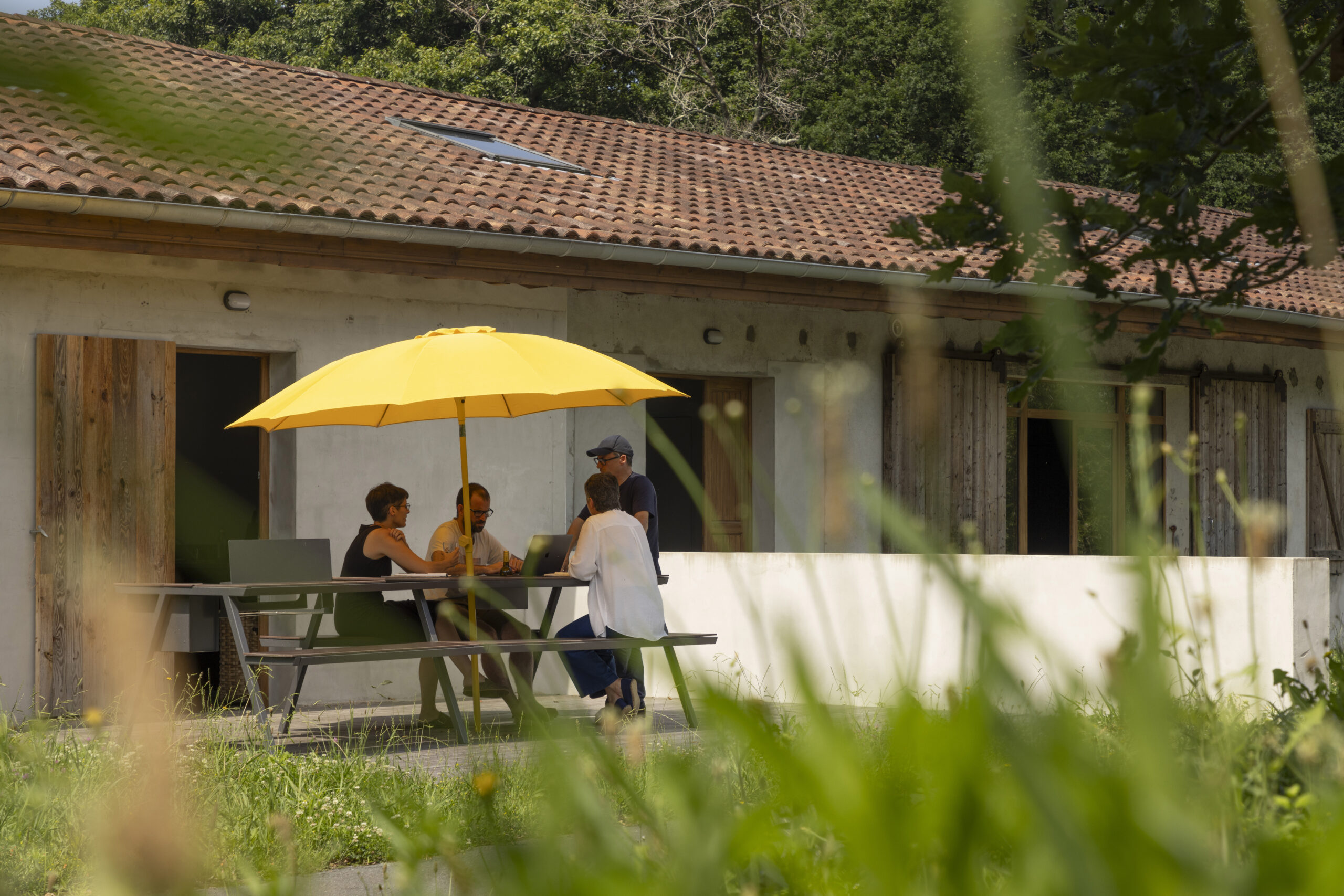 The project falls in line with the studio's announcement of its new visual identity. Carried out by Tolosa-based communications agency Mito, the studio will also be launching a new website at the end of this year. Andoni Beristain, who has worked on the new identity says how the studio's surroundings have been its source of inspiration. "We studied the studio's surroundings, nature, traditions and their work as a starting point," he explains. "The colours have been taken from the studio's location as well as the structure itself, achieving a subtle combination between them." With the finesse of its graphics and location mirroring the beauty of the furniture it creates, it is lovely to see a studio create such a cohesive aesthetic across every aspect of the company.
Images courtesy of Mito.