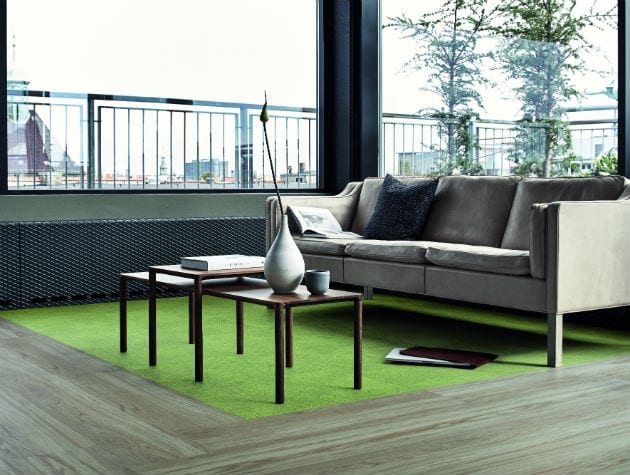 Composure Olive and Level Set Natural Woodgrain Washed Wheat|||
Global modular flooring manufacturer Interface has launched two new collections – Radial and Composure Edge (an extension of the Composure collection) – to enhance designers' freedom to create unique spaces through transitions and colour progression.
Consisting of subtle and organic textures, Radial and Composure Edge were developed with wellness at their core, creating a foundation of soothing and inspiring interiors.
Radial – A fresh perspective on colour progression
The Radial collection blends smooth geometry and softened edges with a palette of tinted pastels and foggy neutrals, setting a foundation based on mindful and relaxing spaces. When combined with non-directional installation, the interactions create a fascinating result. Radial offers 12 colourways in soft tones.

Radial Proportion, Aromised & Vertex
Composure Collection – Linking spaces with transitional design
The extended Composure range takes on more colour, with 16 neutrals plus 16 chalky pastels and poppy brights in the range. Bolstering the range increases the design freedom and ensures versatility to complement different spaces.
The Composure collection now has a new addition – Composure Edge – available in 8 colourways. The range features a transitional design over a single tile, multiplying the possibilities of this great collection.
The Composure collection is compatible with a range of backings that provide distinct benefits, including Interface's existing Graphlex® and SONE® backings, and its brand new CircuitBac Green.

Composure Sunburst, Composure Seclusion and Composure Edge Sunburst/Seclusion
CircuitBac Green is a unique, high performance modular carpet backing that uses a mix of carbon negative bio-plastics and mineral filler to create a durable product that meets the sustainable business needs of customers.
Speaking about the collections, Mandy Leeming, design and development manager at Interface EMEA, commented: "The Composure collection is one of the most successful modular carpet ranges in the market with its inspiration showing in the ranges' design and practical benefits.
The new, soft colourways provided in Radial, along with the vibrant addition created by the Composure Collection, provide a strong palette to help cultivate spaces that have a positive impact on their users."

Radial Rays and Level Set Textured Stones Polished Cement
This is an advertisement feature.