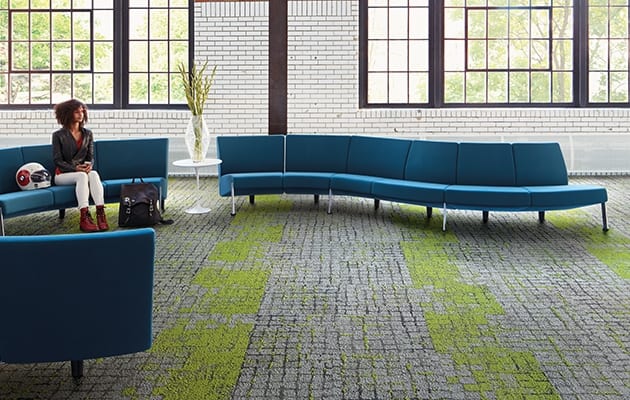 |||
Global modular flooring manufacturer, Interface, has launched Human Connections®, an integrated flooring system that promotes biophilic design by embracing nature's elements and their relationship with interactive, urban neighbourhoods.
The new collection created exclusively by David Oakey, of David Oakey Designs, responds to increasingly technology driven working environments and people's innate need to connect with each other and the outdoors.
Generational demand, technological mobility and flexible work policies have created a culture that allows work to happen anytime, anywhere. Human Connections® draws inspiration from neighbourhood meeting places, such as streets, piazzas, and pathways. Its versatility lends itself to creating dynamic, +Positive spaces™ that mimic natural transitions in these areas.
Human Connections® works perfectly with the concept that spaces should be designed to positively impact the people who use them. This idea of +Positive spaces™ is becoming increasingly prevalent across the built environment, and has prompted the introduction of new initiatives, such as the WELL Building Standard™.
"Human Connections® is an example of modular tile acheiving a new level of flexibility. Wether creating a seamless, organic field, a pathway, or a defined, graphic space, these modular tiles adapt to the needs of any space" – David Oakey
The new collection is comprised of eight different styles, all 50cm x 50cm squares, which fit together in unique compositions to create pathways, intersections, and destinations. Sett in StoneTM, KerbstoneTM, Paver and Flagstone recall well-worn city streets, and can be used to establish wayfinding from one area of a workplace to another.
Meanwhile, Moss and Moss in Stone can be used to introduce greenery to any space. This helps to re-establish a sense of the natural world within a workspace.
"The product line mimics city surfaces such as turfs, patterns, textures adn grounds, using them to create interiors that function more like neighbourhoods that enourage collaboration." – David Oakey
Visit http://www.interface.com/EU/en-GB/collections/human-connections to find out more.
The is an advertorial feature
New Collection Fosters Community through Creation of Natural Meeting Points