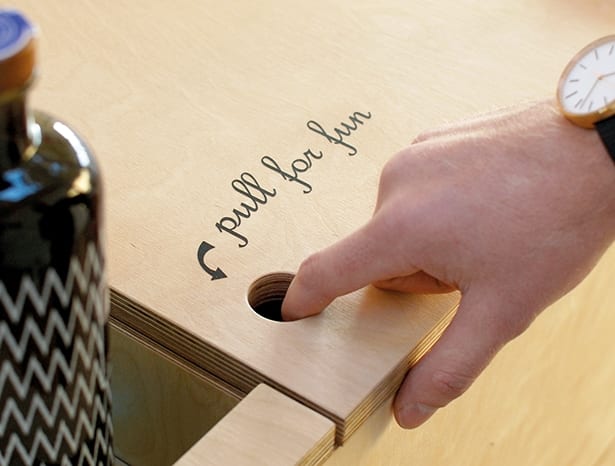 |||
Its recent move to Shoreditch has given Hût Architecture a fully equipped workshop, a space that the team is keen to take advantage of. In light of the new space, the practice has created a bespoke product, the Hût Gin Trolley. "Being in the middle of Shoreditch, you don't often get a bit of extra space, given what the rents are… so we really want to make the most of this rare opportunity," says Hût's associate director, Rachael Davidson.
Designed and crafted by the Hût team, the drinks trolley is a contemporary interpretation of a 1920s cocktail trolley. It features four pivoting wheels, and incorporates storage for glasses, cut-out stations for fruit slices or herbs, and hanging hooks for stirrers and strainers. The trolley is made from 18mm birch plywood and sealed with clear Osmo oil. It was CNC-cut at a local London studio and is assembled using CNC joints, with no visible fixings – a process that several of the team are particularly interested in.
It's a playful design that encourages interaction: "Pull for fun" says its lid, revealing all of the tools needed for cocktail-making; a blackboard side panel allows staff to display their cocktail menu. "I think that we practise what we preach," says Davidson of Hût's cheerful approach. "We design these lovely offices for other people but we also wanted to make sure that our workplace is as interesting, rewarding and fun as it can be."
Hût's 17-strong team has a number of talented makers, and with the move to Shoreditch and the new workshop, Davidson sees the trolley as the start of a number of smaller and more artisanal projects, all about "connecting more with the idea of making and craft". She says: "As architects we're not very hands-on often – we do a lot of stuff at the computer. Obviously we do build a lot of our projects and we go on site a lot but we don't physically make things."
Next up will be a bespoke desk system now in development: "We work for a lot of fantastic furniture companies but we haven't really found something that suits us. We wanted to have the opportunity to test it and design something for ourselves but also something that could be used in our projects," says Davidson. Again the entire team will feed into the design and CNC technology will be used. We can also expect more playfulness – "it's got colour, it's an interesting shape" – as well as lasting functionality.
Hût's new-found love of getting its hands dirty will hopefully lead to a full range of bespoke furniture items: "We also want to create a breakout, high-level table, perhaps in the same style but a different model," Davidson adds. "There's definitely places for it to go but beyond that we don't know quite yet. We'd like to see it as a series of furniture items." There will likely be a consistent materiality, as the team is motivated by the efficiency of plywood and CNC technology.
This new creative output will undoubtedly influence the larger-scale residential and commercial projects that the practice is known for: "We think that everything needs to feed into each other, being playful or thinking about connection detail, all of those kinds of things. It works both ways," reflects Davidson.
A new studio and workshop has inspired the architecture practice to try its hand at bespoke furniture items, starting with a cocktail trolley