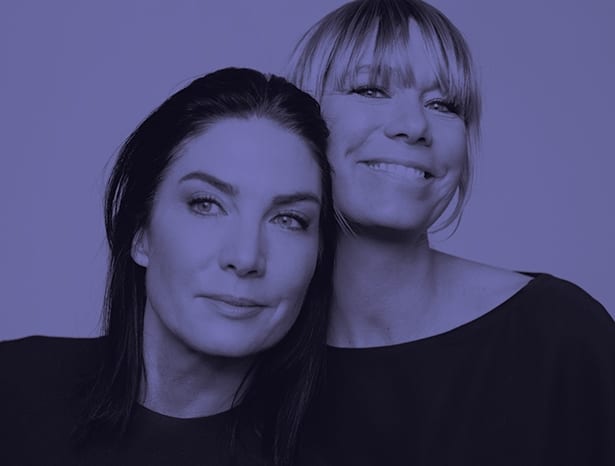 The sisters have worked with numerous well-known designers|||
Annica and Marie Eklund are an imposing presence in person when they speak at the launch of Innovators At Heart, their concept which was unveiled to coincide with the Stockholm Furniture Fair and which came to London in time for Clerkenwell Design Week last month.
The sisters currently at the helm of the Bolon brand have transformed the Swedish flooring firm, with the darker haired Annica, managing director, wearing an elaborate frock coat on the February evening in question, while her equally striking sibling Marie, the firm's creative director, rocks a super sleek tailored trousers and blouse look.
Together they have brought in a host of high-profile design names and reinvented what the Bolon product is capable of. They are the third generation of this family firm, which originally started out when its founder Nils-Erik Eklund when he spotted a gap in the market to make textile waste into rag rugs.
Bolon by Missoni was a glamorous move for the brand
Annica and Marie took over from their parents in 2003 and since then, they've been on a mission "to make Bolon a design-led innovator, fusing the conservative flooring concept their grandfather started with the creativity of the world of fashion." When OnOffice meets them they describe this as "dressing the floor".
One of the most memorable collaborations was with the legendary fashion house Missoni, which emerged in the spring of 2012. The 'Bolon by Missoni' collection mixed the unmistakable colours and patterns of the Italian design brand with Bolon's weaving technology which is brought to life by the craftsmen and women at the firm's manufacturing plant in the idyllic surroundings of Västergötland, next to Lake Åsunden.
The doyenne of this particular fashion brand, Rosita Missoni, is listed on Bolon's website as one of its 'friends' alongside the likes of London-based design duo Doshi Levien and Pritzer-prize winning French architect Jean Nouvel, responsible for a new flooring collection and who says, "Using Bolon is a bit like choosing the fabric for a suit: it makes you want to look closely and to touch. I'm a bit of a minimalist, so I enjoy it when the figurative theme disappears and one goes towards the most essential thing: texture."
They speak of writing letters to people they want to work with, and it being as simple as that, "It's important to share the values of who you're working with," says Marie.
Nipa Doshi, one half of Doshi Levien and part of of the guests of honour contingent in the Swedish capital during the initial presentation of Innovators at Heart speaks passionately about her relationship with the company, as do all the assembled designers, from established names such as Monica Förster to more up and coming types such as Fårg and Blanche whose offering of an armchair they describe as being inspired by a Samurai suit of armour. "We want to mix the older generations with the newer ones," explains Marie, "The designers we work with don't need to be famous."
Moroso's collaboration, part of Innovators at Heart
Familiar furniture silhouettes by Doshi Levien, Monica Forster and from manufacturers such as BD Barcelona, Thonet and Kettal have all been reinterpreted in Bolon textile and displayed in the window of the company's new showroom in downtown Stockholm. There is also a central table filled with inspiration for the new rug collections, which alternate stripes in muted tones with a shimmery effect and which again feel quite fashion forward. Indeed when I asked who their dream collaborators and who they admire, they cite Phoebe Philo, creative director of Céline, reflecting on her sense of style and what's she's done in her current role, reinventing what was an old French fashion label.
One of the new rug designs, Villa La Madonna, takes its name and inspiration from the boutique hotel in Italy owned by Annica and Marie and they talk of the design direction being a "mix between Italy and Sweden".
Annica says, "Our passion, we feel it in our hearts and in our stomachs. We are humble, we go where we just feel a connection."
The Missoni collaboration pushed the boundaries
Since taking charge of the flooring company in 2003, the sisters have drawn inspiration from the fashion industry