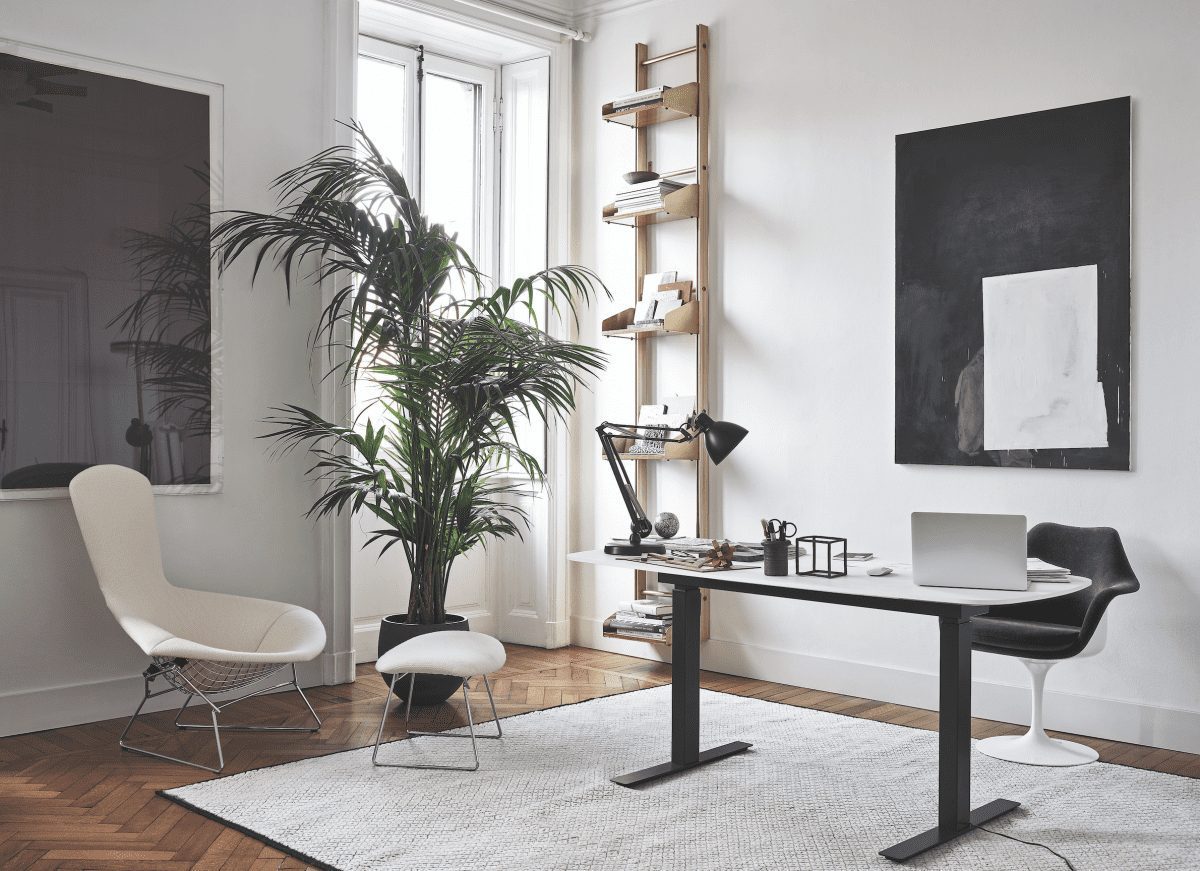 In a time when the boundaries between home and office are increasingly blurred, having a dedicated space for homeworking has become more important than ever before
Sweeping changes in our lifestyles last year have left many reorganising their homes. As adaptable furniture continues to grow in popularity for those who live and work in the same place, creating home office areas that are in harmony with our domestic settings will be crucial for our productivity, wellbeing and to help set better work-life boundaries.
As such, Knoll has recently presented its Work from Home collection for 2021, which meets the needs of our ever-changing world of work, through innovative products and contemporary design, helping remote workers set-up a dedicated space away from the daily flow and distractions of the household.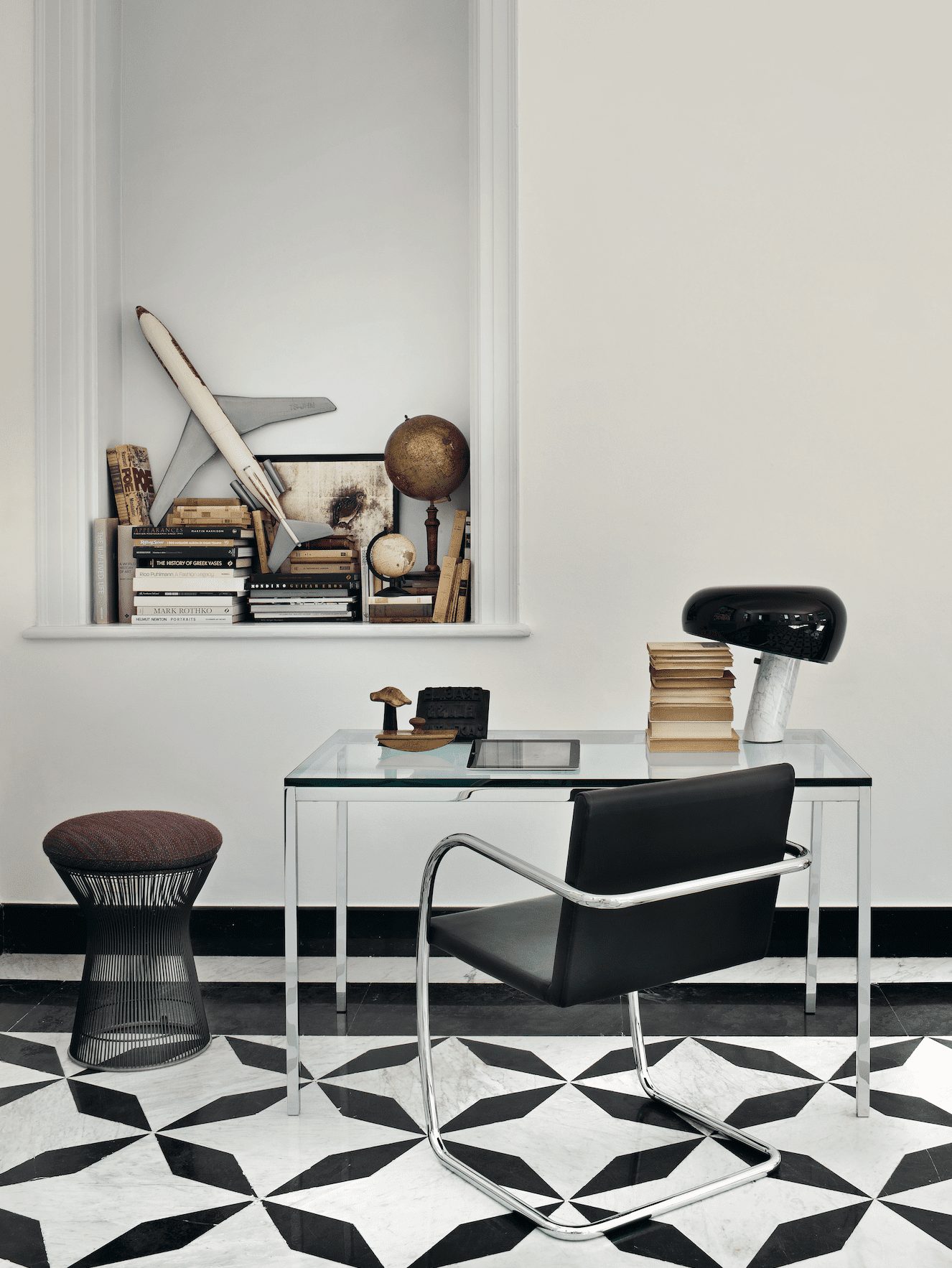 Alongside icons of the past, Knoll's Work from Home collection comprises a range of ergonomic desks and seating, which have been carefully crafted to guarantee comfort for those sitting down for long periods of time while working from home.
Reflecting Knoll's classic style and timeless aesthetic, the collection of home office products aims to preserve the firm's cultural legacy – pieces designed by the likes of Florence Knoll, Mies van der Rohe, Eero Saarinen and Harry Bertoia, to name just a few.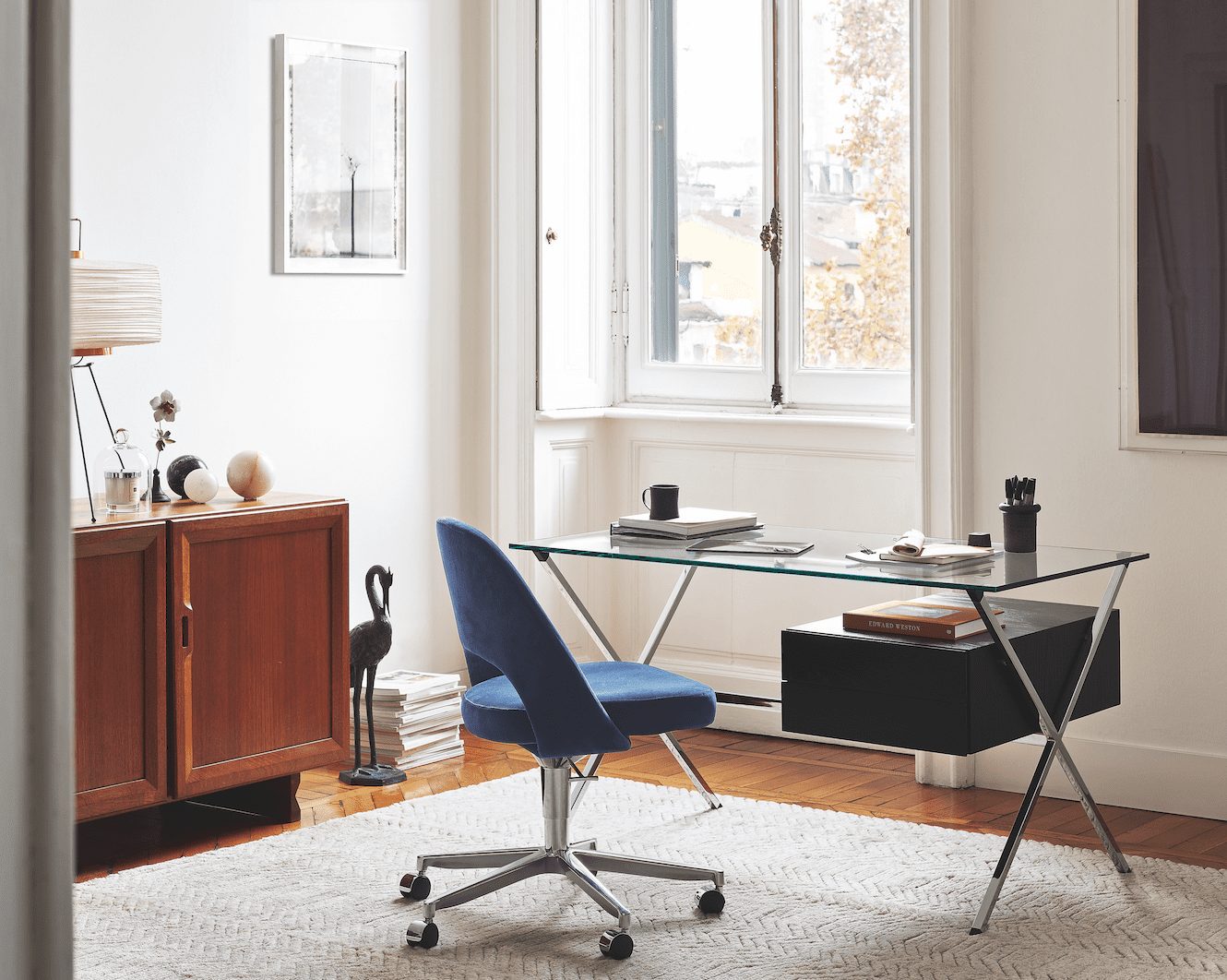 This includes Knoll's KN Collection, a family of chairs based on the brand's long-time collaboration with Milanese architect Piero Lissoni, as this year sees the duo adding two new interpretations. Combining tradition and modernity, the former – KN06 – a modernist armchair first presented last year, is the result of a sophisticated production process.
Its fiberglass shell – coated in glossy white or black and covered in fabric or leather – rests on four fixed legs, or on a height-adjustable swivel base, in models with either four-star on glides or five-star on casters. The slim, enveloping structure, comes with a soft seat cushion which provides added comfort.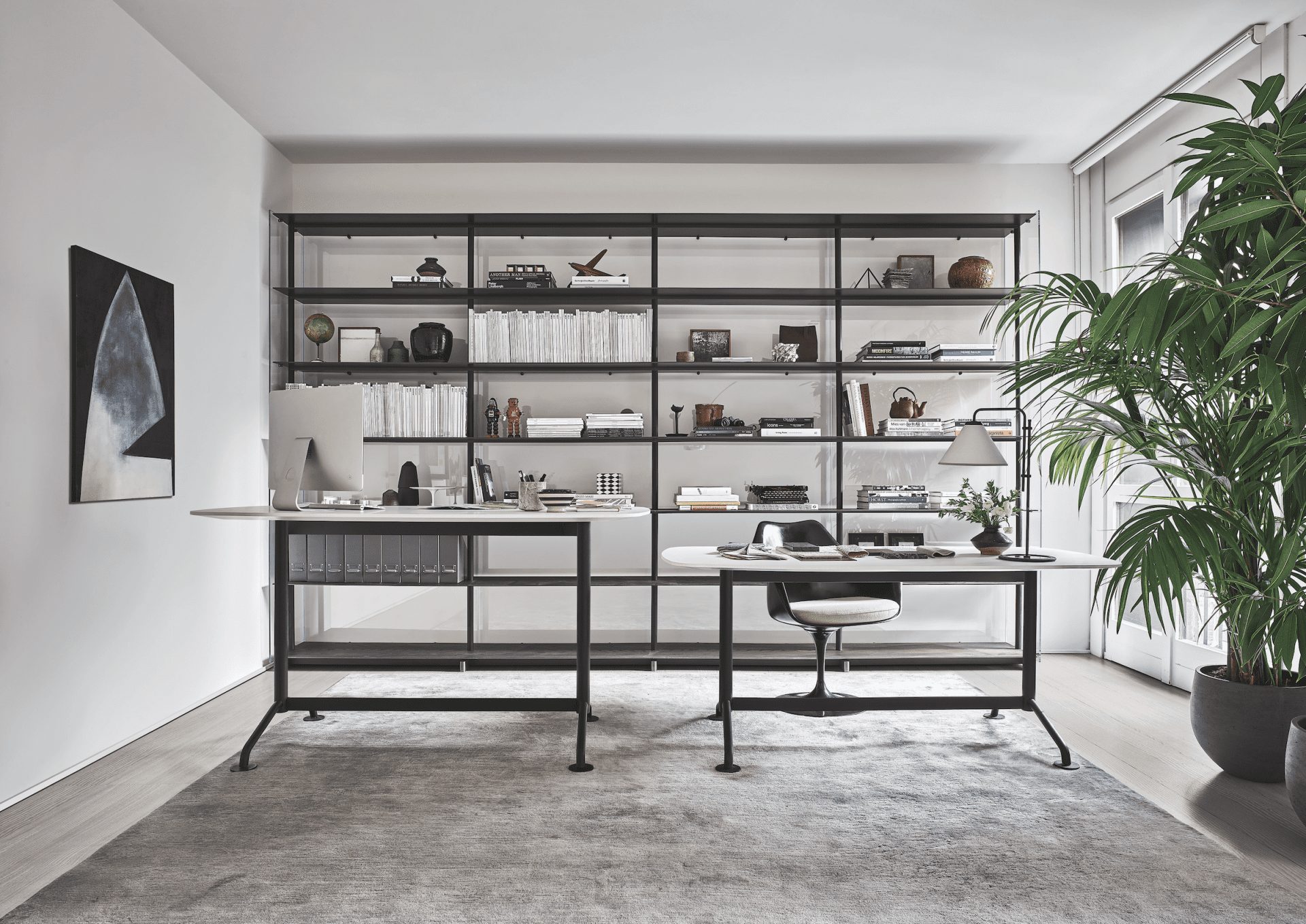 The latter, Knoll's KN07 chair, boasts a fluid, linear form, fusing its inner and outer surfaces in a single gesture. Covered in fabric or leather, KN07 is great for empty corners of the home and to set-up compact yet neatly organised work stations.
Furthermore, the shell of the seat rests on four fixed legs, or on a height-adjustable swivel base, with four-star on glides or five-star on casters, and is available in a variety of finishes to suit a plethora of tastes. Both KN06 and KN07 bring comfort, elegance and functional quality to home offices.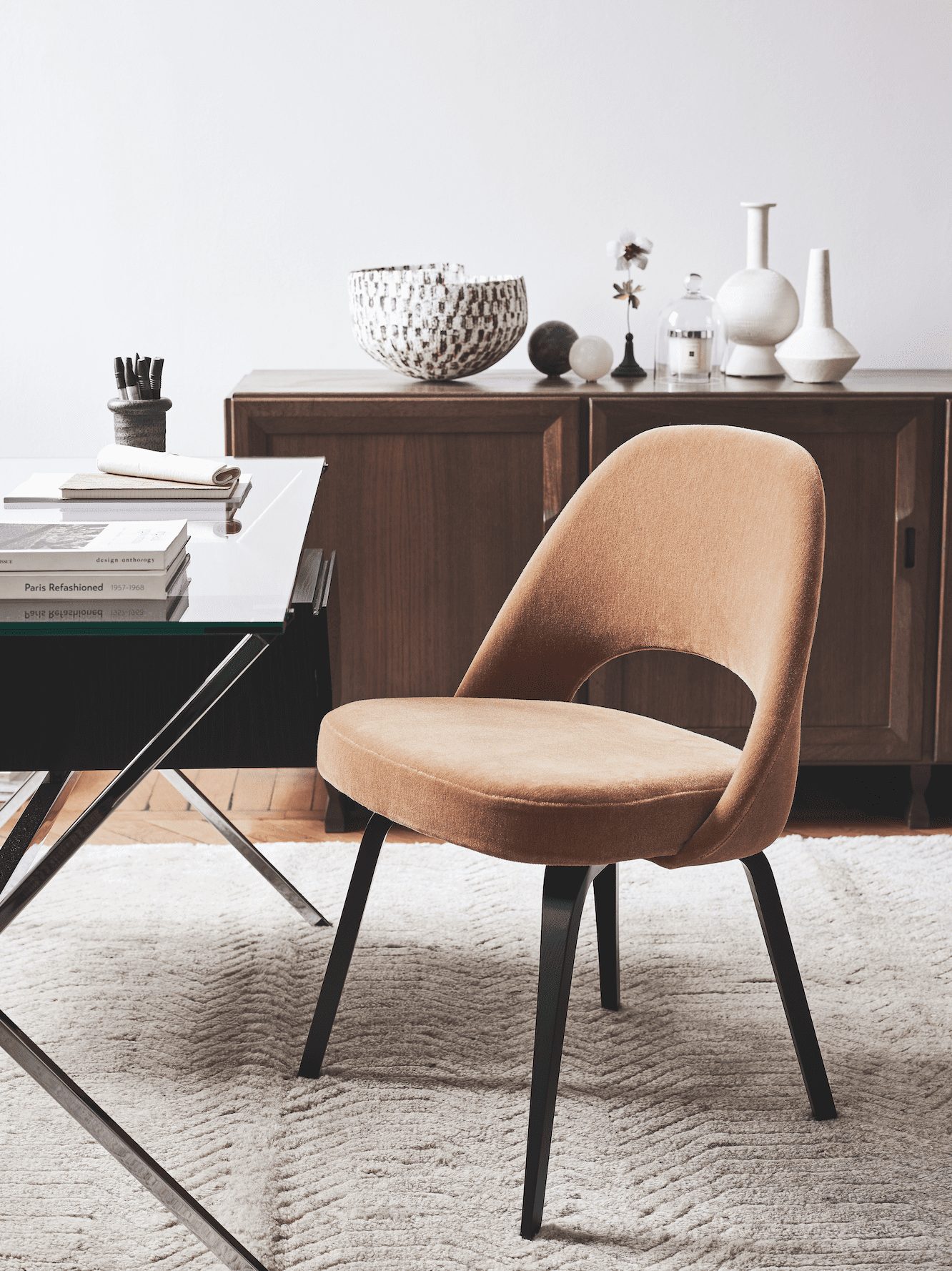 In line with transforming Knoll's historic icons for contemporary use, the brand's Saarinen Conference Chair Relax by Eero Saarinen, also belongs to the new Work from Home collection. With its sculptural shape and modern finishes ideal for offices and homes, the chair helps optimise posture and improve comfort for remote workers.
Finally, a new series of Knoll's Grasshopper family of tables, designed Piero Lissoni in 2017, complete the collection. Both versions – the Grasshopper Height-Adjustable Desk, and the Grasshopper Console, available in three different fixed heights – respond to the currents needs of different work settings, whether studio, co-working space, or home office.
Promising to set the stage for higher productivity, Knoll's Work from Home collection transports both elegance and functionality to home (offices). Helping upgrade workspaces, the pieces offer an opportunity for real comfort and efficiency.