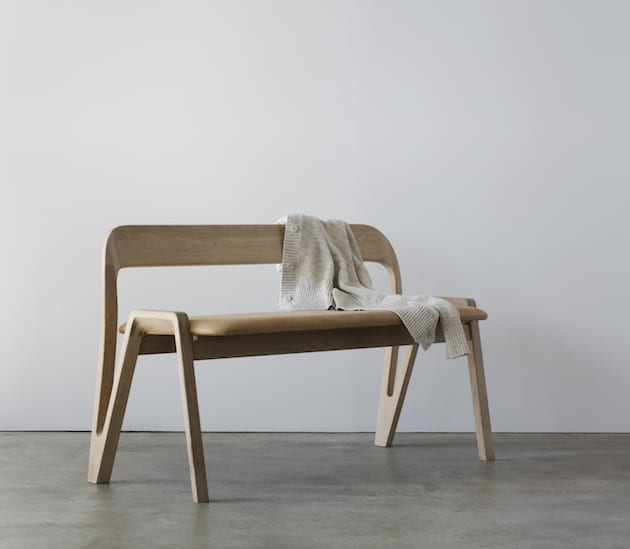 |||
Housed in a partially submerged concrete building designed by the Oslo-based international architects Snøhetta, Under is Europe's first underwater restaurant.
The Under collection includes chairs, benches and two types of table. Photo: Inger Marie Grini
Located in Båly, on Norway's south coast, Under opened last year global acclaim. Its chef, Nicolai Ellitsgaard, was promptly awarded a Michelin star, and its design attracted several honours.
The design, which features tile-clad ceiling panels, timber-clad walls and a vast window gazing at the marine life, was produced in collaboration with Hamran, a wooden furniture company based in beardy Snartemo. Hamran's collection of solid oak furniture for the restaurant, also titled Under, is now available for purchase.
The woven textile seat of the Under chair comes in three different colour combinations. Photo: Inger Marie Grini
Comprising a chair, a bench and round, oblong table, the four-part collection centres around the use of solid Norwegian oak. Designed to mimic the growth of tree branches, all four pieces have an organic appearance, with intricately calibrated bends.
While the bench has aniline leather upholstery, the seat of the chair comes in a distinctive two-tone weave, in three different combinations of contrasting colours. The oblong table, meanwhile, features butterfly joinery. Its oak has been burnt, transforming its texture and appearance from its natural state and offering a contrast with the other pieces in the collection.
Although designed for a restaurant, the Under series feels at home in domestic surroundings. Photo: Inger Marie Grini
Established in 1930, Hamran's furniture is produced using only local wood. Although headquartered in Snartemo, Hamran maintains a collaborative showroom with two other Norwegian woodworkers in Oslo, named Made by Wood. The company has a particular focus on kitchen design. "Nature," Hamran says, "is our vault of materials and imagination. Tailoring the finest kitchens means letting exquisite materials tell their story."
Originally designed for Snøhetta's underwater restaurant, the Under series evoke the blooming of trees