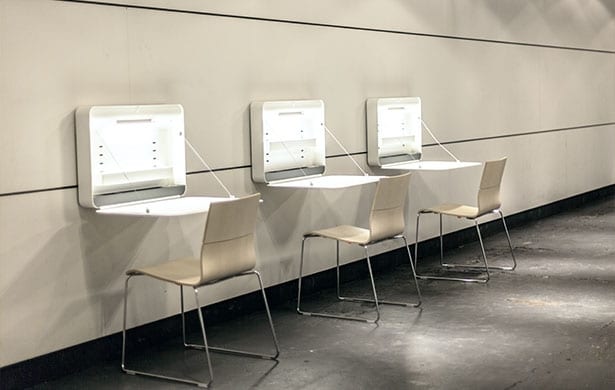 |||
In a curious kind of way furniture showrooms are a little like sports stadiums – huge spaces that periodically spark into life, teeming with people, only to spend much of the rest of the time lying fallow and unused. It always seems like a bit of waste. So how do you get around this? One of the more interesting projects I've seen recently is the Frame21 Business & Event Center, in an unlikely setting off the busy E313 motorway in Herentals, somewhere between Antwerp and Limburg. Its owner, the Belgian contemporary furniture company Drisag, has turned the huge 10,000sq m building into a co-working space – full of its furniture, reasonably enough – that includes a couple of cafes, a tennis court, basketball and football areas on the roof and a vast lecture theatre, as well as some really rather pleasant environments in which to work for the 65 companies that have signed up to use it.
On average it houses 250 workers on a daily basis but it can fit a maximum of 600. Oh, and there's also the company's own 2,000sq m showroom. It may not be in the most glamorous locale but once inside it's quite stunning. It also gives Drisag the opportunity to test its prototypes on exactly the type of people it wants to purchase its finished products, to see what works and should go into production. It strikes me as a smart and hugely flexible way to go about your business.
And the furniture it manufactures in the adjoining factory (with its eye primarily on the European market, although pieces are now available through UK dealer Phusei) are, by and large, intelligent and sensitive to the manner in which the workplace is changing. Currently I'm writing this column on its (unimaginatively monikered but nevertheless rather natty) Wall desk. Designed by Theo Beunen (no, me neither), it does pretty much what it says on the tin – attaching to the wall by a screw in each corner and dropping down a little like a drawbridge to provide a place to work.
It's made from powder-coated steel, giving it a genuinely sturdy, almost properly meaty, feel but the fact that it's 71cm in length and 48.5cm in height and when folded is a mere 8.5cm wide means it's compact. Essentially a simple rectangle with a tab on one side to indicate where to pull the desktop down, it's reasonably elegant too.
The version I'm using has a white front and a black wall unit but the piece is available in a choice of RAL colours. Once unfolded – two thin cables either side help to support the top when it's down – there's enough space for a laptop, my old-fashioned desk diary and a large cup of coffee. A slot at the base of the wall unit provides a place to store a tablet or smartphone, a button at the top is released turning on the LED light on and a pair of sockets are handily placed in the bottom corner. Meanwhile an accessories tray, in the same powder-coated steel, can be easily slotted in at five different heights. Once it's folded back up, a magnet keeps the lid securely in place.
I don't really have a problem with it, if I'm honest. My one slight brickbat is what people sit on when they're working. What good is a foldout desk if you then have to hunt around the building for a suitable chair? And if you have a dedicated seat where on earth do you store it? Surely a foldaway desk also needs a matching foldaway chair? Could this be something for the hugely ambitious Drisag, which is apparently looking to expand the Frame21 concept into Brussels and Rotterdam, to consider in the future?
This discreet Belgian example of wall-mounted worksurface supplies almost everything a hotdesking passer-through might need, in a very small space