Searching for a new garden office? Look no further – OnOffice selects six of the most innovative and beautiful designs
The pandemic has seen a spike in demand for garden studios as the space-strapped replace sheds and borders with more comfortable long-term workspaces. Architects inundated with requests for working-from-home solutions have kept step by developing a range of customisable cabins.
1. Tini Office by Delavegacanolasso
Tini is a prefabricated Corten steel cabin developed by Madrid architecture studio Delavegacanolasso. The customisable off-grid modules come in three sizes, with the smallest designed as a bolt-on home office and the largest as a weekend retreat, and can be made and delivered within 60 days.
The steel-framed cabins have russet Corten cladding, a lining made from recycled OSB and are insulated with recycled cotton and double glazing. They come furnished to the clients' needs, and to make the most of the space, in a combination of pine and popular wood.
2. Garden pod by U-Build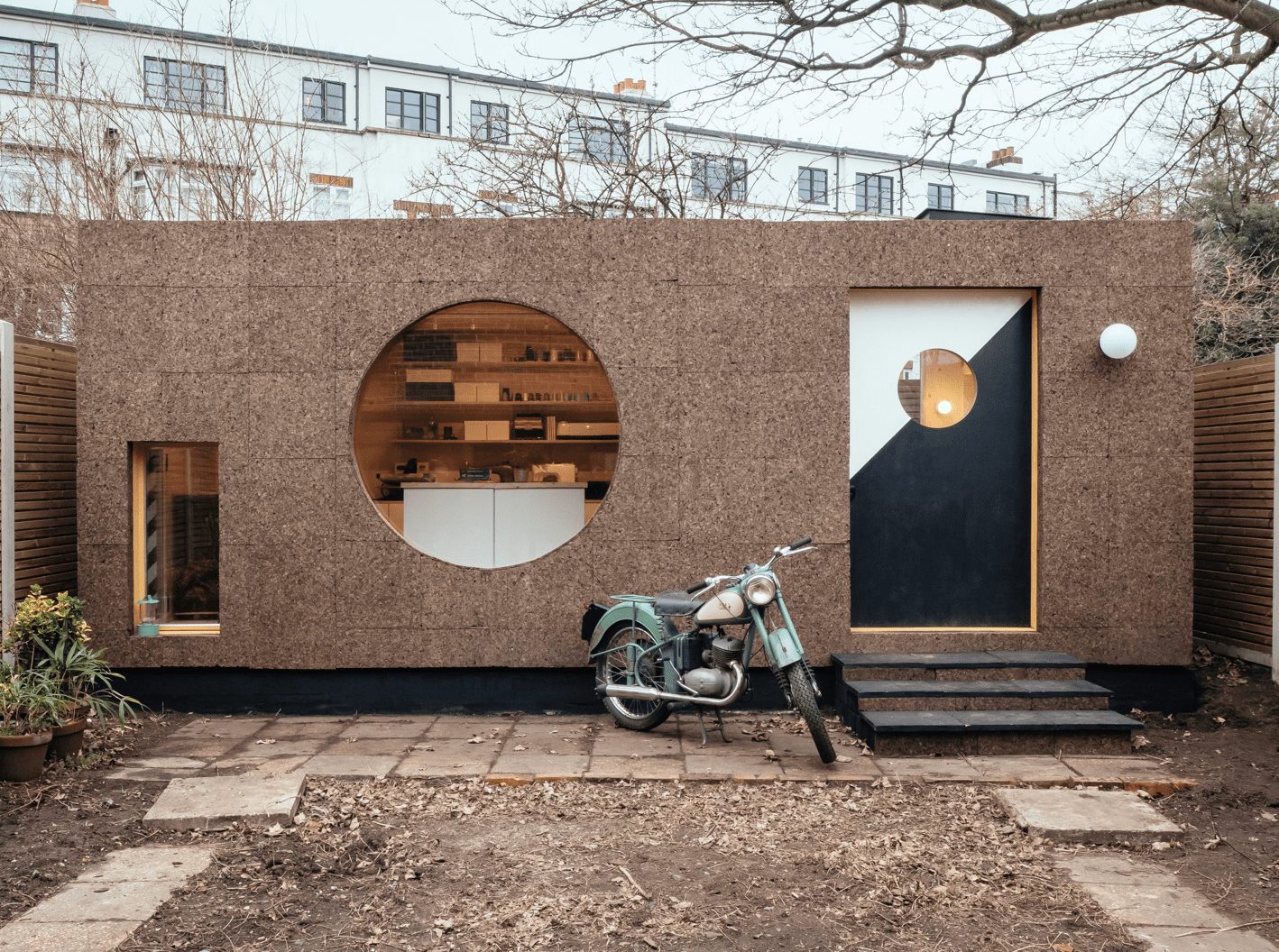 This cork-clad pod serves as a workspace for a couple in south London – Alex McMillan, the entrepreneur behind online jewellery retailer Jewellery Box, and Michelle Tacdol, the founder of creative studio Name Name.
The pair had been planning to add a garden studio to their home before lockdown, but the pandemic expedited their need. They designed their ideal workspace with the modular building designer U-Build, which has developed a flat-pack system that allows clients to self build.
Customisations including a large porthole window, the addition of a kitchenette and cork cladding, where threshed out over just a handful of sketches and video meetings.
3. A Room for an Opera Singer by FAB Architects and Luna Spaces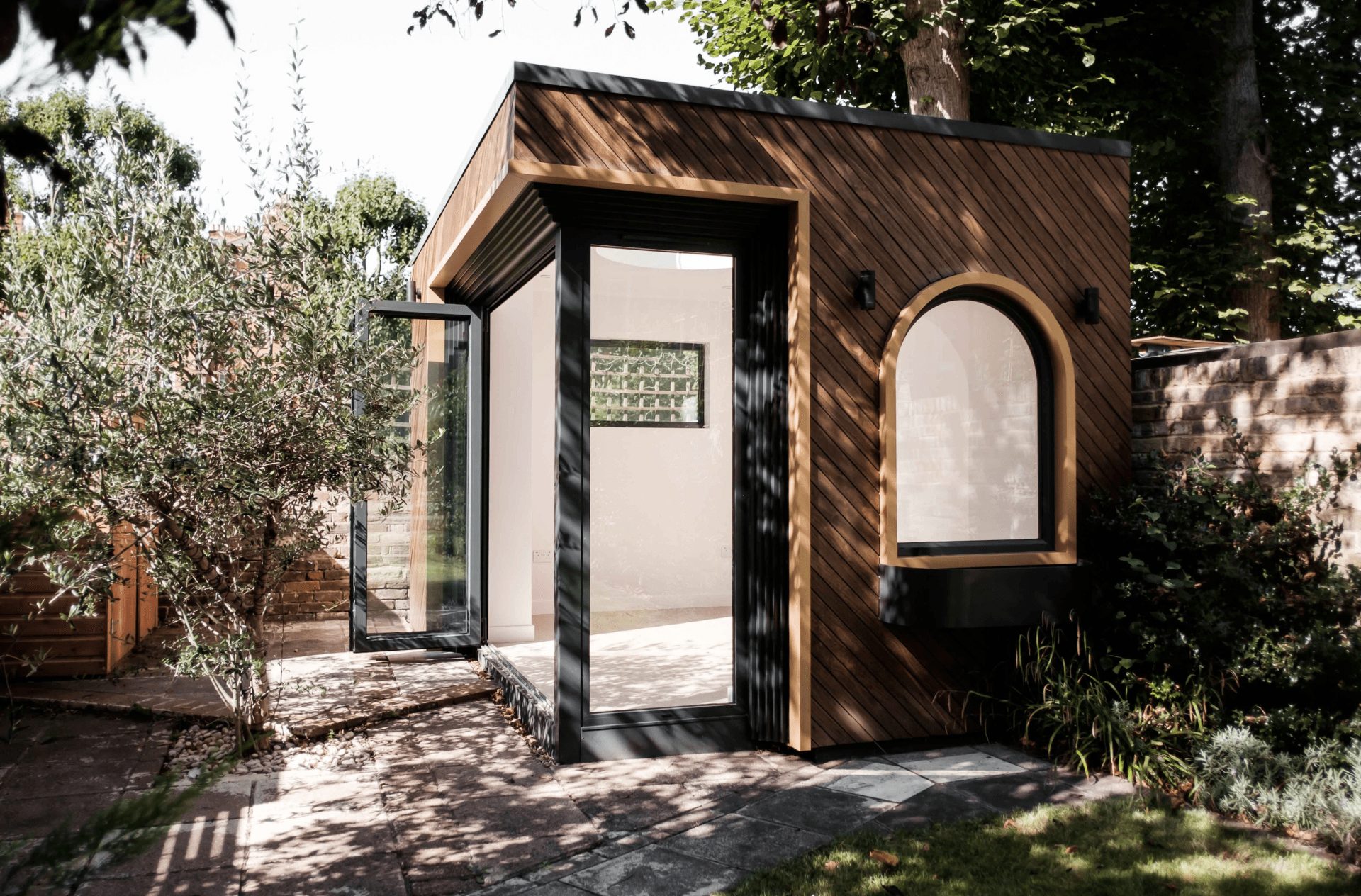 When working from home isn't a quiet desk-based affair, a garden room can provide some much-needed distance between family life and work. Designed for an opera singer who needed somewhere to rehearse without waking their baby, this 12-square-metre rehearsal room, designed by FAB Architects and Luna Spaces, sits beneath a tree at the back of a garden in north London.
The space, which doubles as an office and for entertaining, is clad in diagonal lengths of Kebony wood sympathetic to its setting. The boxy form is punctured by a playful arched window, domed skylight and corner glazing surrounded by a stepped frame – features that take cues from the stage curtains, galleries and balconies found in opera theatres.
4. Camden Garden Studio by Eckford Chong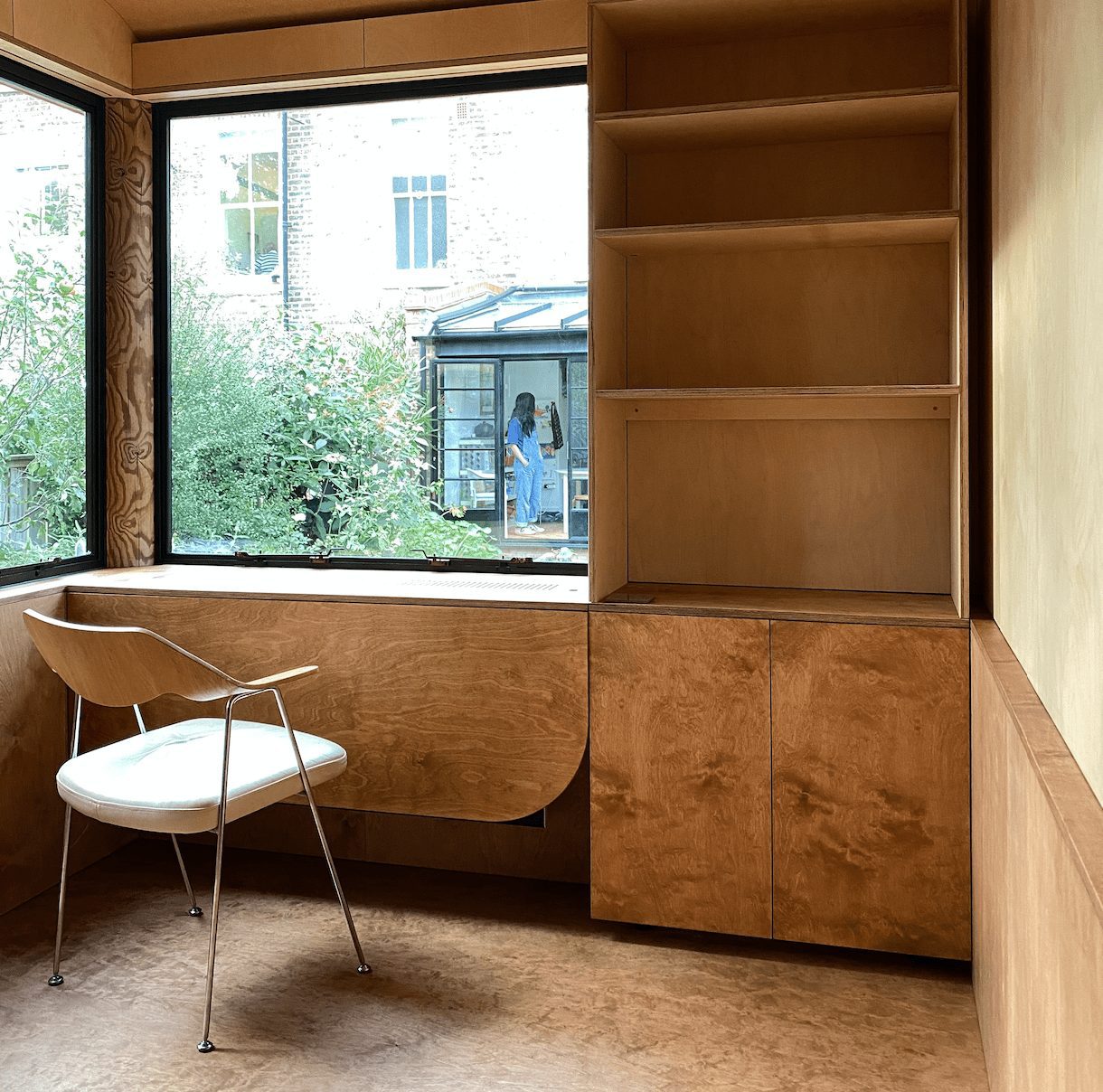 This little larch studio by Eckford Chong stands on a tiled plinth at the back of a garden in north London. The strong lines set up by the gridded grouting and vertical grooves between the wooden cladding boards "borrows from mid-century utilitarian and Modernist architecture."
Inside, two tones of wood have been used to create a subtle wainscotting effect, with the knots and grains exposed across the floor and lower portion of the walls and a lighter tone used for the upper section connecting with a vaulted ceiling. A table folds up from the window, which is bordered by a tall bookcase that provides plenty of storage.
5. NewArtCentre workspace by Koto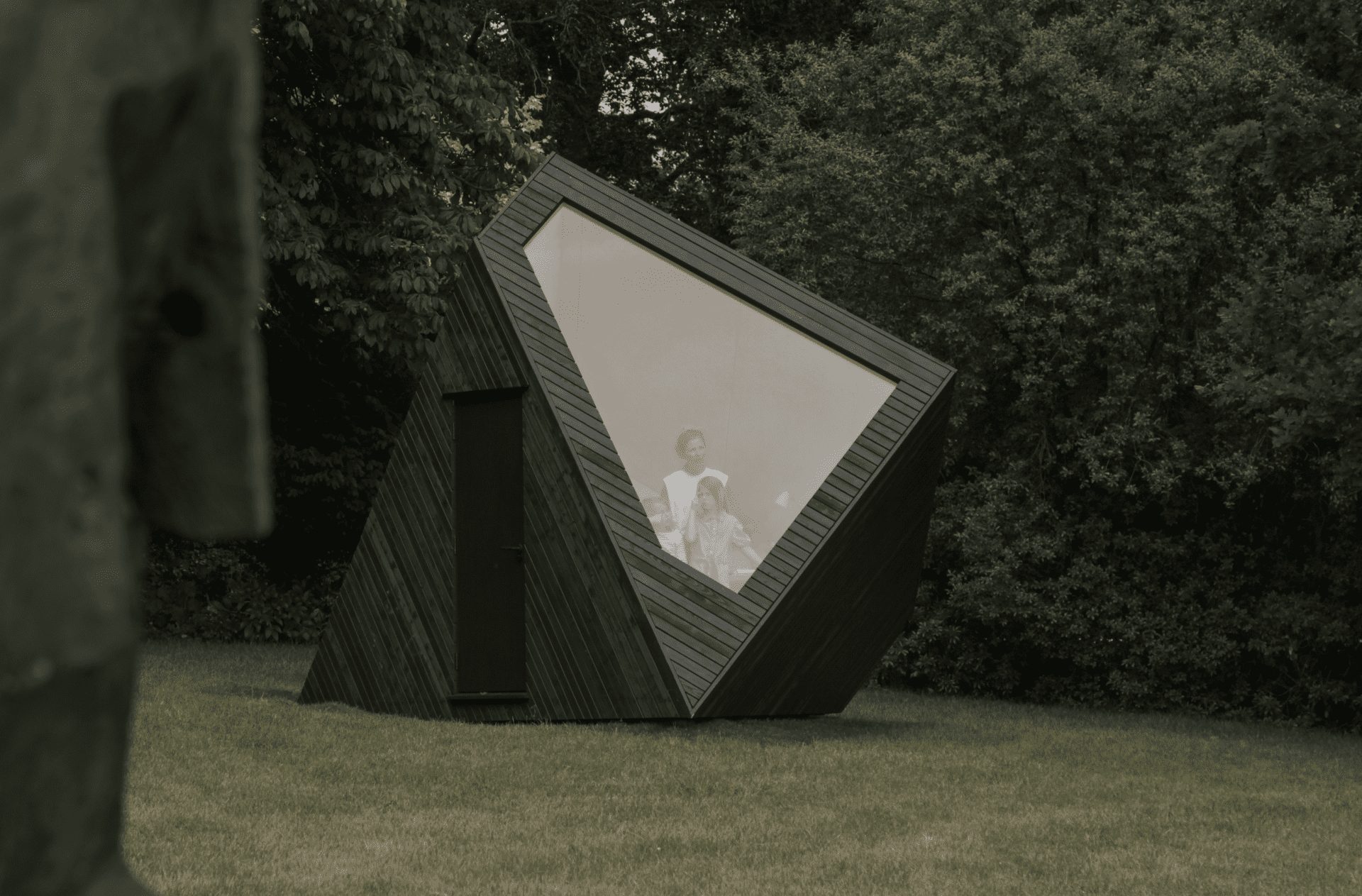 This cabin with a faceted, jewel-like form was designed in collaboration with the NewArtCentre sculpture park in Wiltshire. Its angular frame, covered in charred timber, is designed to sit comfortably alongside the sculptures.
A single window replaces one of the large facets, directing a view out towards the grounds from the interior, which is lined in pale, warm-toned wood to create a serene and light-filled workspace.
"Wabi-sabi is the perfect remedy to today's hectic pace and obsession with perfectionism," says Koto founder Theo Dales. "Inside the wooden sculpture, light is refracted from many angles of the structure to evoke a sense of shelter and warmth."
6. MIA office by MIA Architecture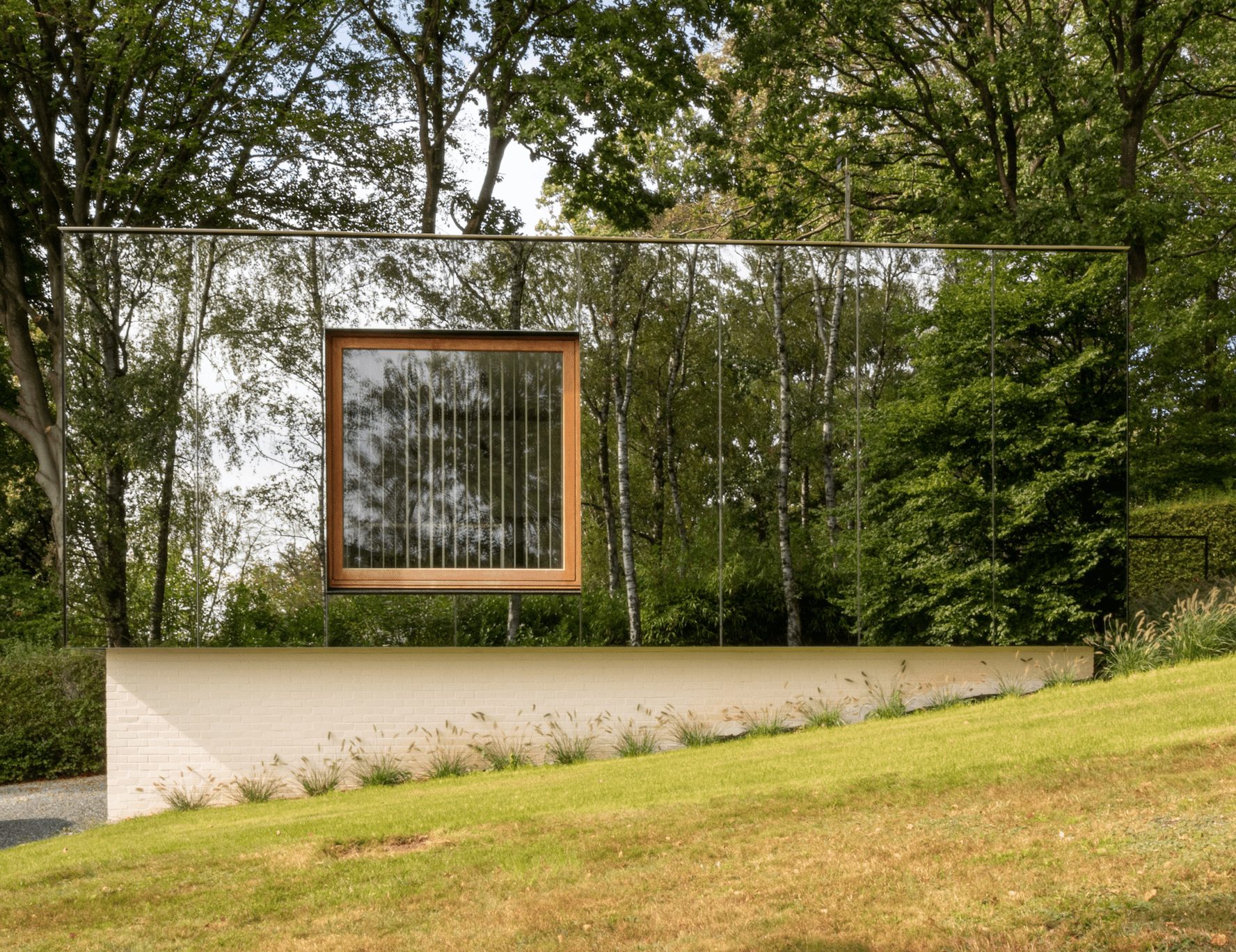 This mirror-clad home office is built to make a statement. Realised by Belgian practice MIA Architecture, the garden room forms part of an existing 1970s home extension.
Windows are hidden behind the translucent Mirastar coated glass skin and are only visible after dark, while access is via a metal grating walkway which floats above a bed of shrubs. Serving as an architect's office and collaborative meeting space, the mirrored marvel—which seamlessly disappears into its surroundings—brings the reflection outside.
Images from top: Imagen Subliminal (Miguel de Guzmán + Rocío Romero); Jim Stephenson
As featured in OnOffice 155, Summer 2021. Read a digital version of the issue for free here.
Enjoyed this article? Read more: Prefab home office My Room in the Garden addresses the need for affordable remote workspaces