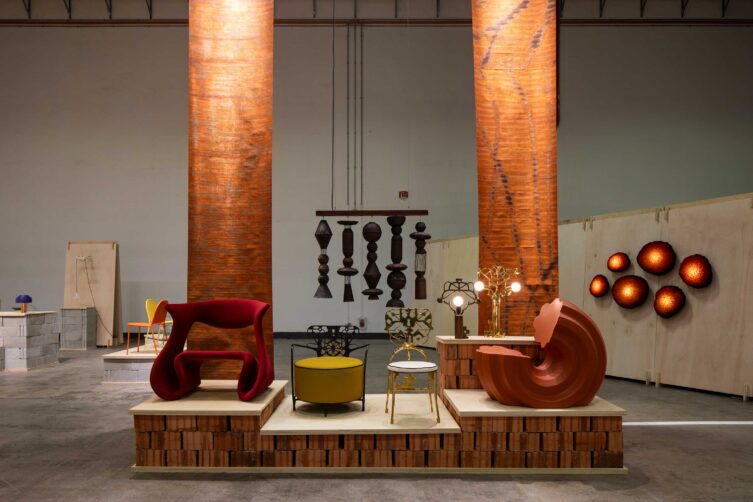 As part of Singapore Design Week, FIND – Design Fair Asia dedicated an area of its exhibition, titled EMERGE, to showcasing the breadth of design talent from six Southeast Asian countries.
Taking place last month from 21st-23rd September, FIND – Design Fair Asia returned to Singapore Design Week with its interiors and furniture exhibition and an exciting talks and seminar programme. Also a returning highlight was EMERGE, a Southeast Asian design talent showcase curated by Editor-in-Chief of Design Anthology, Suzy Annetta.
Featuring over 60 designers from Singapore, Indonesia, Malaysia, Thailand, Vietnam and The Philippines, the exhibition brought together a combination of emerging and established creatives from across the region. Names included Hans Tan (Singapore), Anon Pairot (Thailand) and Alvin Tijtrowirjo (Indonesia) with the designers bringing modern perspectives to heritage crafts and materials. With a theme of Craft + Industry: Man + Machine, traditional skillsets such as glassblowing and weaving were on display while contemporary manufacturing processes such as 3D printing also featured. In this confluence of past and present it allowed visitors to witness the future of design from the region, reimagining age-old techniques for current and upcoming audiences.
Three highlights from EMERGE are featured below:
Patched Lamps by Panisa Khunprasert
After studying industrial design at Chulalongkorn Univeristy in Bangkok, the Thai designer relocated to New York to complete a Master of Fine Arts degree before developing her own line of fashion and interior accessories. Also working within her family's wooden toy company, the designer would utilise leftover wooden offcuts in her designs which has influenced the contemporary aesthetic of her current creations. We love the colourful chequerboard patterns which, when formed as a lamp, brings a playful touch to any space.
Indigo Stool 1 by EVA NATASA
Based in Bali, Eva Natasa uses natural dyes derived from indigo plants and takes inspiration from traditional fabric dyeing techniques which have been used within the region for centuries. An organic and plant-based alternative to the chemical dyes often used in furniture production today, this project explores the exciting results and colours which can be achieved while minimising our environmental footprint. The rich depth of colour caught our eye, and we look forward to seeing the development of this process by the Indonesian designer.
Pipe series Bench by NAZARENO/LICHAUCO
Rita Nazareno, a designer from the Philippines and the creative director of ZACARIAS 1925, a brand of hand-woven bags and home accessories, is now working alongside Gabriel Lichauco to handcraft objects and furniture from wicker, cane and leather. With work featuring across the world they are showcasing traditional materials in a contemporary light, helping to preserve valuable skillsets and techniques and celebrate the beauty of these heritage crafts. We love the unexpected, tubular shape which creates a striking statement in any setting.
Organised by DesignSingapore Council, Singapore Design Week again showcased its ambitious vision with over 80 events and more than 500 designers involved. With an overall theme titled 'Better by Design', it demonstrated a strong sense of purpose and optimism in showcasing the positive impact design can have on society and the environment around us. And, while the EMERGE exhibition might be over for another year, the designs are still available to peruse online and can be purchased here.
Images courtesy of FIND – Design Fair Asia.