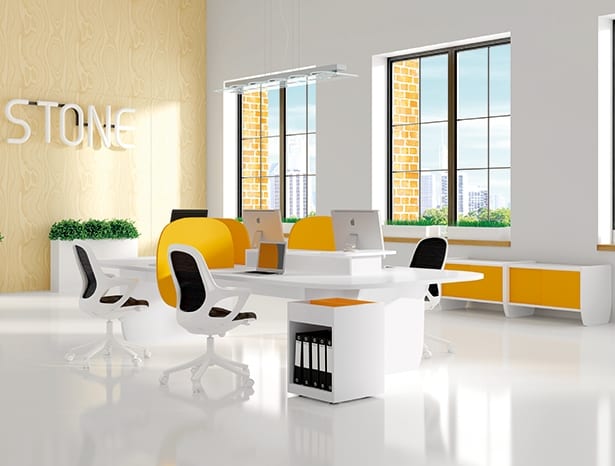 ||||||||
FERCIA as the name says provides the world with the furniture solution that people need for their work environment.
FERCIA works in the professional furniture business for over 38 years. It is respected for the wide experience and technical capacity to find customer driven solutions.
It prides itself for the qualified professional team. This team has extensive experience which guarantees the quality of work that will satisfy the customer.
STONE – the line that suits every workplace environment.
Now it presents its first office furniture line – STONE, designed to face the challenges of the most demanding managers of the most dynamic companies.
It is inspired in a pebble – a strong, and yet soft and delicate stone. An elegant and simple line as well as flexible and comfortable. It is without doubt an uppermost advantage for those who will profit from this furniture.
STONE furniture is a concept for many different options. For large spaces and small spaces. Always according to the imagination and needs that will fulfill your workplace vision.
Choosing piece by piece and assembling the perfect puzzle to the organization's reality, from executive desk, meeting tables, chairs to desk pedestal.
People will find everything in STONE, the perfect desk or bookcase, whether it is for an executive office, or simply for the open space. In FERCIA the customer can build its own solution with innovation, but always thinking about those who will bring life to it, every day.
OPEN SPACE – work will be easier
OPEN SPACE is the perfect set to become the basis of the business space that must be open to: new ideas, more creativity, more interaction, more collaboration and more outcomes.
The unbearable lightness that will reach the office and make a stand… It is thrilling because it is very complete and functional.
Workers can finally focus on what is really important because all the rest is perfect.
The customer have available a wide range of materials and colors to choose accordingly to their business environment culture.
FERCIA gives everyone who works in the decoration and design industry the facility to save time and have quality materials full of shape and functionality to surprise their customers and bring harmony to their work.
STONE is the latest office furniture trend suitable for the northern business culture and for the southern countries that start to adopt this working method.
We believe that inspiring places can enrich lives and business around the world.
This is an advertisment feature