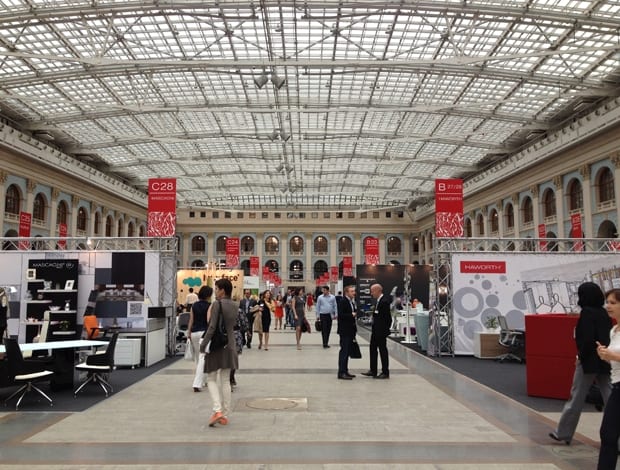 Office Next Moscow in Gostiny Dvor||
Russia's only dedicated contract furniture show moved venues this year from a trendy factory space to the rather more grandiose Gostiny Dvor, a vast exhibition hall just a minute's walk from Red Square, which could signify that modern office design is on the up in Russia.
Exhibitors and conference speakers promoted ideas such as flexible working, collaboration and breakout space – concepts that have yet to penetrate the majority of Russian workplaces, where traditional hierarchies are acting as a dam for real change. This small but potent show emphasises quality rather than quantity, drawing industry leaders like Haworth, Bene and Lasvit, which come to claim their share of a growing market. onoffice spoke to a few of them to glean their insight into Russia's work culture.
---
DENIS CHERNICHKIN, DIRECTOR OF HAWORTH MOSCOW
"Russia is quite traditional in workplace set up, which is to do with the organisational culture. Most of the Russian companies are based on a hierarchical structure, with many management levels, so they don't want to support a matrix type of organisation where different departments can work together.
"It's difficult – maybe it's a national habit – but we feel like it's changing now. They see what's happening around the world, how the market leaders and global companies behave, and they're competing with them, so they're trying to implement new ideas about what to do with space.
"We're expecting the support to come from senior management to involve staff in communication and collaboration. Also, because people are moving from one firm to another, exchanging information, the ideas are spreading. The new generation expects a different kind of environment and if they don't get it, they'll go elsewhere – to Skype, Google, wherever. Hopefully it'll help us to do more projects in Russia that are not just bench solutions, but more interesting and different.
"Here [at Office Next Moscow], we tried to show different kinds of space organisation for different work styles, for open or private space and collaboration areas, because it's getting more and more popular. We feel that feedback from the market."
---
MICHAELA LOSENICKÁ, EVENT MANAGER FOR LASVIT, CZECH REPUBLIC
"We have 12 offices globally and Moscow is an important one for us. There are so many luxury projects; there's a lot of money here. We do a lot of bespoke sculptural installations, as well as architectural glass, for example the Liquidkristal panels [by Ross Lovegrove], which can be used as dividers or exterior panels. We also sell many individual pieces, like the Uovo pendant by Rony Plesl. There are a lot of offices being built, so there is competition to have something special and different."
---
Maria Repetun (right), sales for Bene Moscow
"People in Russia are rather conservative, so with collections like Parcs [Bene's range for breakout spaces], they don't know how to use it. We've brought Parcs to the show as well as the Cube_S range, which consists of desks and cabinets with different configurations – but still people just seem to want a table, a small partition and a cabinet.
"In the city centre, offices are rather small, so they need to use the space efficiently. Something like Parcs Toguna [a circular pod] isn't very popular here, because it takes up lots of space. Companies have a lot of people, and they think that they should just be working all the time with no rest. So we're trying to introduce the idea that a person can work in other areas of the office apart from the desks. It's a new idea in Russia, and I think it'll take
a long time for the market to get used to it."
---
GÜRAN GÖKYAY, CO-OWNER AND GENERAL MANAGER NURUS, TURKEY
"This is our first time here. We've been in Russia for 21 years but in the last few years we've been a bit out of focus, so it was time for us to renew ourselves in the market. Orgatec is a much bigger show for us, where we launch all our new products, but here we're launching our collaboration with Bernhardt.
"We've licensed ten Bernhardt designs to produce in Turkey: a bench by Yves Behar, a stool from Arik Levy and pieces by CuldeSac and Monica Förster. Bringing products over from the US was logistically difficult and took a long time, so by making them at our own production facility we can bring them to the European and Russian market in a shorter time.
"We didn't want to show our workstations in Russia, but instead we're showing iconic singular products. People need to see something different, furniture for connecting people in new ways. Also, being Turkish, I think our design approach is a melting pot of Mediterranean, Western European, Middle Eastern
and Russian."
---
RALPH HEARNSHAW, INTERNATIONAL SALES DIRECTOR, AND JOANNA BUDEK, EXPORT REGIONAL SALES MANAGER, BISLEY UK
Ralph Hearnshaw (left): "Office Next Moscow was the first show in Russia developed specifically for the contract market, for high-design international products. So it was appealing to us to exhibit alongside major international players. It's not a big show with huge numbers, but it's targeted, focused and high-end. Big corporate specifiers can see most of the leading brands in one place.
Joanna Budek (centre): "It's not the quantity that matters here but the quality. The contacts you make are valuable and high calibre. We also try to connect with other exhibitors, because in future we might become their client or they might become ours. There's a lot of networking."
RH: "20 years ago there was no indigenous office furniture industry in Russia.
All the interiors were pretty conventional, grey and uniform, cubicles and cellular offices. Organisations were hierarchical as well, which was reflected in office furniture, where you had very swish, gaudy, ornate furniture for executive level, then fairly basic stuff for everyone else. The market's become a lot more internationalised and contemporary now. Tastes have become more sophisticated.
JB: "Many international companies are opening outposts in Russia now, which brings a breath of fresh air in office design."
---
TALK: HERMAN MILLER'S LIVING OFFICE
As part of the conference programme, Mark Catchlove, director at Herman Miller Insight Group, spoke about the Living Office. He started off with a bit of audience engagement: "Close your eyes and think about the place you go to get ideas… I bet none of you thought of a desk.
"We are no longer working in an office furniture industry; we are in a people industry," Catchlove continued. " We did a survey that found most people want to develop ideas face-to-face. We are living in a new landscape of work where life is about connections – connecting with people who know things you don't know, who can help you develop. It's not about connecting with a coffee bar, it's about people, ideas, identity, community. We could stop all this exhibition stuff next year and do it on the internet, sit at home and look at photos of the show. But no one wants to do that. We want to meet people.
"There have been three eras of change that define the experience of work today: industry, which was based around factories; information; and now ideas. Our workplaces need to support that. [They need to be] living offices that suit the people who work there, and give us experiences we wouldn't get working at home."
---
NAYADA'S TWELVE ARCHITECTS CREATE FURNITURE PROJECT
Nayada is the biggest office furniture manufacturer in Russia, with 15 offices across the country (including an HQ and production house in Moscow) plus six others internationally, with a sister interior design firm that has a prolific output of contract projects. Being on home turf, the brand chose to launch its new collection at Office Next Moscow, named Twelve Architects Create Furniture (although so far it only features designs by six architects, but the rest are to be released at a later date, onoffice is promised).
The architects, which include Russian firms Totan Kuzembayev and Speech Tchoban & Kuznetsov as well as Italian Luca Scacchetti, were asked to use their knowledge of workplace architecture to design a piece of modern office furniture that reflects what they think the workplace needs.
Totan Kuzembayev's sharply angular response (pictured) is a bookcase, meeting table and desk in one, all made from alternating layers of wood and acrylic, with the option of embedded lighting. The design is meant to resemble a river or waterfall, a metaphor for the fast-paced lifestyle of a company director.
Speech Tchoban & Kuznetsov's desk and cabinet, meanwhile, are more curvy; a ribbon of wood runs through the desk design, with drawers filling in the gaps, the idea being that it "fits harmoniously into an environment," according to Tchoban.