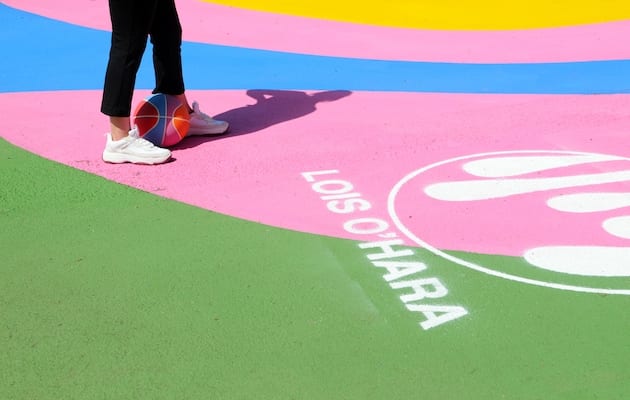 Sports Court painting at Sussex University|||
To celebrate the recent launch of OnOffice's first quarterly issue, based on the theme of colour (we could all use a pop of colour right now!), we catch up with accalimed artist Lois O'Hara.
O'Hara's signature fluid flurry of hues have graced a host of projects globally from shopfronts to seafronts. Here she explains her unique take on the world of colour.
Brighton-based multi-disciplinary creative Lois O'Hara. Photo courtesy of Lois O'Hara.
OnOffice: Please tell me about your background.
Lois O'Hara: I am a self-employed, multi-disciplinary artist and designer from Brighton, UK. I went to Arts University Bournemouth and studied Illustration.
Basketball court transformation in Perth Australia. Photo by Lois O'Hara.
OO: Describe your three most recent projects.
LO'H: I recently transformed a basement/ carpark area in Canary Wharf, London for a luxury rental apartment building. I managed to paint all of the giant walls in 3 days!
I also recently designed a window mural for a reusable water bottle company in Shoreham, Brighton and designed some prints for the NBA All-Star Weekend – so definitely a variety!
One Green Bottle. Photo by Lois O'Hara.
OO: Describe your design process.
LO'H: My design process is very natural as I like to draw everything by hand first. I am also inspired by nature and often gather different textures and shapes from photographs that I have taken for new pattern ideas.
In terms of painting, I don't like to use straight lines or be restricted by using tape – that's too easy! In life there are no straight lines and no easy ways around things. I like to think my work shows the beauty in this and the lessons we learn along the way. To me, it is important that my lines are always crisp and curves smooth.
Sports Court painting in Brighton. Photo taken by Colourbloc Photography.
OO: What is your favourite medium to work in?
LO'H: I enjoy painting floors and life drawing but most of all I love screen-printing. I wish I had more time to do it, but larger design projects are taking up my time currently. I started out screen-printing and that is where my love of experimenting with different colours began!
Mural for FRAME Gym in Angel London. Photo taken by Dan Weill.
OO: Do you usually work toward a brief?
LO'H: Yes, quite often I get sent a brief and I really enjoy partnering with brands/ companies.
It is important for me though that I can still create work in my signature 'wavy', fluid style as it means a lot to me.
OO: What or who inspires you?
LO'H: I am inspired by nature and the movement of the sea. I used to surf but was always distracted by the waves and would then get hit down by one!
I am inspired by music, particularly songs where my favourite artists write about their successes and hardships. My friends and family also inspire me.
Totem design for DesignJunction in Coal Drops Yard. Photo by Lois O'Hara.
OO: Who are your three favourite artists/ designers?
LO'H: Camille Walala (she's also a lovely person!), Funskull and Charlie Edmiston.
OO: Who would be your dream collaborator?
LO'H: A big sporting brand like Nike or Adidas.
OO: How would you define colour?
LO'H: I see colour as a language, and I think colour can say things that words can't.
Lucy and Yak. Photo by Lucy and Yak.
OO: What would you say is your favourite colour and why?
LO'H: A really bright emerald green. It makes me think of nature and holidays.
OO: Do you think your love of colour influences your outlook on life?
LO'H: I am naturally a very motivated and positive person. My family call me the 'dreamer' so yes definitely!
OO: How do colours influence the way you think or work?
LO'H: Colour is power! I feel powerful when I am planning or working on transforming a space in colour as I know it will make others happy.
Colourful crossing public art installation commissioned by Brighton and Hove Council. Photo by Lois O'Hara.
OO: What has been your favourite project to work on?
LO'H: Either the collaboration I did with Habitat in Brighton where I designed a large window display for them to celebrate pride or the collaboration with Frame gym where I painted a large mural in one of their studios.
OO: What kind of projects would you like to work on in the future?
LO'H: I would like to work on even bigger projects in terms of scale.
*OO: What is something you've always wanted to try? (This can be anything!)
LO'H: I have always wanted to actually try and search for the end of a rainbow!
Basement carpark transformation for Sailmakers in Canary Wharf. Photo taken by Edward Bishop Photography.
Brighton-based multi-disciplinary artist and designer Lois O'Hara sits down with OnOffice to discuss her colourful creations