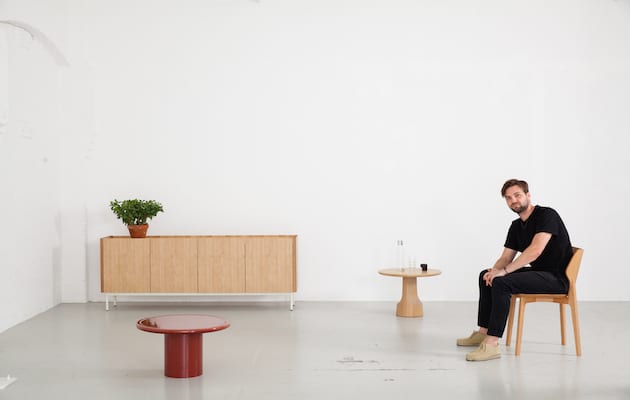 |||
Furniture designer Daniel Schofield is featured on our October cover, in our issue all about London design in 2019. Here, we speak to some of the brands he has collaborated with to find out more about the process.
Subscribe to OnOffice here and never miss an issue
Q&A with Rachel Galbraith, creative director of ercol
Tenon tables by Daniel Schofield for ercol
What was it like collaborating with Daniel?
The collaboration with Daniel was very enjoyable for the design team at ercol. Daniel's philosophy and attitude towards design and development is synonymous with ercol's ideology. We gave Daniel a brief to develop a range of occasional furniture that would be made at our Princes Risborough factory and that would become timeless alongside our Originals.
Key areas to consider started with the change in the consumer journey with furniture, which has been impacted by changing habits in technology and the reinterpretation of the home, this has resulted in the desire for the consumer to have a much more considered approach to furniture, the ideal to own treasured pieces that have longevity using natural materials, a product that can be used in any environment whether it be your living room, bedroom etc. The importance of materials/finishes/manufacturing techniques and craftsmanship detailing highlight the purity and simplicity of the design and materials used.
Daniel's approach to design is very purist, he understands the changing consumer needs. The development was very organic. After reviewing a selection of designs, we settled on the Tenon and Ore. Daniel worked with the inhouse design team and prototype creators to develop the first working samples. The main challenges were due to stability and development of the metal components. It was a fantastic working relationship between our inhouse team and Daniel to get the optimum design, which was both functional, economical with the materials and beautiful.
What do you think of the Ore and Tenon tables and how they sit within your portfolio?
The Ore and Tenon pieces are occasional pieces of furniture, that harness the purity and honesty of the materials and craftsmanship detailing. Daniel's ethos on design is aligned with ercol's, where our heritage is born of designing furniture that is both economical in material, traditionally crafted, functional and beautiful. We believe these pieces will complement our range and indeed become timeless pieces.
What do you make of Daniel as a designer?
Daniel is a wonderful, calm, creative, inspiring designer. His designs epitomise his approach to design, simplicity, honesty, purity— his designs become timeless.
Q&A with Paul Tanner, managing director of Hayche
Backer chair by Daniel Schofield for Hayche
What was it like collaborating with Daniel?
I've been friends with Daniel for a while, having met him on the design circuit, and this is the first time I've worked with him. We knew we wanted an oak dining chair, and we started off with an initial sketch we found in one of his sketchbooks. This then turned into a rough and ready prototype for Hayche, which we used to get a sense of comfort and ergonomics.
Daniel tweaked the design and we then actioned a 3D scale print before requesting our supplier to start prototyping, to allow us to iron out the details at a very early stage, and also to steer the design ourselves rather than allow the supplier to dictate it – as suppliers like to make a product as easily as possible and will often dilute design ideas if they can. We like our suppliers to mass produce a resolved design.
What do you think of the Backer chair and how it sits within Hayche's portfolio?
We are all really pleased with the final design. We have the two prototypes in our window of our Clerkenwell showroom and it's encouraged a lot of people to knock on the door and come in. We've started to look at adding more colours and more upholstered seat options to the range already based upon early feedback. We have also started talking to Daniel about growing the chair design into a family of products, with tables, lounge chairs and storage being future editions. It sits well within our range. It gives us a different handwriting but matches our ethos and brand values.
What do you make of Daniel as a designer?
I think he is one of the best I have worked with. He understands mass production, he is quick with models and technical drawings, and he is very hands on. A year ago, we worked with a London-based prototyper for the first MDF and plywood mock-up and Daniel was a driving force in this meeting. Recently Daniel joined our team in Italy at the factory to work on the final version, steering the team and factory owner there until the design was just right.
I get the sense that he has a natural and perhaps physical reaction to good and bad design details and has a very visible and immediate sense of right and wrong when critiquing a design. I have worked with designers who dwell on a piece, sometimes weeks of living with a product, but Daniel gets close to the final design from his initial drawing, and then can steer the final prototype in real-time to the mass-produced version.
Q&A with André Klauser, design director of VG&P
Valley cabinet by Daniel Schofield for Very Good & Proper
What was it like collaborating with Daniel?
We had been in conversation with Daniel for a while regarding a collaboration. The Valley Cabinet is a self-initiated project of his that he presented to us along with a few other designs. Amongst his strong set of designs, Valley Cabinet was the project that most resonated with us, so we decided to produce a prototype.
We had one meeting at VG&P after the original presentation where we checked the proportions and details together. The prototype was produced from Daniel's updated drawings. Working with Daniel has been really fun and easy, I think because we share a similar approach to design.
What do you think of the Valley Cabinet and how it sits within your portfolio?
The design is both elegant, simple and clever. The top surface along with anything that is placed on the cabinet is beautifully framed by the protruding fronts, sides and back. The doors can be opened from their top edge without the need of an additional handle.
What do you make of Daniel as a designer?
Daniel has built an impressive portfolio at a relatively early stage in his career. Good work gets you more work and we think he's just going to get better and better with the opportunities that will come his way. Hopefully some of these will come from VG&P. We're looking forward to building on this first collaboration with Daniel.
OnOffice sit down with ercol, Hayche and Very Good & Proper to discuss our October cover star Daniel Schofield