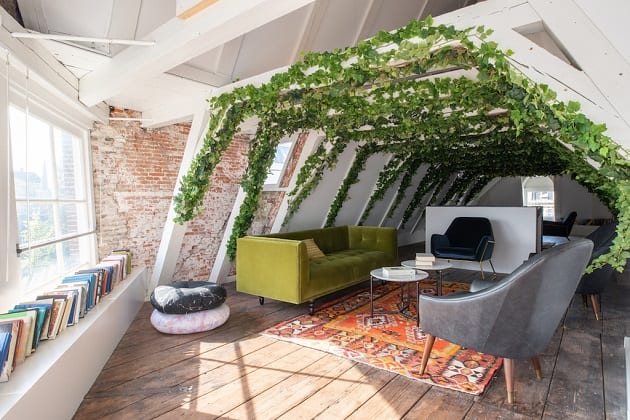 A Mindspace office in the Netherlands|||
Ever order a McAloo Tikki Burger? Or a Stroopwafel McFlurry? Maybe you've never heard of the vegetarian burger on the menu at McDonald's in India or the restaurant's ice cream treat with syrup waffles in Holland.
The success of these fast food dishes is actually the same unique ingredient that makes generous helpings of concrete forge a connection with tenants in a coworking space in Berlin. Or a sprinkling of Broadway-style lighting for guests in the Shoreditch district of London.
The unidentified ingredient? "Glocalism". For organizations with a global reach — regardless of whether they are in fast food or hospitality — embracing local tastes and sensibilities makes a big difference to their clientele. This melding between the global and local is known as a "glocal" approach.
The Mindspace coworking space in Utrecht
The same goes for the design of offices for international organizations. Universal office design creates a unified identity across many spaces and many cities. But it's just as important to include elements that represent a local design sensibility: motifs and artwork that are more personalized and familiar for users.
People in urban centers today are more connected to their cities than ever before. And as the process of globalization makes our cities, homes, and offices look and feel the same, it is very important to find a local voice — one that will make employees feel at home.
At a time when catering to the needs and wellness of employees has become more essential than ever, deploying local design elements creates a connection between the members to the space. It's critical that employees, some of whom are spending well over eight hours a day at the office feel that they are in a familiar environment that they identify with.
The Nieuwezijds Mindspace in the Netherlands
For example, the San Francisco offices of Google, renowned for its workplace desirability, is designed to connect the staff to the city's neighborhoods and history. One walkway was designed with industrial looking large windows and dark colored ceilings to give the atmosphere of a city street. There is artwork that pays tribute to San Francisco's original settlement, the hippie Haight Ashbury district and famous city residents like Robin Williams. A lounge with tilted tree trunks and branches with light fixtures creates the feel of an urban park.
So, while a visitor to the San Francisco office or an Israel-based employee both feel the Google familiarity, the office also evokes the city.
Another example can be found at Soho House, a chain of hotels and members clubs for creatives. Soho House gives its guests a boutique hospitality experience, and customizes their locales to reflect local design motifs and traditions. In Amsterdam, the Soho House lounge uses a color palette that's evocative of the Dutch golden age artists, while the bar in the club is clad in a pleated fabric that found in 17th century churches. At Soho House Mumbai, however, the lounge is appointed with hand-printed textiles from India's Rajasthan region while guests can relax on cane chairs made by local craftspeople. This way, guests can experience a genuine connection with India's unique cultural history.
Or take the Ace Hotel in Shoreditch. The hotel's use of stage lighting just outside the lobby is a reminder to guests that they're staying in the old London theater district that gave birth to modern stage dramas.
This mixture of the local with the global has become a must-have in order to create environments that are both comforting, comfortable and meaningful for employees. Office design should give employees a strong sense of belonging. It's part of the new standard for how employers take care of their workers. In addition to coffee, communal spaces, and niches to steal a moment of relaxation, employees also need to find meaning in the design elements in their office surroundings.
It doesn't happen by itself
However, this doesn't happen organically. For global companies, crafting local design motifs of a city requires voluminous amounts of research about the city, about the buildings, and the stories that embody a city's identity. It requires forging connections with local artists and suppliers to understand where the most authentic local materials can be sourced.
Mindspace Dam, the coworking space in Amsterdam
It also requires listening to the employees. At a Mindspace's coworking location in Amsterdam, we had originally installed small tables near the kitchen for meal time. Unlike other locations where most employees go out to eat, we realized that in the Netherlands people prefer to stay in the office and each lunch in groups around a large table. So we immediately changed our small kitchen tables to large dining room tables spanning the entire room which was an instant success.
It goes without saying that this type of localized design requires added investment. But businesses worldwide are paying more for employee care and wellness than they were a decade ago. Employers need to provide a proper physical and mental space to attract and retain talent. They are paying more for human resources. There is higher investment in community building. It's about creating a work environment where employees are in a position to do the best job possible. Higher costs to create authentic localized workplace design is just part of the package.
So, in this new employee centered design, stamping an organization's global design brand on an office isn't enough to maximize employee engagement. Designing floors of cubicles in the retro blacks and shades of grey predominant in the 1980s is a recipe for an uninspired workforce.
Yes, localization takes extra work. Designers will have to do their homework to learn about the elements and culture specific to a place. They will have to strike the correct balance between the artistic particularities of a given location and the design conventions of international organizations. And companies will have to invest a little bit extra to make it work. But in the end, it will all make for a more inspiring environment for employees. And companies with an inspired workforce will be more productive on all levels.
Dari Shechter is VP Art & Design and Lily Stanger is Design Lead at Mindspace, a global boutique coworking provider
Many companies with offices around the world may have a universal aesthetic, but localization is key to the most successful workplaces, say designers Dari Shechter and Lily Stanger