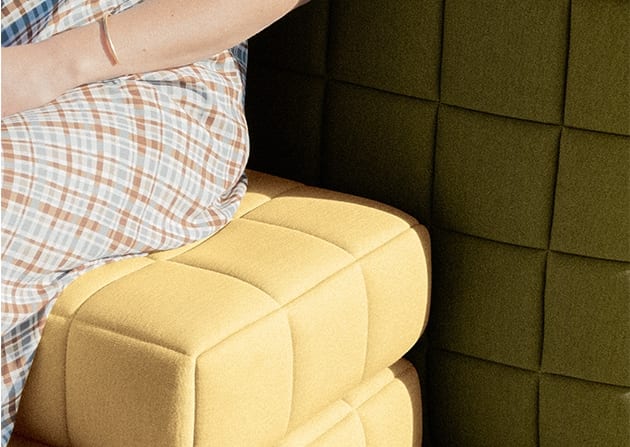 |||
Voxel is Bjarke Ingels Group's first furniture product. Courtesy of Common Seating.
The international architecture practice Bjarke Ingels Group (BIG) has collaborated with the Danish furniture brand Common Seating on a modular seating system.
Voxel is designed to fit within both domestic and contract environments. Courtesy of Common Seating.
Voxel — named for the 3D equivalent of a pixel, a building block-like cube often used in the visualisation of scientific data — has a visual form that echoes its modular capabilities. Redolent of everything from modernist architecture to the video game Minecraft, the system suggests the idea of aggregation.
The system comprises four units: a seat, a back or arm rest, an ottoman and a pillow. Courtesy of Common Seating.
Based around simple upholstered units — A seat, a backrest, an ottoman and a free-standing pillow —Voxel displays a grid-like pattern. The upholstery, currently available in 6 colourways, comes courtesy of Febrik, a Tilburg-based texture specialist partially owned by the Danish fabric giant Kvadrat.
Voxel is upholstered in material from the Dutch brand Febrik. Courtesy of Common Seating.
Elements can be combined using metal cylinders, which allow for a variety of complex formations. "We encourage you," say Common Seating, "to flip, mix, add, remove and repair." The sofa's modularity aims to encourage imaginative re-use rather than disposal.
Ingels is known for his adventurous, technologically advanced architecture. Courtesy of Common Seating.
Although Voxel is BIG's first furniture system, it is not its first experiment with repeating units. The firm's 2016 Serpentine Pavilion was compounded from identical transparent bricks. The company — which was founded in 2005 in Copenhagen, but now has a second HQ in New York — has also played with repeating volumes in some of its permanent architectural projects, such as The Heights school in Virginia (2019) and the Lego visitor centre in Billund (2017).
Named for the 3D equivalent of a pixel, Voxel is the international firm's first furniture system