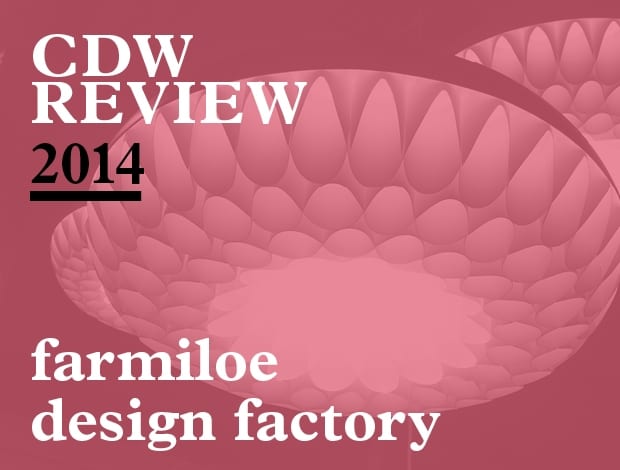 ||
onoffice caught up with some top designers at the Design Factory at Clerkenwell Design Week and got the inside track on their new products. Find out what inspired Russ + Henshaw to create the Tile Mile; read what Benchmark's Steve Owen had to say about creating furniture with 'soul'; and get an insight into the design process from VG+P, James Burleigh, Assembly Room, Material Lab and Deadgood.
---
James Burleigh on Jura stools and the rise of the high table
"The Jura table we've been doing for a while, so we made these new stools to complement them. They only arrived a few weeks ago. It's the same leg design as the table, and you can have them upholstered in whatever fabric you like – we've used all Camira fabrics, Sting, Hemp and Blazer.
"We're already doing so much of this collaboration furniture, tables and stools, but we thought it would be nice to do some nice, fun little round ones as well, plus high versions too.
"We're doing a tremendous amount of high tables now. Not just in kitchen areas, but everywhere. People are starting to want to work standing up, they don't want to just sit at their desk all day, they want to get up and move around.
So I think there's definitely going to be a move in the next year or so, with more people using high desks."
---
Ed Carpenter on Harbour Chair Wood
"We had another version, but we've softened it up – this one's made of beech wood from Europe and it's very lightweight. We were looking at Scandinavian furniture from the 50s and we wanted to reinterpret it in a modern way, using some of those mid-century typologies that we all love. We wanted to create something really simple and clean with a minimal backrest.
Ed Carpenter is director of VG+P
---
Peter Wall on Hatton and Hyde
"Assembly Room's new products for Clerkenwell are the Hatton seating range and Hyde stacking bench, which is a continuation of the Hyde stacking stool.
"Hyde is designed for flexible spaces, so you can reconfigure spaces very quickly. It's also for educational spaces, museums and training facilities.
"Hatton carries the same aesthetic. It's fun and you can play around with the colours inside. We think it's like the bite of an apple, so when you scoop it out you get a different colour inside. You can also have it as one solid colour.
"This year we're working with a Swedish fabric company called Svensson, who've kindly given us the fabrics for the show. We really like their colours; they make beautiful fabrics."
Peter Wall is director of Assembly Room.
---
Sean Dare on the Bronte Alcove
"This is the Bronte Alcove, which is a sculptural sanctuary of seating designed for corporate spaces, hotel lobbies, offices. It can fit two people snugly or one large businessman. Obviously, the enclosure of the high back blocks out the surrounding noise.
"We do it in all different fabrics from Bute to Kvadrat. This is shown in Antigua by Vescom. We can do it with colour lacquered legs, American black walnut, oak or we even do aluminium legs.
"It has been tested to contract strength and stability level 2 so it can go into prisons, airports, etc. Actually, it is quite good for airports because it isn't long enough to lie down in."
---
Jim Biddulph on Material Lab
"The stand is an extension of what we do at Material Lab. We house lots of different materials from lots of different manufacturers, including Karndean, Johnson Tiles, Tektura, modulyss, and Dulux, who have come along with us to this exhibition. They're all different media, so we get a healthy balance of surfaces which complement each other. You could literally use all five on any interior scheme; their names could pop up on any specification.
"So that's where the premise of the concept came from – that these surfaces form the fundamental basis of an interior space. We themed the space Fundamentals, and it looks at land formations, hence why we've got the mountain range and the cave effect. It boils down to primordial foundations of design."
Jim Buddulph is projects and materials manager at Material Lab and founder of Here You Are studio.
---
Massimiliano Tosetto on Kelly Cluster

"It is inspired by the natural environment. The metal is laser cut, so you can see through the lamp and it seems almost weightless, it's doesn't dominate the environment."
Massimiliano Tosetto is general manager of Puntozero.
---
Phil Henshaw on Russ + Henshaw's Tile Mile
"One of our key references was the Basilica in Istanbul, and if you've ever seen that system it's a series of arches, so having seen this we decided to put two mirrors together to reflect infinitely. I hope you like it, we think it's quite cool."
---
Steve Owens on Benchmark
"One of the materials we've worked with of late is this veg tan leather, it's a very natural, tactile surface to work on and obviously it'll develop over time with scratches and marks and that's the beauty of it. We like to make products that create their own story over time.
"This kind of product is usually laminate or MFC, which are cheap and unfriendly. We try to make products with soul."
Steve Owens is head of design at Benchmark.
---
Vicki Leach on Marionette
"We saw this old rusty pipe version of this light in a junk shop in Islington. It had a great cross section, which drew our attention to marionette puppets. From that idea we decided to play around and repurpose that old rusty design and turn it into something modern and sleek but very simple.
"For the cables we got in touch with a Swedish company, Nud. Today, we have very simple black and white, but they could be rainbow-coloured if you like. We quite like that minimalist style at the moment, which is moving away from the retro style of the recession."
Vicki Leach is design manager at Deadgood studio.