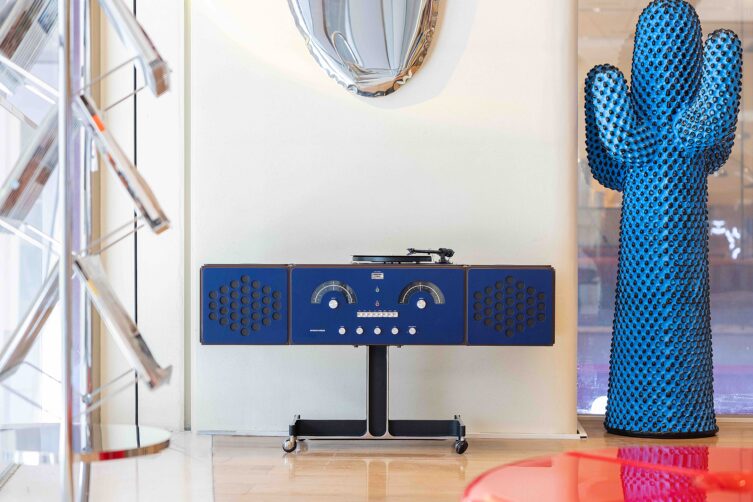 The Spirit of Radio: Achille and Pier Giacomo Castiglioni's Brionvega radiofonografo was launched in 1965 in the white heat of the Space Age. Nearly 60 years on, this 'statement piece' still has a place in interiors of all kinds – and now you can buy it in blue
What do David Bowie, Kendall Jenner, Karl Lagerfeld and Francis Ford Coppola have in common? Aside from being household names – albeit for very different pursuits – they have all been proud owners of a Brionvega RR126 'radiofonografo'. Created in 1965 by designers Achille and Pier Giacomo Castiglioni for Italian brand Brionvega, the Space Age-inspired design challenges the conventional notion of what high-tech homewares should look like with a friendly 'smiley face' and a range of bright, bold colours.
Achille Castiglioni was known for his personal conviction that "objects must keep you company", and the radiofonografo does just this, pairing music with a friendly countenance. "The radiofonografo was designed to act as a companion rather than to simply play music," explains Alessandro Cini, general manager of Brionvega. "It transforms the traditional record player into a statement piece for the home."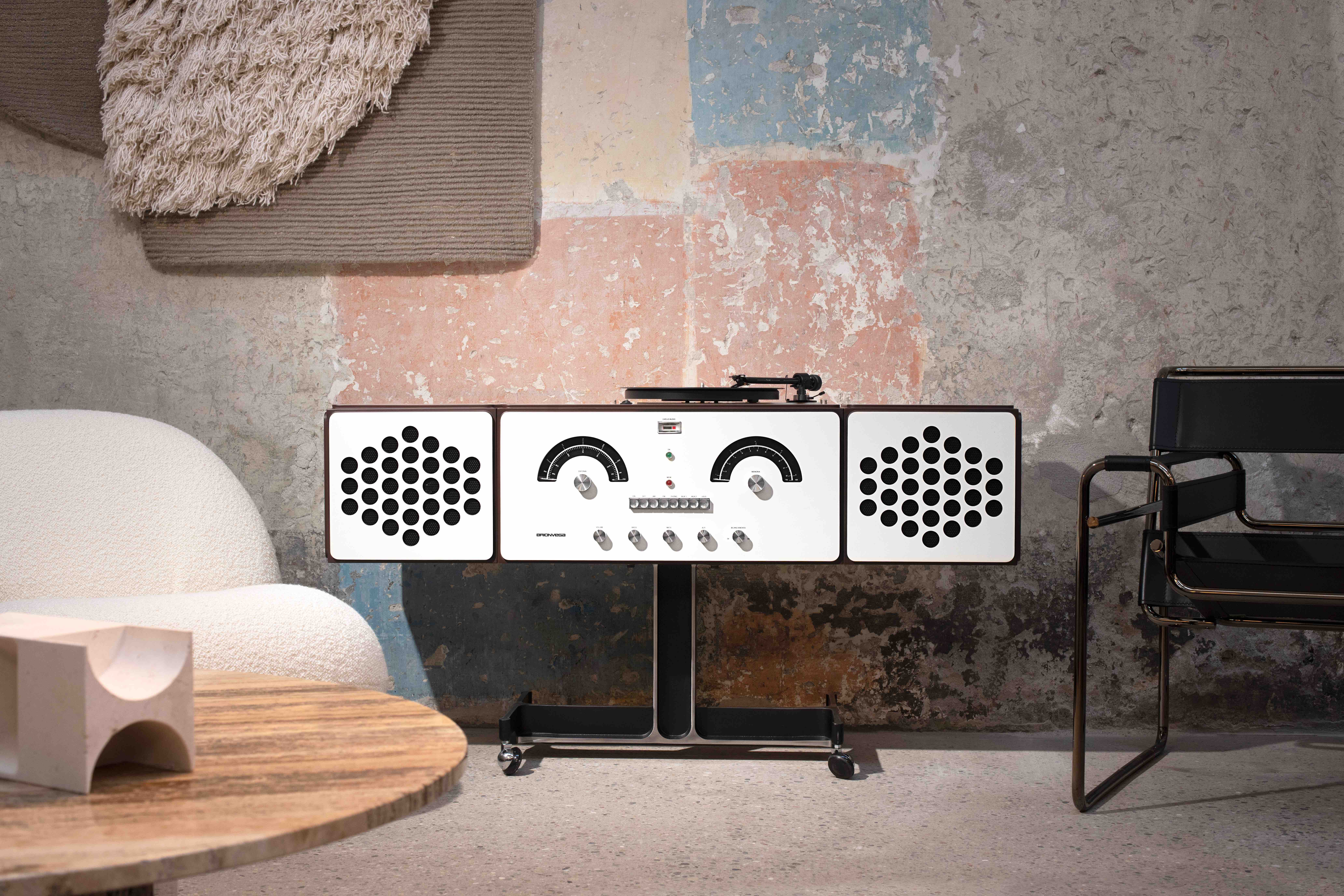 The expressive anthropomorphic music machine – which today boasts an AM/FM radio and a Pro-Ject turntable – has a smiling robot face composed of buttons and potentiometers, with detachable, ear-like speakers that can be mounted on the side or top of the main body.
Crafted from plywood clad in red, white and orange lacquered wood or a limited-edition Canaletto walnut version, set atop a cast aluminium stand on wheels, the radiofonografo has surpassed trends and remained popular for close to six decades. In April, however, the playful music system received an updated colour – an electric blue version that was launched at Milan's Fuorisalone. "The deep blue shade offers a cool, calming aesthetic that brings a relaxing feel to the space," says Cini. "It's synonymous with the themes at the core of the Brionvega brand: beauty, elegance and timelessness."
While the radiofonografo is often celebrated as a companion for the home, it's just as welcoming a presence in commercial settings. Bringing the magic of music to the workplace, its friendly countenance will quickly become regarded as an important part of the team – after all, recent studies have shown that we tend to perform better and produce more accurate work when listening to music. 
Retailing for upwards of £10,000, a radiofonografo is most definitely an investment piece – but it is designed with longevity in mind. "Brionvega's philosophy is that its products should not only be owned, but kept for life, honouring the values of the 'Made in Italy' tradition," says Cini. "The radiofonografo serves as a timeless heirloom that can be passed down through generations." Bowie's custom-finish radiofonografo – which he regarded as a "musical pet" – is testament to this, fetching a record-breaking £257,000 at a Sotheby's auction in 2016.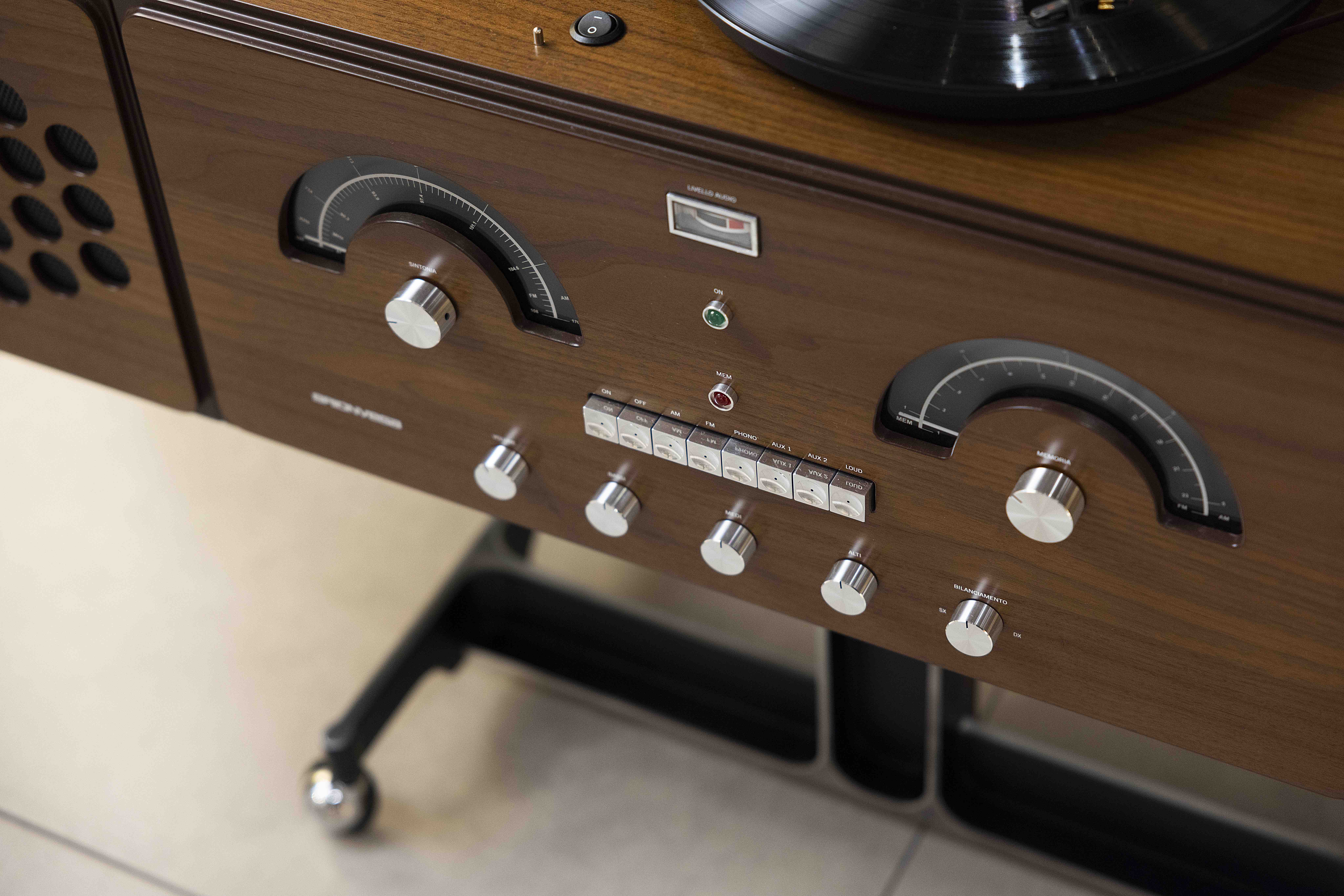 Given Brionvega's dedication to craft and commitment to working with Italy's most renowned design talent, it's no surprise that the brand has been awarded the Italian government's 'Made in Italy' label, which recognises avant garde style and craftsmanship. Or that the radiofonografo is part of the permanent collection at countless museums around the world, from London's Victoria & Albert Museum and the Triennale Milano, to the Cooper Hewitt, Smithsonian Design Museum in New York. 
"Brionvega's products are intended for a refined, design-conscious audience who appreciate exceptional craftsmanship, the notion of collectors' items and heritage pieces, and understand the wider Made in Italy design chain," says Cini. "Its ambition is simple: to produce beautiful, handcrafted and high-quality products that last a lifetime."
Images courtesy of Brionvega
As featured in OnOffice 163, Summer 2023. Read a digital version of the issue for free.