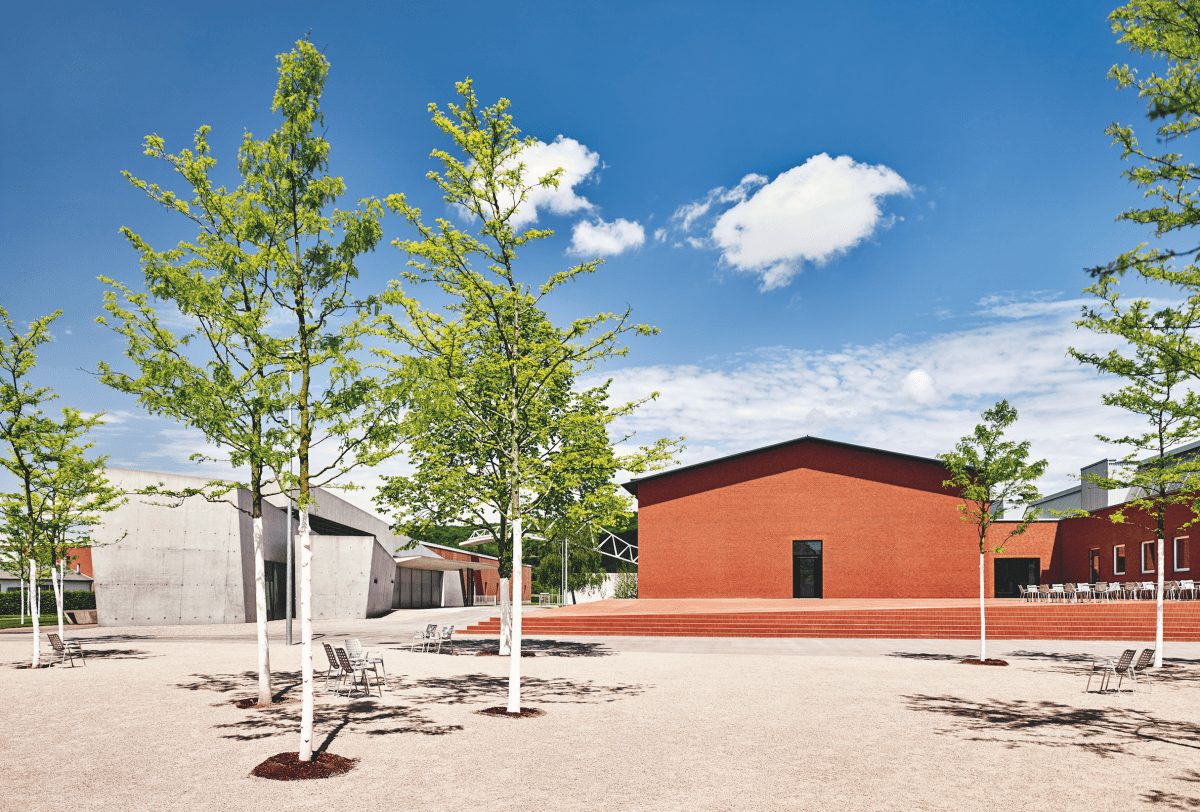 The Swiss manufacturer's story is a journey through the shapes and colours of 20th century design
The traditional office is a thing of the past at Vitra whose 'New Office', designed by Sevil Peach in 2000, sets out aspirations for a better working culture of the future.
Aiming to provide increased mobility at work, employees feel liberated to create their own personalised office environments, where "we live our own designs", as noted by Chrissie Muhr, senior researcher at Vitra. It is this humane approach to design, which sets this family firm apart, as it continues to enhance our living and working spaces.
Formed in 1950, with a main headquarters in Birsfelden, Switzerland, and the striking Vitra Campus in Weil am Rhein, Germany, Vitra works with a strong focus on technical and conceptual expertise. Its attention to detail is matched by its extensive historical archive of design classics, which harks back to the post-war boom of the 1950s, when "out with the old and in with the new" defined social attitudes of the time.
The Swiss firm's journey initially began with a trip to the United States in 1953 when founders Willi and Erika Fehlbaum chanced on design couple Charles and Ray Eames. The Eameses designed innovative products including films, books, exhibitions and iconic furniture, making a notable historical contribution to the development of modern architecture and design. A meeting of like minds that led to a lasting friendship, this perfect coming together would eventually play a pivotal role in shaping Vitra's ethos.
Vitra's collections are playfully modern and innovation driven. Decorative objects, lighting and sofas are just some of the products on offer, but it is the firm's work-focused range, in particular the Aluminium Group chairs, that subvert outdated office environments.
Conceived by Charles and Ray Eames in 1958 for the private residence of an art collector in Columbus, Indiana, USA, the chair quickly became a design icon and had an equally timeless production blueprint, detailing unique welding techniques and a comprehensive manufacturing guide. This was made possible after Vitra successfully negotiated the licensing rights to the designs by Eames and George Nelson for the European market.
While craftsmen at Vitra, who take one year to acquire the necessary skills, continue to scrupulously adhere to the seven basic steps – high-frequency welding, sewing, commissioning, screwing and rotating, corner turning, stabilising (bracing and armrests), base assembly and packaging – laid out by the Eameses, the methods were brought up to speed thanks to upgrades in technology.
As a result, an Aluminium Chair comes to life in just 20 minutes today. "For its construction, the designer couple departed from the principle of the seat shell. Instead, they stretched a panel of fabric or leather between two aluminium side pieces to create a taut but elastic seat," comments Vitra.
Comprising various models, for use at home, in the office or in public areas such as libraries, the chair sits comfortably in many settings. Finishes come in a choice of aluminium bases with a polished, chrome-plated or black powder-coated finish as well as a variety of colours and textures, such as fabric, leather or upholstery.
With a global reputation for creating functional goods and elegant forms, Vitra's confidence in its product line is affirmed by their 30-year guarantee on all chair models belonging to the Aluminium Group. The precise attention to detail is a direct reflection of the Eameses' innovative imagination, with their design leitmotif, "The details are not the details. They make the design", spanning generations and cultures.
Assembly of the Aluminium Chair takes place at the production hall designed by Frank Gehry in 1989. After a disastrous fire destroyed a significant part of Vitra's production facilities in 1981, the firm enlisted British architect Nicholas Grimshaw of Grimshaw Architects to draw up a sprawling new 15,000 sq m master plan in an effort to revive the factory premises.
By the mid-80s, the project morphed into a unified corporate undertaking, with Grimshaw's first commission now the esteemed Vitra Campus. A number of quirky buildings and installations have sprouted up since then, many by prominent architects keen to make their mark. "Each of these designers, from all corners of the world, share their ambition. This is at the very heart of Vitra's product development process," comments Rolf Fehlbaum, Chairman Emeritus at Vitra.
Besides the production hall, Gehry also conceived the Vitra Design Museum in the same year, where the Eames Collection of material samples, prototypes, studies and tools has been on display since 1988. Iraqi architect Zaha Hadid followed in 1993 with the Vitra Fire Station, her first commission, as did Tadao Ando with his concrete Conference Pavilion.
The following year, Álvaro Siza's factory building and passage cover were completed and by 2010, Swiss firm Herzog & de Meuron unveiled VitraHaus, a stacked archetypal house, home to Vitra's flagship store and the Vitra Home Collection. While Sanaa completed the last factory building in 2011, the 30m high Vitra Slide Tower, dreamt up by Belgian artist Carsten Höller, opened in 2014, perfectly displaying Vitra's wit.
The campus is a marvel of striking architectural ensembles and classic pieces to match. But behind the splendour this illustrious firm reveals a virtue of character. At Vitra, the word 'original' runs much deeper than iconic design; it's a direct reflection of the brand's own sincerity.
All images courtesy of Vitra
As featured in OnOffice 143, May 2019