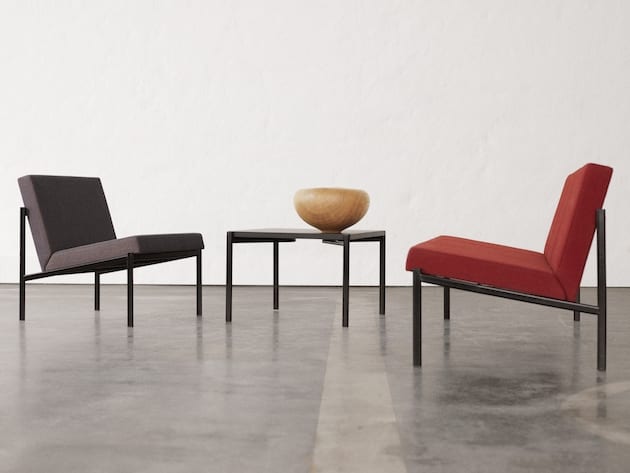 Artek was founded in 1935|||
When many design brands talk about heritage, they do so to evoke an amorous sense of the past: artisan techniques, honest family-run business models, a connection to their local landscape.
The heritage of the Finnish furniture label Artek, by contrast, is concrete. It was founded in 1935 by a gang of four that included the seminal modernist architect Alvar Aalto and his wife Ainu, herself a prolific product designer. Artek's products, many of which have been in continuous production since time of the Aalto's, represent not just a link to the modernist past but remain a living part of it.
Aalto's Lounge Chair 43 continues the Armchair 42's bentwood ingenuity. Image courtesy of Artek.
Several stars of this heritage live in Artek's range of lounge chairs, some of which were designed by Aalto himself. The Armchair 42, for instance, dates from 1932, and is modelled on the famed Paimio Chair that the architect built to furbish his Paimio Sanatorium. When first designed, the chair tested the absolute limits of industrial timber-bending. Its sinuous form remains graceful and distinctive.
Tapiovaara's Kiki Chair became a fixture of Finnish modernist architecture. Image courtesy of Artek.
Aalto continued his experiments with wood-bending with the Lounge Chair 43, whose birch lamella armrests curve to a degree that resembles bent metal. Upholstered in linen, it recalls a distinctly Nordic mode of relaxation, poised to capture the rays of the truncated summer.
Artek did not just exist to produce the designs of its founders, but also to produce and promote the work of other Finnish designers. One of its most significant long-term collaborators was Ilmari Tapiovaara, whose work in the 1950s and 60s helped to define the course of Finnish modernist architecture.
Artek's designs have often bridged organic and sleek modernism. Image courtesy of Artek.
Among Tapiovaara's most famed works include a pair of solid birch chairs with spoked backs, whose aesthetics recall the hand-crafted spindle chairs of the past while demonstrating astringent modern curves and colouring. The Mademmoiselle, designed in 1956, is available as lounge or rocking chair. 1962's wider Crinolette, meanwhile, is named for the hooped petticoats of 19th century women.
Between these two, Tapiovaara unveiled the Kiki, a very different proposition. The archetypical 1960s modernist chair, it uses slender oval steel tubing to support an arresting seat and backrest that appears a single upholstered unit. It took the Gold Medal at the 1960 Milan Triennale.
Named for the crinolines worn by 19th century ladies, the Crinolette is a modernist take on the spindle chair. Image courtesy of Artek.
"Artek's mission," says the brand's present managing director Marianne Gobel, "is bringing together art and technology, as confidently conveyed by our company name. Since 1935, Artek has combined modern production methods with expert craftsmanship to create functional and beautiful products for the everyday."
Each able to claim a heritage of their own, Artek's lounge chairs remain a significant part of Finland's outsize design legacy. They remain playful, adaptable and startlingly contemporary.
Designed by luminaries including the Aaltos and Ilmari Tapiovaara, the Finnish brand is a crucial part of the story of modernism