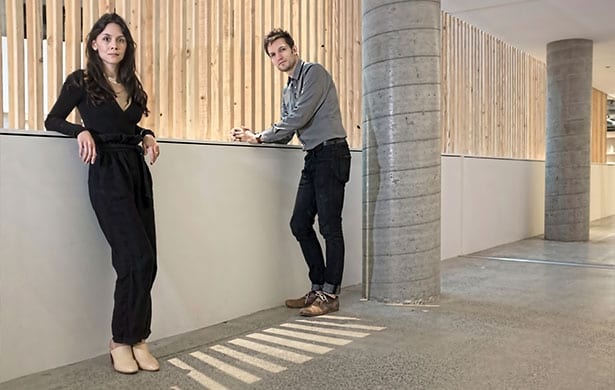 |||
Aaron Taylor Harvey and Rachael Harvey are the power couple behind the design output of Airbnb's environments team worldwide. Together with Rebecca Ruggles – more of whom later – as lead interior designer, the duo have reset the rules as far as reinforcing branding without recourse to cheesy motifs.
While Aaron, in his capacity as creative director, sets the tone of the workplace design which has seen them work on Airbnb offices in Dublin, Paris and Beijing, Rachael, as environments executive creative producer, focuses more on the logistics, the specific needs of each site and coordinating the various agencies involved.
In 2014 this husband and wife team were brought on board by Airbnb to shape the look of the offices for everyone's go-to site for when hotels are too expensive, too inconvenient or just lacking a host with some invaluable local knowledge about the best burrito places in town or the tourist traps to avoid. "We have this sense of responsibility to our colleagues," says Rachael. "We're living in this space, so we're learning a lot."
A showstopper spiral staircase encircles the atrium
The couple, who both studied architecture at California College of the Arts, had already encountered Airbnb as a client of Myriad Harbor, the successful design studio they opened in 2011.
One of their latest, and most significant, projects is the travel tech firm's San Francisco headquarters: 999 Brannan. At 14,000sq m, it's the largest single project the environments team has ever developed – working with local firm WRNS Studio as architect of record.
Constructed in 1984, the building was, says Aaron, "a microprocessor mart, somewhere you'd come to buy a computer. When we got it, we gutted the whole building." Although the local area – disused industrial buildings, lots of high density housing in the offing – would draw comparisons to London's Hackney, the infrastructure doesn't quite stack up just yet (I couldn't find a craft beer place or an independent coffee joint in the vicinity for love nor money), which is why Airbnb, which also occupies number 888 further down the road, wanted to make it a "unique piece of the community". If you (re)build it, they (hipsters) will come, the thinking goes.
A "boat" on the top floor provides places to hide away
The outside of 999 Brannan is distinctive and easy for my Uber driver to spot, with its use of glass tiles, which makes it all the stranger that the original design blocked out all natural light. The new design rationale sought to resolve this, harnessing light wherever possible.
This is most obvious standing on the ground floor looking up to the original skylight, beneath which a new showstopper of a staircase has been installed, capturing all that wow factor in a large-scale structural statement. Little wonder our photographer heads straight there for his first setup to capture the essence of Rachael and Aaron's work here. "One of the things we are really happy with is the geometry – there's a real smoothness to it," says Aaron.
Custom-built furniture multitasks in the atrium
There's a whole load of workplace innovation just behind the security barrier however, which is why we retrace our steps back up to the entrance. Aaron whips out his smartphone to demonstrate the design principle here: "If you look at the Airbnb mobile site, there are two columns – here your body becomes the scrolling as you walk down." On either side of a ramp, there is what's been dubbed "Listing Row" – "a meaningful analogy of the product experience," says Aaron. What initially look like roomsets are in fact functioning meeting rooms – all of them recreations of spaces that can be found on Airbnb listings, which are then personalised by the employees.
"The way we approach design is to facilitate storytelling," Rachael adds. New employees and visitors alike are immersed in brand Airbnb as soon as they set foot in the building. Staff gathering in the Listing Row spaces might easily find themselves sitting in an 1880s Montana jail, a Dublin living room or a wood-lined cosy place in Portugal.
Subscribe to OnOffice for the full feature
Rachael Harvey and Aaron Taylor Harvey have devised workplaces worldwide to house the ever-expanding travel tech firm – most recently its dramatic San Francisco HQ