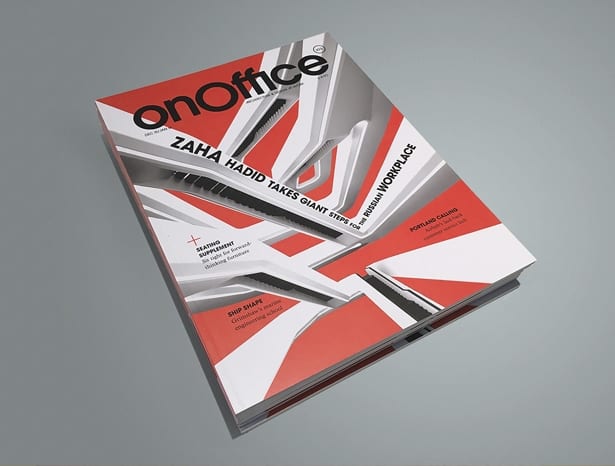 ||
After a succession of beautifully shot portraits of designers and architects gracing our most recent covers, we thought it was high time a building took centre stage. And what better choice than the Dominion building by none other than Zaha Hadid Architects, shot by Hufton + Crow. With its sweeping staircase and trademark Hadid curves, the Moscow office sets new standards for working culture in Russia. And who better to examine this particular project than architectural critic and curator Gwen Webber?
We also travel to the Pacific Northwest, bringing you the Customer Experience Centre for Airbnb in Portland, Oregon. Even for a call centre, a work environment not associated with being particularly hip, this very of-the-moment company has liberally sprinkled its brand of corporate cool. The eagle-eyed among you might even spot one of its employees using a typewriter – could this signal a resurgence of Olivetti over Apple, we wonder?
Speaking of comebacks, we look at whether upholstery is having a moment in one of the features within this issue's special seating supplement, onseating. While we all love wood, and injection-moulded polypropylene is never going to fall out of favour with designers any time soon, as winter approaches, we all need a bit of comfort – and some nice textiles are just the ticket (below: Jon Burgerman's collaboration with Kirkby Design). This weighty section also features a profile of Austrian design trio Eoos, a look at a whole lot of office stools, high and low, and the intriguing Gavin Munro, who trains trees around moulds to create some unique, slow-grown seating.
The city of Chicago also achieved a first, playing host to its inaugural Architecture Biennial which is reviewed. With a backdrop of some much-loved examples of early skyscrapers, the event's organisers contrasted history with contemporary contributions from the likes of Atelier Bow-Wow, Vo Trong Nghia and Ultramoderne. A worthwhile addition to a burgeoning number of architecture and design festivals around the world we reckon.
Lee Penson's innovation in furniture design is just one of the things that sets this architect apart. With clients such as Google, YouTube and Jay Z under his belt, his next move was to set up furniture firm Hotcakes, which is redefining what's possible within a floorplate with a range of sociable circular desking. Read our profile in OnStage.
And finally, as I cast my gaze out of the window to a gloomy, rain-soaked winter outside, we bring you a bit of southern hemisphere sunshine courtesy of the so-good-they-named-it-twice Hotel Hotel in Canberra (below). Its award-winning design is aiming to bring a 'Bilbao effect' to the Australian capital.
Don't miss our next issue – subscribe here.
Our latest issue also features an interview with Lee Penson, a review of the inaugural Chicago Biennial and a poke round Airbnb's Portland outpost