The New York practice harnessed industrial history and minimalist interventions for this adaptive reuse project
Between the busy overpass of the Brooklyn–Queens Expressway and the rapidly evolving start-up hub of the Brooklyn Navy Yard, lies an unassuming six-storey building from the 1920s.
Originally a masonry factory in the historically industrial area, this – along with a cluster of four other adjacent buildings – has been sensitively and creatively transformed by emerging New York practice Worrell Yeung into a new workspace complex.
The project, named 77 Washington after its address, involved both careful rehabilitation as well as architectural adaptation. In its design approach, Worrell Yeung has drawn from the rich industrial history of the neighbourhood and the early 20th-century New York warehouse typology.
In the former factory building, existing features – such as masonry walls, cast iron columns and wood girders – were revealed and restored. Worrell Yeung then added crisp interventions – including poured concrete floors – to create contrast and bring a minimal contemporary feel to the project. The workspaces created are multi-use and flexible.
"The existing buildings were so rich with history and layered with texture that we wanted our design to highlight these found conditions while also updating to accommodate new uses and new programmes," says co-principal Max Worrell.
Unnecessary and structurally unsound portions of the buildings were removed to create new garden spaces and expanded access to daylight and city views.
Gridwork appears repeatedly across the project, including in the lobby's distinctive plywood wall, diamond-plate steel floor and glass block elements. Worrell Yeung also applied this lattice motif to the steel grids which cover the elevator shaft windows. Visible on the building's exterior, these bring a contemporary graphic touch to the historic facade.
"These interventions are a nod to the aesthetics of storied factory buildings and Navy Yard warehouses, which historically featured grids in their sash windows, fencing, and ship docks," says co-principal Jejon Yeung.
The six-storey factory building anchors the complex. It is bordered by three one-storey structures – home to an artist studio and photography studio – connected by a central courtyard. With these structures, Worrell Yeung removed infill masonry walls, created a large glass block clerestory at the corner of the artist studio and painted the exteriors dark blue to unify the complex.
A garage structure adjoining the six-storey building to the north was removed and the space transformed into a peaceful garden, designed by Michael van Valkenburgh Associates, and a bike storage area. These are accessed by original yellow wood gates that were preserved from the historic site.
After completion, tech innovation company Newlab – which has its headquarters in the nearby Brooklyn Navy Yard – became the sole tenant of the six-storey building, in order to provide additional workspaces for its community of startups.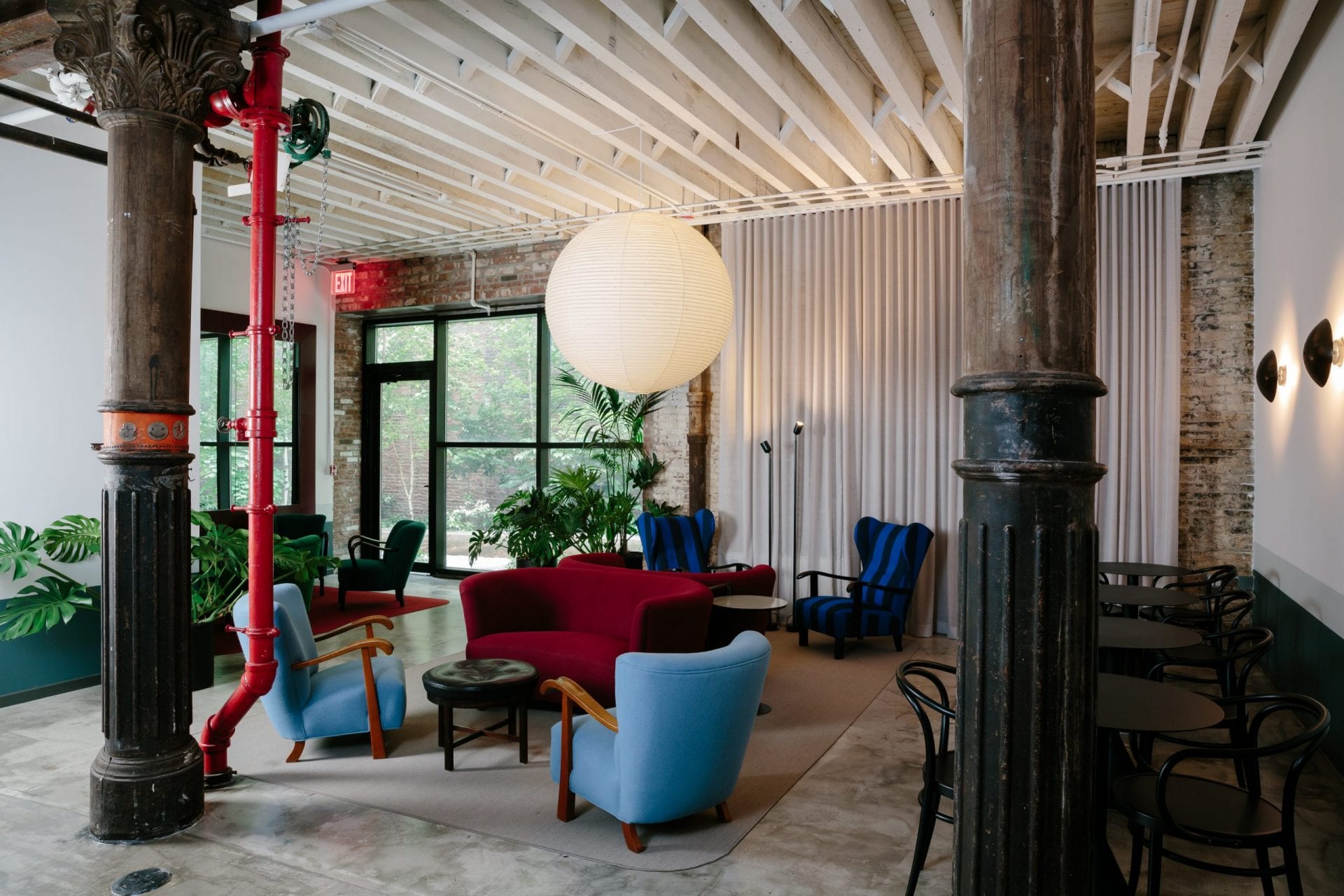 New York-based Civilivn was appointed as interior designer, adding conference rooms, workstations and breakout areas to the workspace floors. The ground floor has been designed as a welcoming shared space for Newlab's members, with floor-to-ceiling curtains, refinished Art Deco-era furniture and a custom-designed reception desk made of aluminium laminate mounted on painted plywood tubes.
All photographs by Naho Kubota unless stated