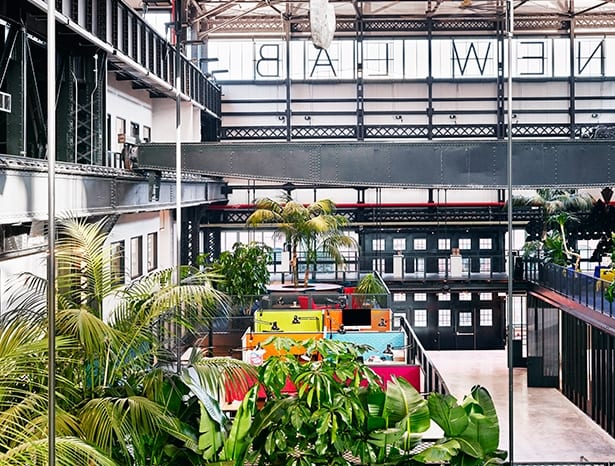 |||
At the beginning of the last century, the Brooklyn Navy Yard was the epicentre of technology: it played a big role in both world wars, having built battleships – including the infamous USS Arizona, which was bombed at Pearl Harbor. Over time, the building closed its gates to its illustrious shipbuilding past and the space became a hub for manufacturing and commercial activity. In 2012, real estate developer David Belt and his company Macro Sea took over Building 128 and transformed it into a 7,800sq m collaborative space dedicated to emerging technologies including artificial intelligence, nanotechnology and robotics.
However, New Lab, which opened last September, is not a traditional co-working space with revolving day members mixed in with semi-permanent tenants working for startups. Rather, it targets growth-stage technology companies who work on hardware and tenants must sign a year-long lease. "We're interested in building a community," explains Macro Sea's design director Nicko Elliott.
To create a state-of-the-art manufacturing platform for its members, Macro Sea included facilities geared towards production, designing metal and wood workshops, a 3D printing lab, CNC milling machines, spray booths and a resin room to create prototypes for up and coming projects. An exhibition space on the mezzanine level is used to showcase the work of the community during building tours. Prototypes can be seen on a custom-built revolving display case from a trestle.
The trestle concept can be seen in various guises throughout the building and the flexible system became a design solution for different furnishings. In the reception area, to the right of the main entrance, a large trestle desk is dressed with an infinity mirror and LED lights, and large-scale planters are part of the trestle form.
"What we liked about the infinity mirror is that it has this beautiful effect and you're peering off into this infinite gridded Cartesian design, but at the end of the day it's just two mirrors with lights in between them," Elliott says. "We liked this tension of high and low."
The plant installations are another feature that is repeated throughout the vast space – used architecturally as screens for visual privacy or to delineate different areas. "We approached it like a landscape in an exterior space, like you would use trees to demarcate spaces," explains Elliott. He has also deployed greenery to add a sense of visual continuity to New Lab, which is further enhanced by the colour fields from the multi-coloured desks in the open-plan office space on the mezzanine floor.
Passing through the reception area, visitors are treated to a clear one-point perspective down the main space, which is lined with breakout areas and shared conference rooms featuring bespoke steel and oak desks with rubber tops and partitions. "We tried to match the partitions to the existing building for it to seem kind of like it had been there," Elliott says of the steel and glass dividers.
Flexibility was key both in the furnishings and the space, so Elliott and his team have created demountable and reconfigurable workspaces, while an open area caters for those looking for a more bustling environment. The ground floor also includes several specialised workshops, as well as event spaces, the restaurant, studios and the lobby.
In contrast, quieter workstations are available on top of the ground-floor "bump-outs". Elliott explains: "It's our newly built components that are walled off with metal mesh, so they provide more privacy and no one's ever above you on those."
The mezzanine level also offers additional workspaces, including interior studios with workstations where tenants can rent the entire space and customise them; then there are larger studio spaces that are completely unfurnished. Alternating between these are long communal tables that tenants can use for a quick meeting.
Sitting alongside the plant installations on this floor are colourful lounge spaces with soft furniture from the late modernist and post-modernist periods, including pieces by Gaetano Pesce and Carlo Mollino. Elliott wanted to bring something more whimsical to the lounge areas and brought in pieces that were once viewed as aggressive for the softer furnishings.
"We were interested in designers who were working through the late 1960s and early 70s as this period of pre-oil-crash hangover," Elliott says of the overall inspiration. "We looked back on it as an idealised time of techno-optimism, collaborativeness and making of the early moment of some of the environmental movements and new ideas about workspace as well."
Elliott drew further inspiration from the building itself as well as from the hi-tech modernist period and offered a more oblique take on it for New Lab. "We talked about the structure of the building and how extraordinary it is with its gossamer roof of steel, and we kind of imagined it like structural expressionism and Archigram in the early 1970s," he explains, citing the Centre Pompidou in Paris as another inspiration.
The design team wanted to keep some of the building's original features and repurposed its gantry cranes that run across the space along the main access on railway tracks. Suspended bridges that crossed the main space from the gantry cranes have been transformed into connective social spaces for New Lab. On the south side, a suspended bridge is the exhibition space, in the middle, there's a lounge dining area, and on the north side, is the project space where the 3D printer is housed.
One of the challenges facing the project was how to equip such a vast space with a suitable audio system to prevent echoes and other extraneous noise. Elliott and the team worked with Arup and its sound lab, which discovered that due to New Lab's geometry and scale, the building was relatively quiet and echoing wouldn't be a problem.
"They compared it to Grand Central station but it performs acoustically better than Grand Central," Elliott says. To create more localised acoustic privacy, the backs of the workstations have been lined with quilted wool from Kvadrat to absorb sound.
Similarly, coming up with a lighting design that would work with the space also proved challenging. Elliott collaborated with New York based lighting designer Domingo Gonzalez, who created the uplighting now used in New Lab. Exterior-grade lights are lit up on to the ceiling then reflected down in a soft defused glow that resonates throughout the building. "It's very even and keeps the energy levels up, even into the evening," says Elliott. "That's the masterstroke of the lighting team."
Once a vast, derelict workshop where US battleships had been built, Building 128 of the Brooklyn Navy Yard has a vibrant new life as a workspace for emerging technologies