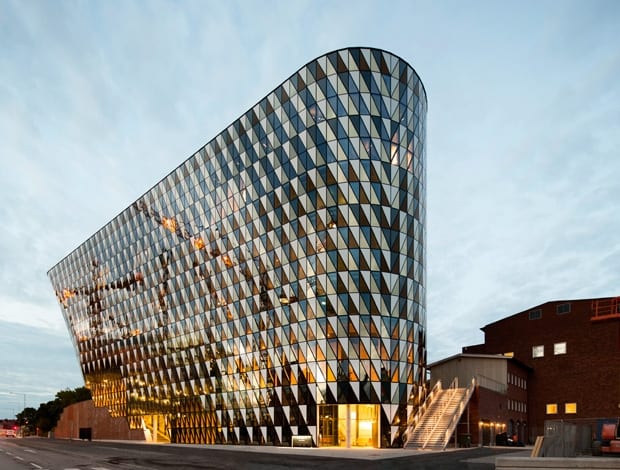 The three-sided building leans elegantly over the street below|Six different types of glazing create the structure's dazzling facade|The tinted glazing casts triangular shadows across the floor of the interior|The V-shape of the auditorium fits the building's tight triangular site|Extensive use of fir wood gives the hall a more overtly Scandinavian look||
The Karolina Institutet's auditorium is a bold building that reflects the Swedish medical university's prestigious position
Karolinska Institutet is a medical university based in Solna, an urban area of Stockholm, Sweden. It is one of the top-ranking medical universities in the world, and is responsible for awarding the Nobel Prize in Medicine. However, until recently, this august institution's university campus did not have an auditorium where large numbers of academics and scientists could assemble, despite ever-increasing demand.
A competition was held to design an auditorium way back in 2001, duly won by Swedish architecture firm Wingårdhs. Since then, the location of the site, among other factors, has changed, but the choice of Wingårdhs as the project's architect has been a constant. This year, the building finally reached completion.
Its location, at the intersection of a newly constructed road and pedestrianised thoroughfare linking the university to the Karolinska University Hospital, dictated the triangular shape of the plan. The building has an asymmetrical twist to it, one of its
three corners projecting outwards over the new road. The facade, made up of tessellated triangular panes of glass in six distinct glazes, creates a fluid finish; as well as controlling the levels of transparency and shade inside, the panes also cast patterns of light on to the paving surrounding the building, and on to the floor inside. The overall effect is that the glazing animates the building as academics, visitors and passers-by approach and move around it.
The V-shaped auditorium hall is a material contrast to the facade. Ceilings, walls and structural elements are made from fir, lending it a more obviously Scandinavian feel. Designed for up to 1,000 people, its sloped ceiling and banked seating have been designed to optimise acoustics and sightlines to the stage. Flexibility was another factor; the space can comfortably accommodate both large-scale conferences and awards, and more intimate lectures and talks.
As well as the auditorium, the building also incorporates offices on the upper floors, a faculty club, entrance hall, reception area and cafeteria. "The site is designed for strong collective experiences," say the architects; such a bold and prominent design is certainly an effective match for the pioneering scientific advances that will be recognised here.