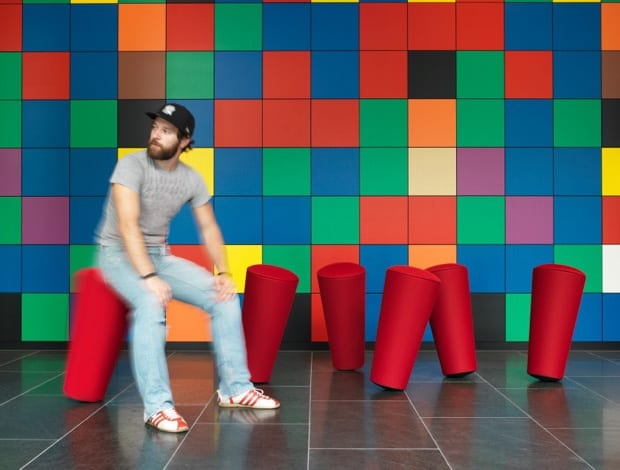 ||||||||
Munich-based designer Thorsten Franck has worked with Wilkhahn to create the Stand-Up stool, a response to the brand's 'office for motion' concept that explores new, healthier methods of informal communication. Designed for perching, the upturned cone-shaped stool tips in any direction – but doesn't slip, thanks to a domed plastic sole. It can tilt up to 50 degrees before springing back to its basic stance of 10 degrees from the vertical, allowing the user to move around freely. We spoke to Franck ahead of the show and found the designer in poetic mood.
What was the brief for this project?
It had to be an object that created a contemporary way of informal interaction in the workplace. It is for resting in the office, but functions like a farmer's milking stool.
What is its aesthetic?
It's an everyday product for everyday life; reduced to the max. It's a monobloc shape, with a function that uses the tumbler principle. This physical principle is creating an interaction between the object and the user. It's an object offering support for your body while resting, but not blocking your dynamic motion.
Walking through a field of Stand-Up is like walking over a flowery meadow; the motion [of the stools] creates an interaction with them. It has rubber for the grip, EPP for the construction, 3D fabric for the surface, and a metal weight for the base.
Where would this be used in the office?
Stand-up is designed for meeting places or break areas, places where people interact together. It's for times at work when you want to keep temporarily your dynamic.
Why do you think this type of object is so popular in workplaces now?
It's a simple tool for keeping your dynamic while resting, and it offers a contemporary way of caring for your mental and physical balance.