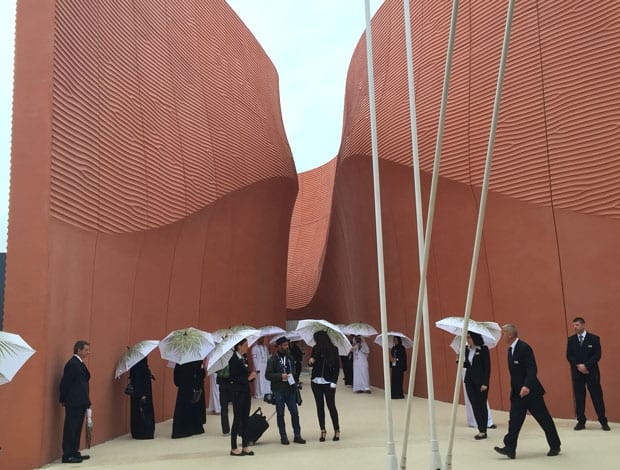 Foster + Partners' UAE pavilion at Milan Expo||
On the first day of the Milan Expo, a tombstone-grey sky pelted visitors with rain. At the UAE pavilion, men paired traditional white dishdasha and keffiyeh with palm-printed brollies and hunched shoulders.
Foster + Partners' undulating form, inspired by sand dunes, only served to emphasise the gulf between the climates in Europe and the Middle East. But, as global warming intensifies, the significance of this architectural case study will undoubtedly expand.
It is introduced via an 80m ramp, flanked by 12m-high walls, that slopes up to a golden, drum-shaped building at the centre of the plot dubbed "the jewel". In truth, these walls are the real stars of the show.
"They form a vertical desert of ridge lines and wind ripples," says Foster + Partners' Ronald Schuurmans, "but are also influenced by the narrow-winding streets of ancient desert cities. How did these cities cope with the harsh climate and winds?"
The walls are clad in precast concrete reinforced with glass fibre (GRC), which the practice also used as the building material for the Masdar Institute in Masdar City, Abu Dhabi. According to the practice this is the first building of its kind to be powered entirely by renewable solar energy.
"The cladding element worked very well [in Masdar City]. It has a good thermal mass and withstands the sand and humidity – also in terms of dust and shading," Schuurmans says. "You can also control the colour and texture, so it really does [look and] feel like sand.
"The self-shading tall walls are an example of passive design, and this is really where sustainability begins."
After the Expo certain elements of the pavilion will be relocated to the UAE. The GRC will make the cut, while the solid concrete will be recycled.
"The challenges that the UAE faces will be experienced in the rest of the world in the future," says Schuurmans. "We're carrying out a lot of research there, but it's for everyone and that's what the UAE wants to show."