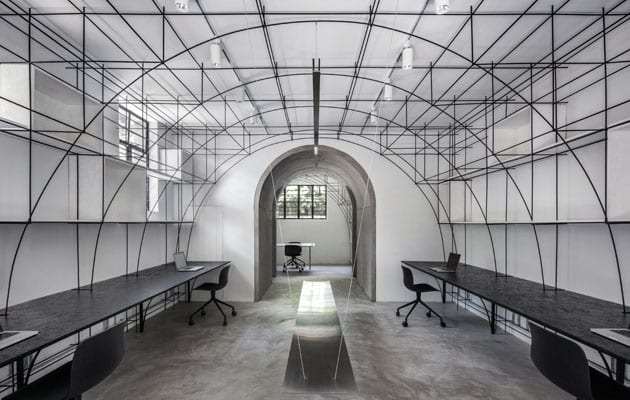 The Monoarchi office refurb in Shanghai|||
Monoarchi is an architecture studio devoted to changing the face of Shanghai. After originally launching in 2009 in Rotterdam, the team has just completed a new office renovation in Shanghai's old town. We caught up with co-founder Keming Wang to find out more about the development, to discuss the design and architecture scene and how the studio's projects – as well as events such as Design Shanghai – are flourishing in the area.
What's the Monoarchi ethos? What projects do you usually take on and who do you work with?
Monoarchi combines the words "mono" and "archi", which stands for simple architecture design. It also sounds similar to monarchy, emphasising the role and attitude of the architect. As young Chinese architects, we would like to use our proposals to make positive changes and solve social issues in a vernacular situation – so we prefer to work with designers and clients who have public responsibility and share the same values.
What's the design and architecture scene like in Shanghai? Has much changed since you set up?
Shanghai is the most diverse and international city in China; it's open to new ideas. As the largest Chinese city, it has been improved a lot in last decade. Our office is located in the French concession – the old town of the city. Like many places in Europe, the area seems to be frozen in history. But we quite enjoy the peace in the busy city.
Run me through the inspiration and concept for your new office.
The main concept is the arch, a common building element in the zone. We used basic construction materials as an architectural element, reinforcing bars and concrete to rebuild the interior space.
As it's based in a listed building, how did you make sure that the renovation respected the old identity and character?
There are many buildings in Shanghai in bad condition because of historical issues in China. We decided to insert some new possibility into the old house, without deconstructing the facade and layout. The major change is that we transferred the living space into a studio. Our renovation is another way to protect old buildings, linking the historical context with modern functions. It provides a new image of the old zone, and recalls public attention to old buildings instead of them being forgotten.
What does the future of design and architecture look like in Shanghai?
To be a metropolis, we believe Shanghai will continue to construct more large public projects to maintain its influence in China, and even the world. Meanwhile, as a livable city, there are still many aspects that need to be improved in people's living environment. Architecture is the key role in updating the public space, increasing citizen happiness and gradually modifying city texture.
The co-founder of young practice Monoarchi tells us about renovating their office and how design in Shanghai is changing