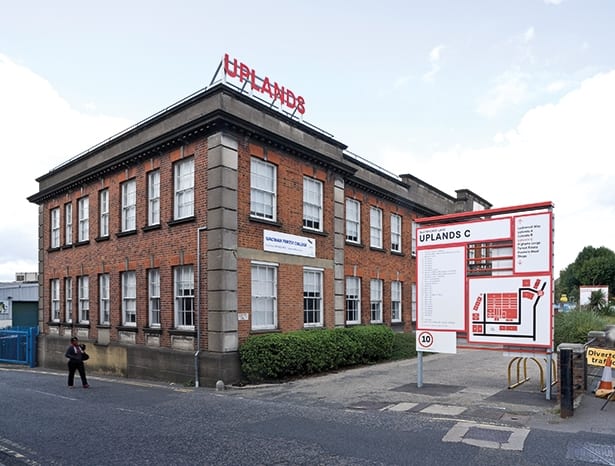 Eye-catching signage for Blackhorse Lane commercial workspace|||
Architecture and urbanism practice We Made That knew what they were all about from the word go. "We don't do houses for rich people. Quite often our work is for local authorities or cultural clients and that's always been the intent since our very first project together," says Oliver Goodhall, who launched the practice with co-founding partner Holly Lewis ten years ago.
The pair joined forces while studying at the Bartlett, and unlike so many architecture students with lofty ambitions to work with a conscience and make a difference – but who are doing house extensions in Chiswick five years in – these two have actually stuck to their guns and achieved some seriously impressive things for public clients.
From their first completed project in 2009, a beach hut on the Lincolnshire Coast meant to boost the local tourist economy, to complex research and strategy for improving town centres and regenerating bits of forgotten industrial wasteland – the breadth of We Made That's work makes it a bit tricky to describe. With all of the various stakeholders and facets of success, a client brief is generally not about designing a building and walking away when the job's done, says Goodhall. "What we're interested in is what makes cities tick. How do you influence that process? How do you have a meaningful engagement with people and place and make positive change?" he explains on the phone from Bermondsey, where the studio has just upgraded to a larger space.
Shop front designs improve the Blackhorse Lane streetscape
There is a lot of jargon in urbanism circles but the crux of it is that practices like We Made That are drafted in by public bodies – be it local councils, transportation giants like TFL or cultural institutions – to improve a place or a thing by making it work better for the people who use it. That might involve architecture, "small-scale interventions" like new signage or wayfinding devices, or initiatives to bring people into an area to boost business or combat anti-social behaviour. "We believe in this kind of work and in the value of public projects, and that's why we do what we do," Goodhall says.
One recent example is in the London Borough of Waltham Forest; in late 2013 the practice was invited to tender by the Greater London Authority and the local council to propose changes to the Blackhorse Lane area. Lined with uninviting industrial estates, it was one of the less savoury parts of Walthamstow and yet it was home to some interesting creative enterprise – though not connected in any real way and certainly not the pride and joy of the borough.
That's all changed thanks to a series of proposals from We Made That's team, which were put into action over 18 months. The overarching idea was to help foster a Creative Enterprise Zone where none existed before. Again, this wasn't a matter of proposing a series of new structures; We Made That did extensive fieldwork to understand how the area was used, what its potential was and who was already working there.
We Made That's Oliver Goodhall and Holly Lewis
The studio's initial report involved business surveys, case study interviews and recommendations on how to support creative businesses in the area, be it extra shed space, printing and prototyping facilities, offices, crèches or coffee shops – and, crucially, how to keep those businesses from leaving once they grew. This strategy evolved into the successful Blackhorse Workshops and, it could be said, the wider regeneration of Blackhorse Lane, which is now an up-and-coming destination on weekends and an attractive hub for local artisans and creative business.
"Blackhorse Lane is a fascinating place," says Goodhall. "You've got rich heritage of making and production and creativity, and a desire to deliver new housing alongside the Victorian housing, but there was a sense that all that industry was not what people wanted on their doorstep. So it was a bit of a charm offensive in convincing local people about the benefits of having a mixed-use area. We needed to uncover the humanness of what happens in that neighbourhood," he explains.
The project has been so successful that a new cafe and more workshop and education spaces are under way thanks to Greater London Authority (GLA) funding, which is an example of how these sorts of projects are developed incrementally, says Goodhall.
A sign-making workshop at Blackhorse Lane
On the heels of that triumph, We Made That is embarking on a gargantuan piece of work for the London mayor's office looking at the social value of the high streets across London. The team is also helping to create new public spaces in Wealdstone, working with local groups and Harrow youth department to boost activity programming, weekend footfall and, hopefully, a lively weekend economy.
Other projects include: a new extension at the East Street Library in Walworth; a comprehensive report commissioned by the London Legacy Development Corporation (LLDC) about places of employment in the area; and recommendations for how to improve Charlton riverside in south-east London.
Needless to say, it's a busy time for Goodhall and Lewis, who grew up in Devon and Cambridge respectively, but who have made it their mission to unpick London's complex conundrums and make it a thriving capital city for all.
Products made in the LLDC area featured in a study of local employers
Architecture studio We Made That has focused its attention on creating urban interventions that improve our experience of the city