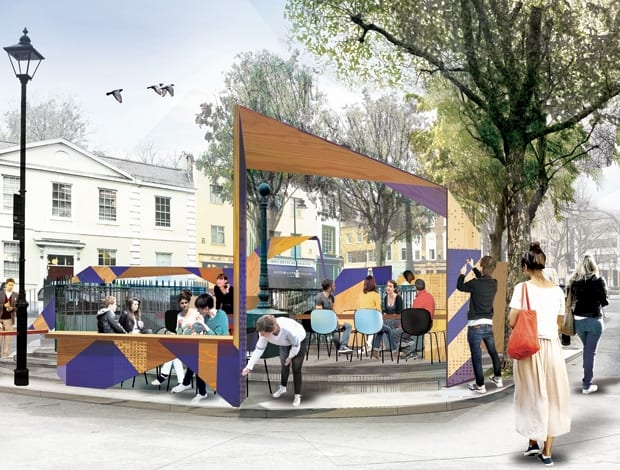 Russ+Henshaw's Agora on the Green|Counsins and Cousins Glaze|Elements, a modular canopy system, by Grimshaw|Johnson Tiles will create a 3D tile wall outside the Farmiloe Building|Gruppe's modern take on the historical basilica|Providing respite for the weary CDW visitor|Laura Ellen Bacon with Sebastian Cox||
Up-and-coming architecture and design firms, including Russ+Henshaw, Gruppe and Sebastian Cox, will be creating public installations for this year's Clerkenwell Design Week
Vita Contemplativa
Swiss design studio Gruppe has designed a basilica, forum and columns as part Vita Contemplativa, which will be stationed at the 'cardinal entrances' of the medieval city of Clerkenwell.
Gruppe's Basilica Forum will be stationed between the two entrances of Farringdon Station. The minimised public building will aim to be a contemporary version of a historical basilica.
"The basilica provides people with somewhere to sit, rest and have lunch, or shelter from the rain," says Gruppe co-founder Nicholas Lobo Brennan. "There are clear boundaries to the medieval city [of Clerkenwell] and these were the cardinal entrances – theatres, basilicas, speakers' corners and street furniture."
Invisible Store of Happiness
Furniture maker Sebastian Cox has teamed up with sculptor Laura Ellen Bacon to create a three-metre-high wooden installation made from a steam-bent frame of American maple and cherry wood. The structure creates an enclosure that allows viewers to peep inside at the twisting, undulating and interlacing strips of wood that emulate the form of a whirlpool.
The collaborators combined their skill bases with Bacon used to working entirely by hand and Cox employing traditional furniture techniques, such as dry joining and steam bending. The Invisible Store of Happiness will be situated beneath St John's Arch.
Glaze
Architecture practice Cousins and Cousins has taken inspiration from the former Victorian glassworks at the Farmiloe Building and coloured Venetian glass for its pavilion. Highlighting the versatility of glass, the structure provides a walkway through glass panels of varying size and colour.
Agora on the Green
Russ+Henshaw are reclaiming the "forgotten space" of Clerkenwell Green, which runs alongside the busy Farringdon Road. The firm has designed a modern gathering place and café, furnished with Scandinavian Business Seating's colourful RBM Noor chairs.
Elements
Multinational architecture firm Grimshaw, the most established player taking part, has developed a modular canopy system with MDT-tex. The lightweight structure, which will be positioned at St James Church, will host the launch of an exhibition showcasing work by Grimshaw's industrial design unit.
Verve
Johnson Tiles will create a three-dimensional tile wall at the entrance to the Farmiloe Building that will provide a colourful "prismatic landscape" as viewers alter their positions.