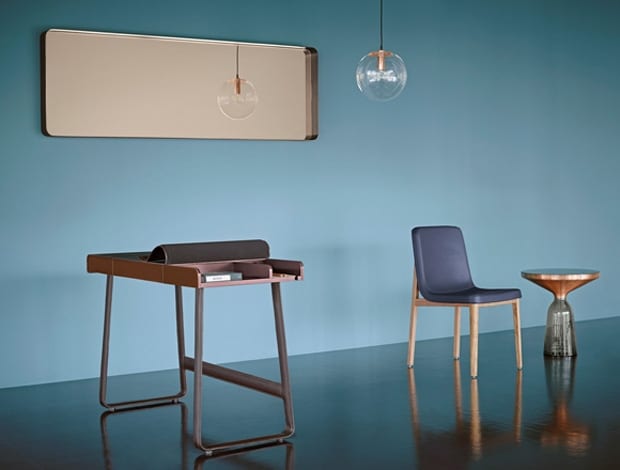 Neri&Hu's Sedan chair for Classicon|Neri&Hu's Sedan chair for Classicon|Neri&Hu's Sedan chair for Classicon|Frank Chou Design Studio's new collection|Frank Chou Design Studio's new collection|Magis' Cyborg Lady chairs|Magi's Cyborg Lord chairs|Magis' Cyborg Lord chair|Edit Szazbó's Tame range of sculptural, ceramic stools|Felix Proctor's Wave desk||
Now in its second year, Design Shanghai brings together 300 exhibitors from the local and international market. onoffice selects key designs being showcased at the event.
Magis
Marcel Wander's has extended his Cyborg Collection for Magis with the introduction of the Lord and Lady chairs. Unlike the earlier versions, which are made from wicker, wood and injection-moulded polycarbonate, the new chairs are padded and covered in a range of Kvadrat fabrics and leather. The Cyborg Lord features a high backrest and pronounced armrests, while the Cyborg Lady (above) has flowing lines and an organic shape to create a more "feminine character".
Edit Szabó
Hungarian design and sculptor Edit Szabó will exhibit her latest collection Tame. The sculptural, ceramic stools, titled Fox and Bear, are produced in small runs. When used indoors they can house electronics such as Wi-Fi, chargers, and speakers, as well as heating elements. They are also suitable for outdoor use and durable enough to be used in public spaces. Szabó is expanding the range with more seating options, planters and bins.
Felix Proctor Design
Emerging, British designer Felix Proctor is launching his Wave desk and Organic bench at the exhibition. Wave features sections of wood slotted together to create a pattern on the desktop. The desk also features a graded series of fins on its underside. The Organic bench, in a matching colourway, features angular legs with bold cut-outs.
Classicon
Launched earlier in the year, Neri&Hu's Sedan chair's seat shell wraps over the frame like a cover. The lightweight chair has been designed to suit the contract market, and can be upholstered in leather or fabric. The base is made from solid wood, which is offered in a natural, clear-stained or black-stained finish.
Frank Chou Design Studio
The Beijing-based design Frank Chou Design Studio will present its latest collection, through which Chou aims to fuse contemporary design from the East and West. New products include a chair, which balances the upholstered seat on a delicate cage box.